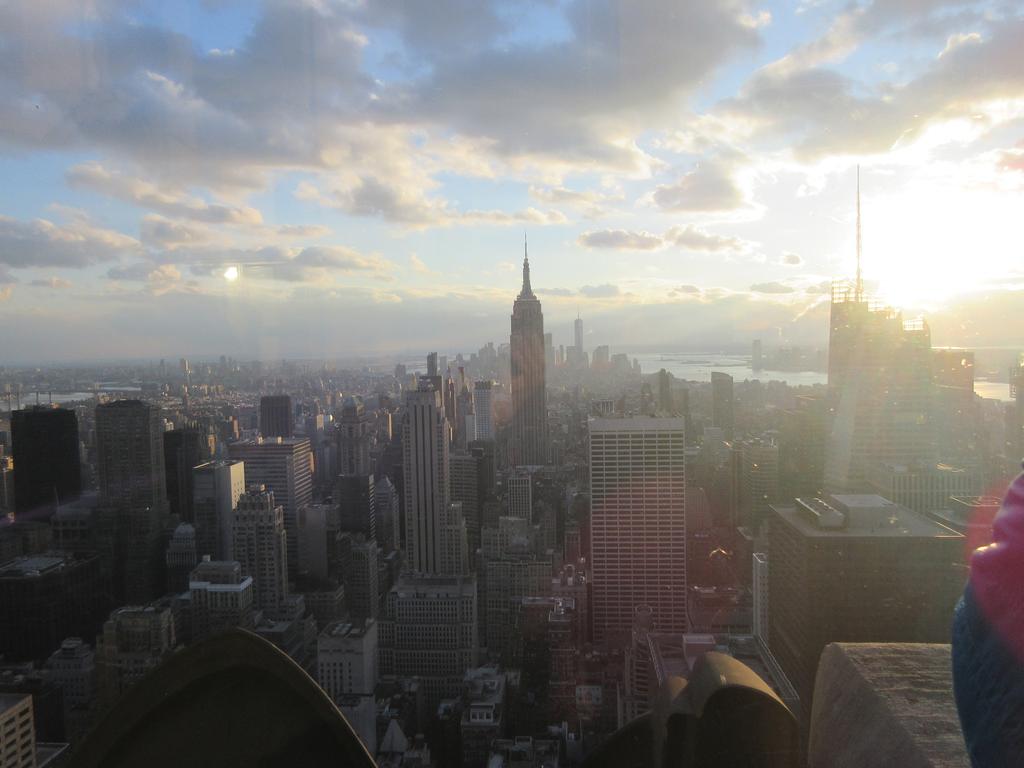 We've been meaning to do this for some time, and the impetus of "we should see the Rockefeller Plaza Christmas tree" finally gave us a deadline to get it done.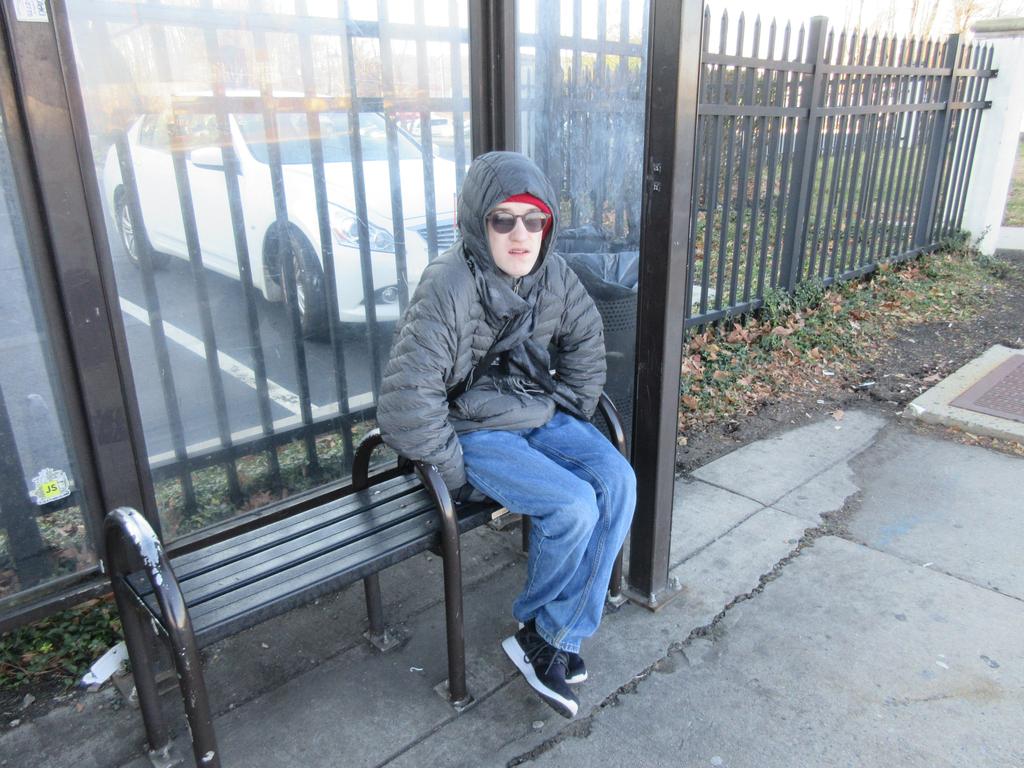 There are a lot of ways to get to NYC. Greyhound runs from Atlantic City, but makes plenty of stops along the way. Some of Carl's co-workers take a bus or train from Toms River, but that's a little pricey for a casual trip. We settled on Bolt Bus, a Greyhound subsidiary that makes mostly non-stop runs. The Philly-NYC run makes a single stop, at the Cherry Hill Mall, and would get us to Manhattan for under $90 for the three of us. We had low expectations, based on Yelp, and were not disappointed: the bus ran late, and when it appeared was a Greyhound-liveried coach due to a mechanical problem with the Bolt.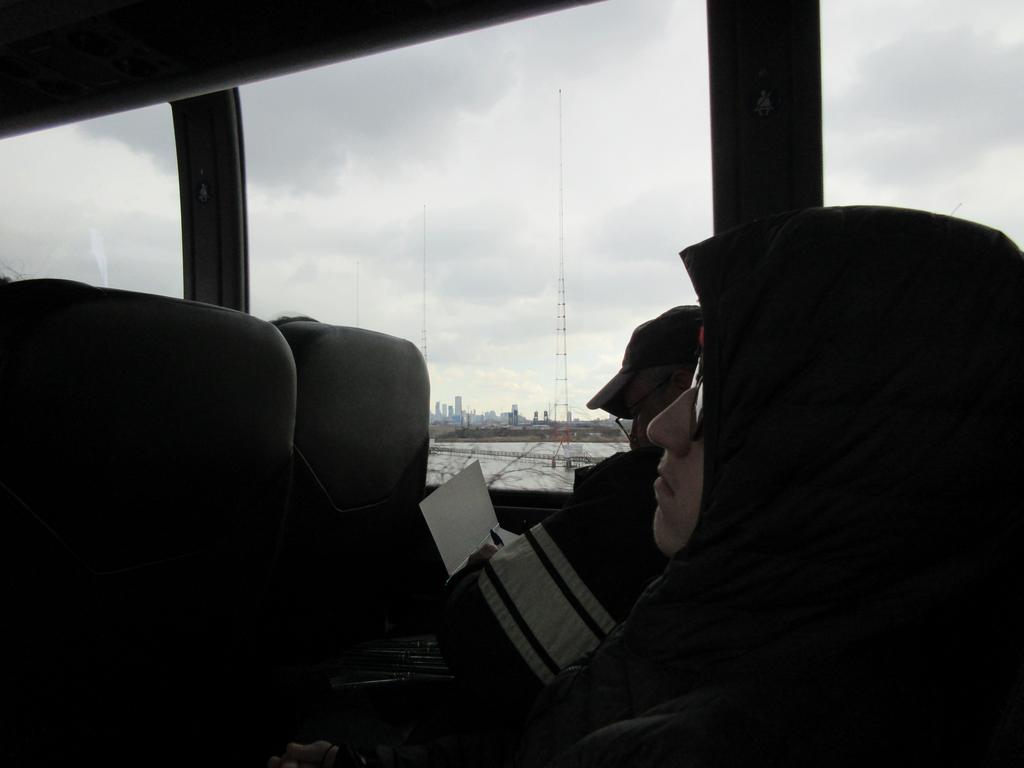 Also as expected, the bus was mostly full from Philly so we didn't get to sit together - Nate and I got more or less across-the-aisle seats, and Carl got to go to the back of the bus. On the plus side, the bus was clean and modern, and had free (if a bit slow) wifi and power outlets. It's a little cramped, but Nate's seatmate still managed to make efficient use of his time, addressing his Christmas cards during the trip.
The trip was pretty quick until about here - the traffic to get into the Lincoln Tunnel was horrific. It's interesting to be able to check Google Maps to estimate your arrival time, but depressing to see solid red traffic issues. The last four miles or so took us almost half an hour, and we arrived at Hudson Yards about an hour late. A number of folks on the bus spent some time calling in reservation cancellations and changes, which made me happy I had read Yelp and planned for the possibility.
Interestingly, the Lincoln Tunnel has good cell reception (repeaters, I assume), so some people made their calls from underneath a river. I posted to Twitter from there, another in a long list of things I hadn't done before nor ever particularly imagined doing.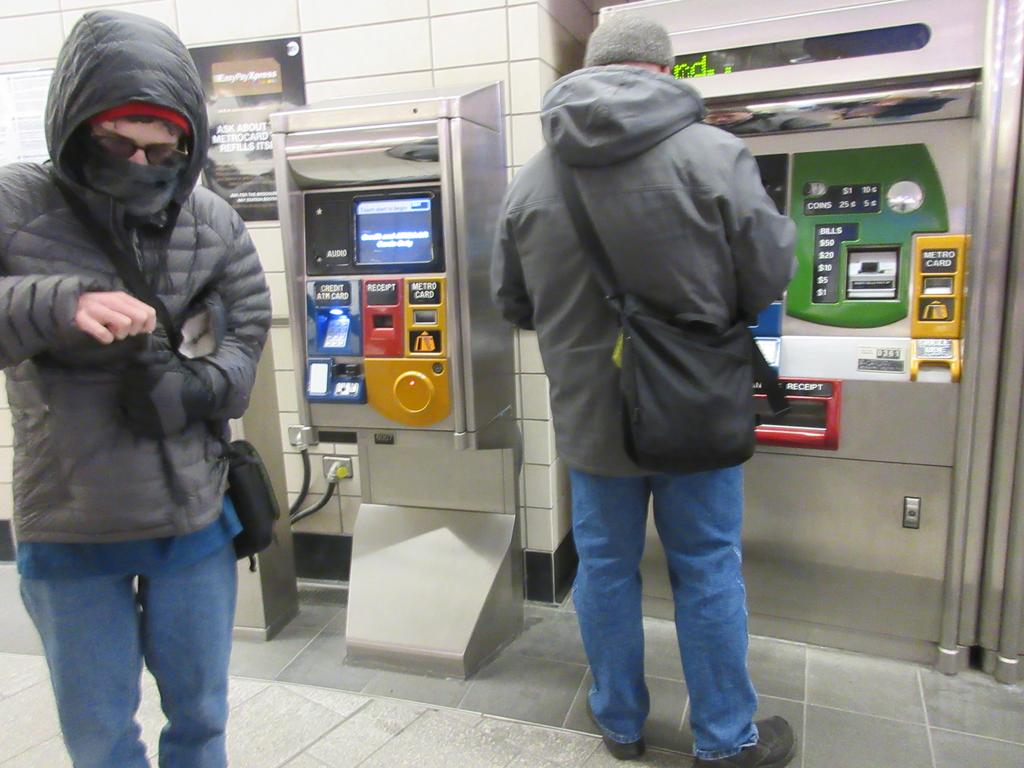 We are now the proud owners of a NYC subway MetroCard. Carl watched how-to videos on YouTube so we knew how the system worked.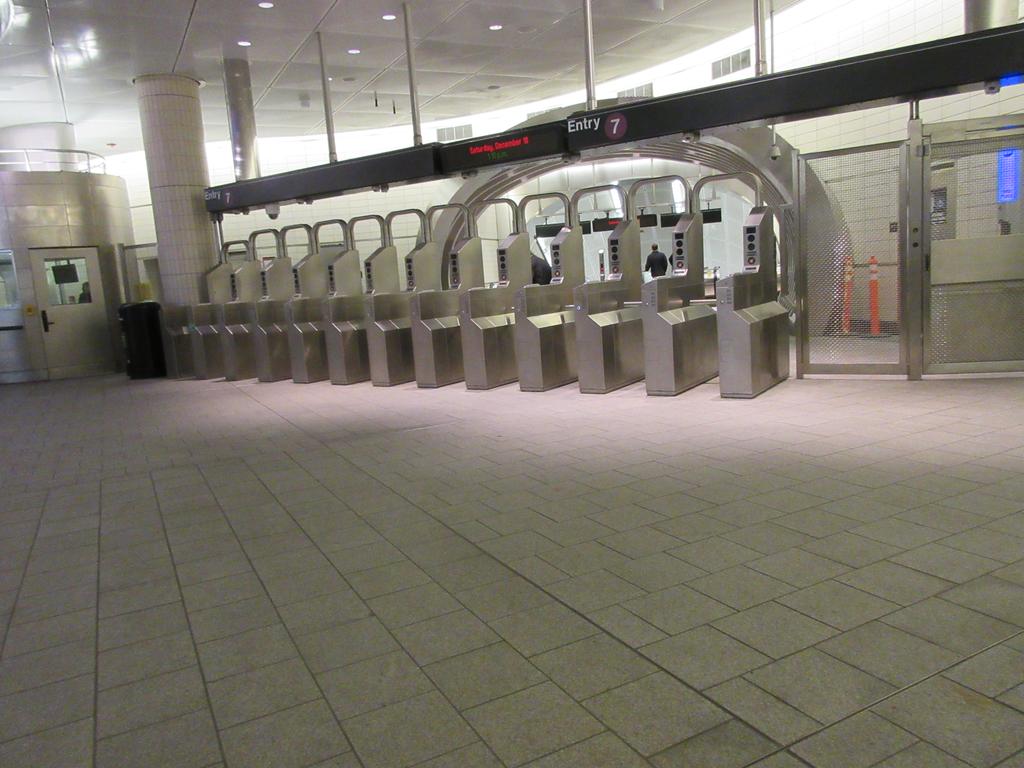 Hudson Yards is a fairly new station, the end of the line for the 7 train. Once we had the card, we swiped it at the turnstile and handed it back to the next person.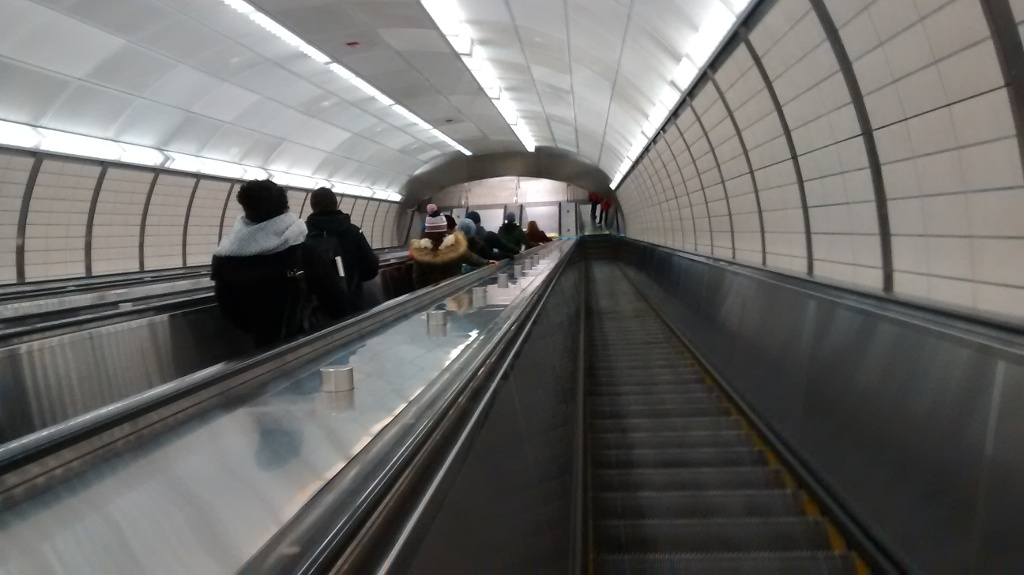 The station is underground, but the tracks are even further. I pulled out my phone to take this picture about halfway there. Look closer…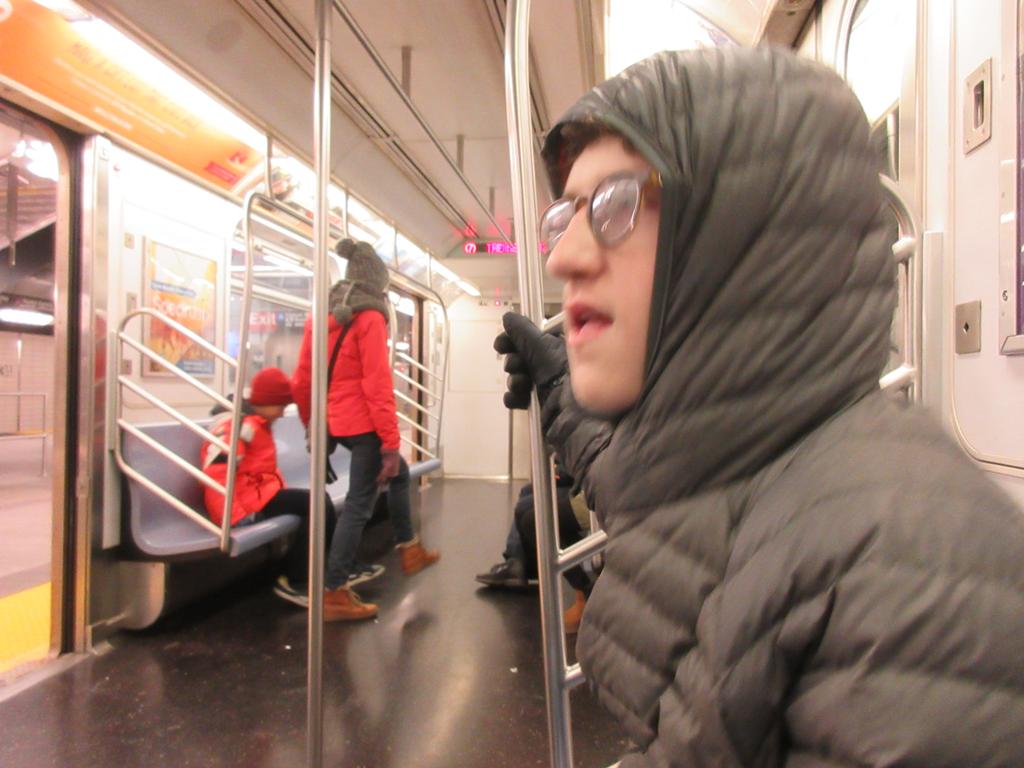 And then we were on our first NYC subway ride. Carl and I rode a subway in Boston some years back, but this was Nathan's first. He was very excited.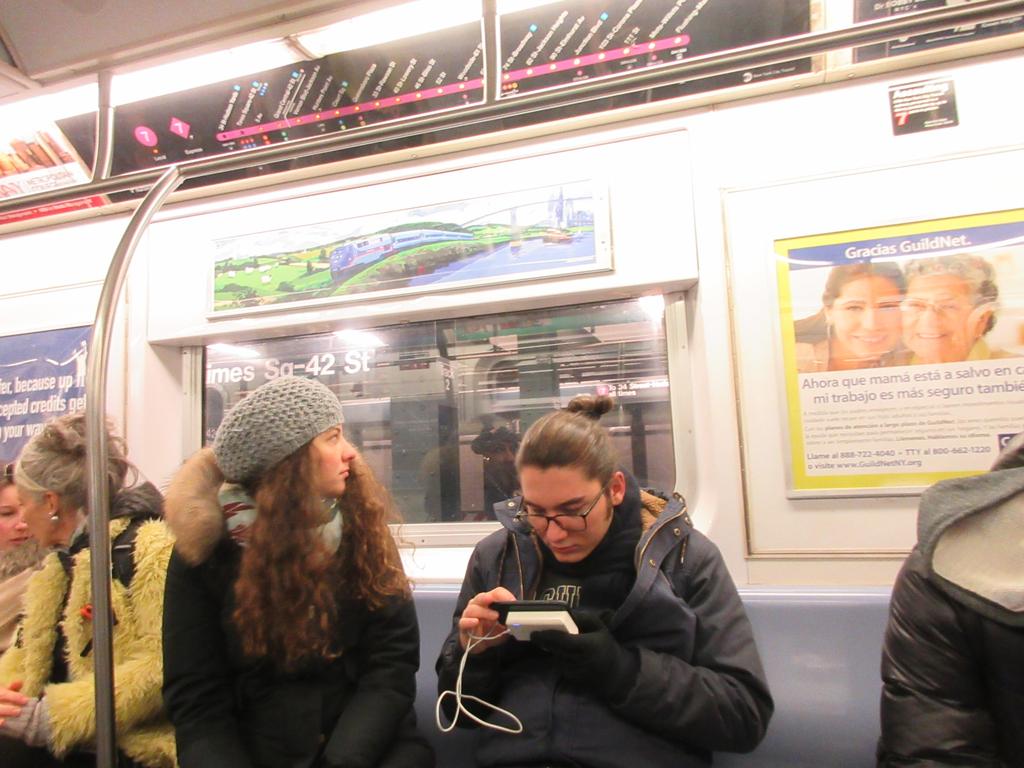 We had debated about getting off in Times Square and walking from there to Fifth Avenue, but decided for the first trip to keep walking to a minimum.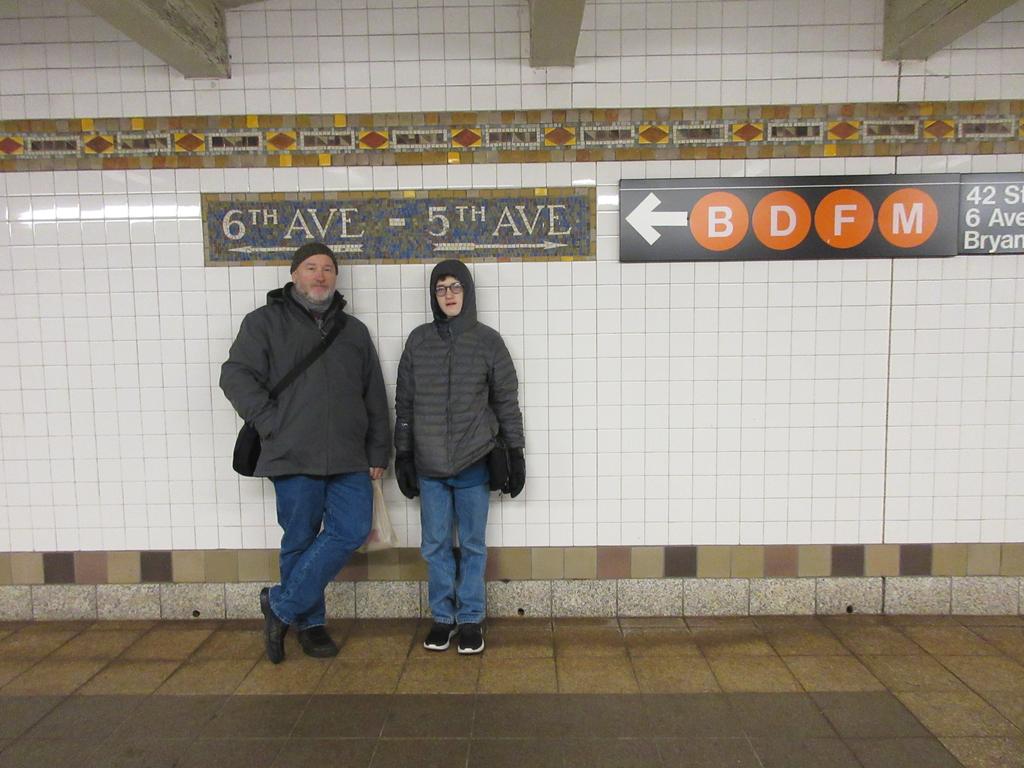 Next stop, Fifth Avenue.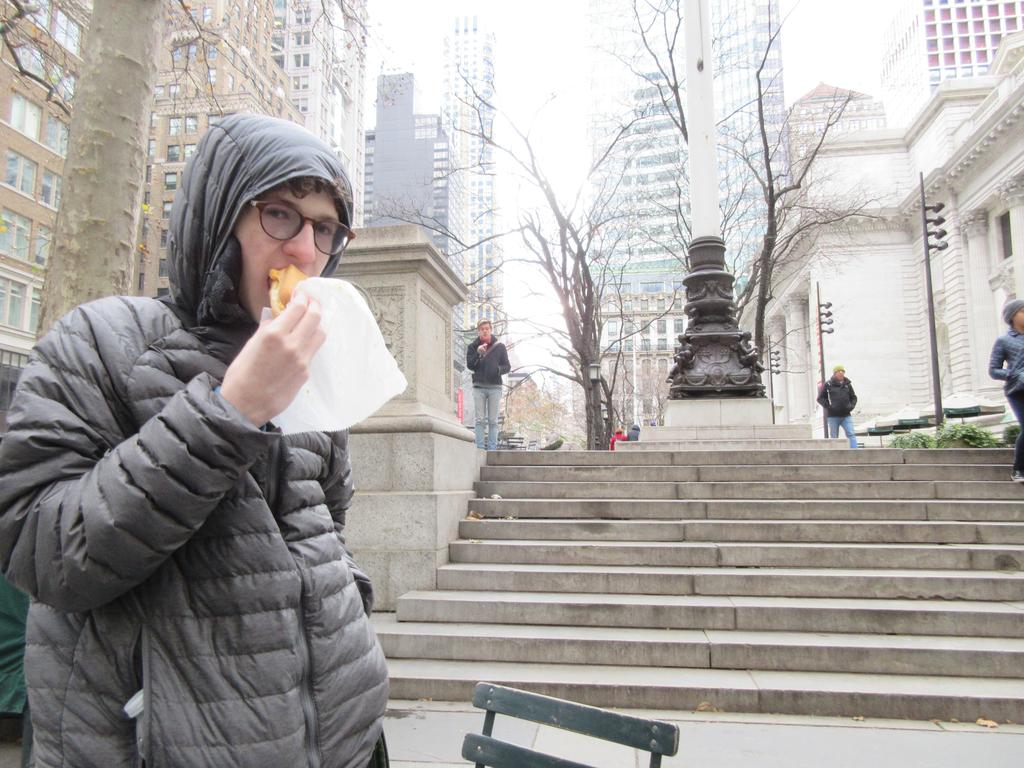 A priority was getting lunch. There are pushcarts on every corner, so as soon as we came up out of the subway we grabbed some dirty-water New York hot dogs and ate them in Bryant Park, in front of the New York Public Library. You can just barely see one of the lions at the top of the stairs.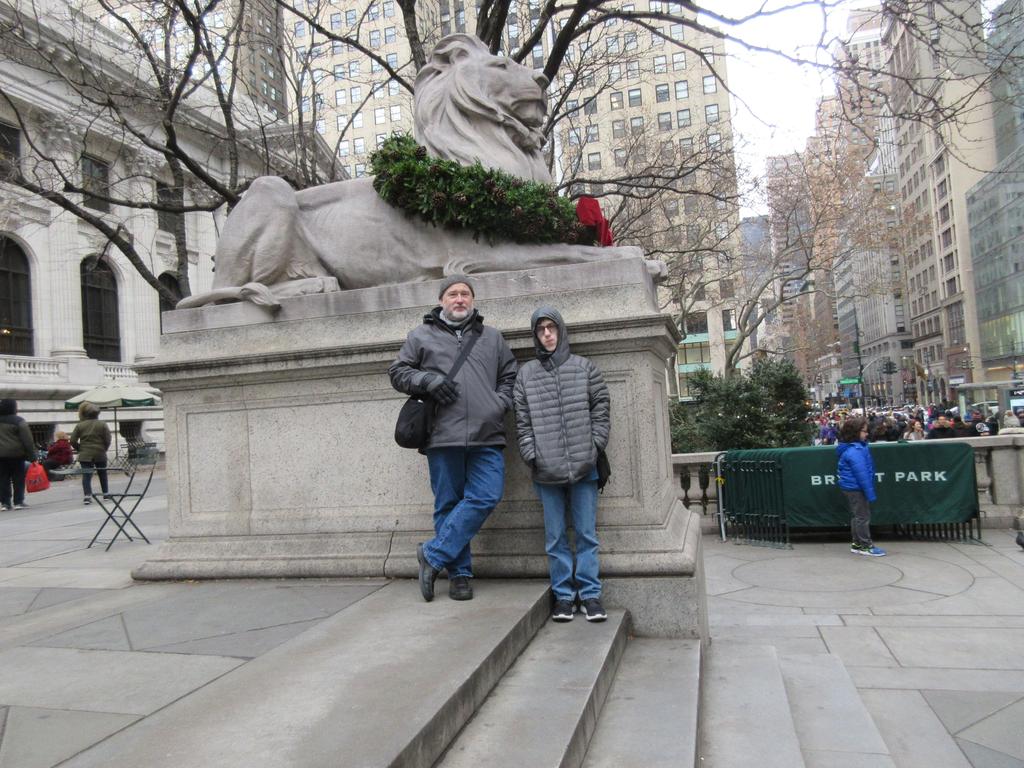 The NYPL lions were dressed for Christmas, of course. They were nicknamed Patience and Fortitude during the Depression by Mayor LaGuardia. Pretty sure this one's Fortitude.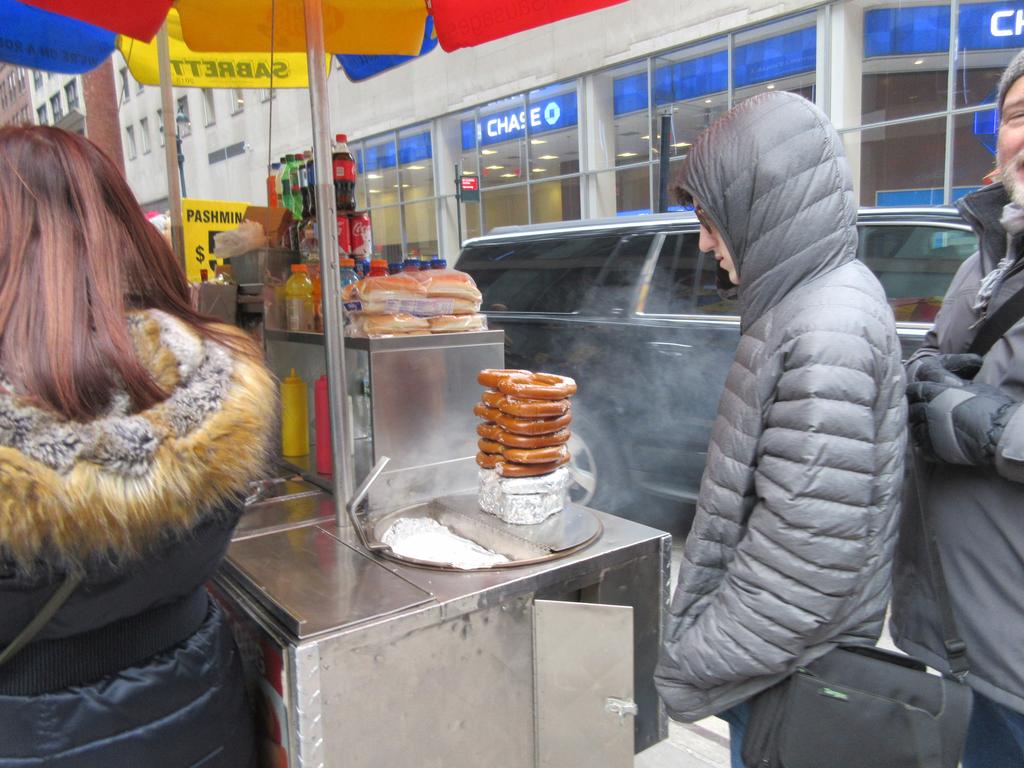 We made it two blocks before Nate decided he needed a second hot dog, at which point we learned hot dog prices vary by corner desirability: the very-crowded 42nd Street intersection was $4, but these were $3.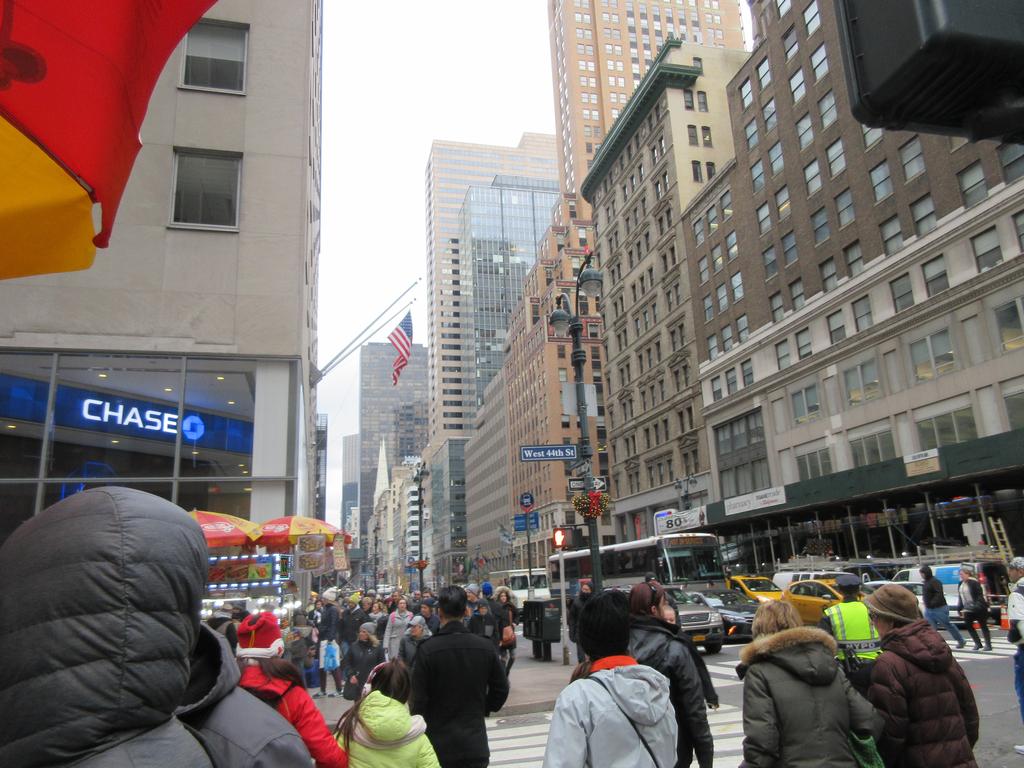 The sidewalks were crowded, but nothing like it got later.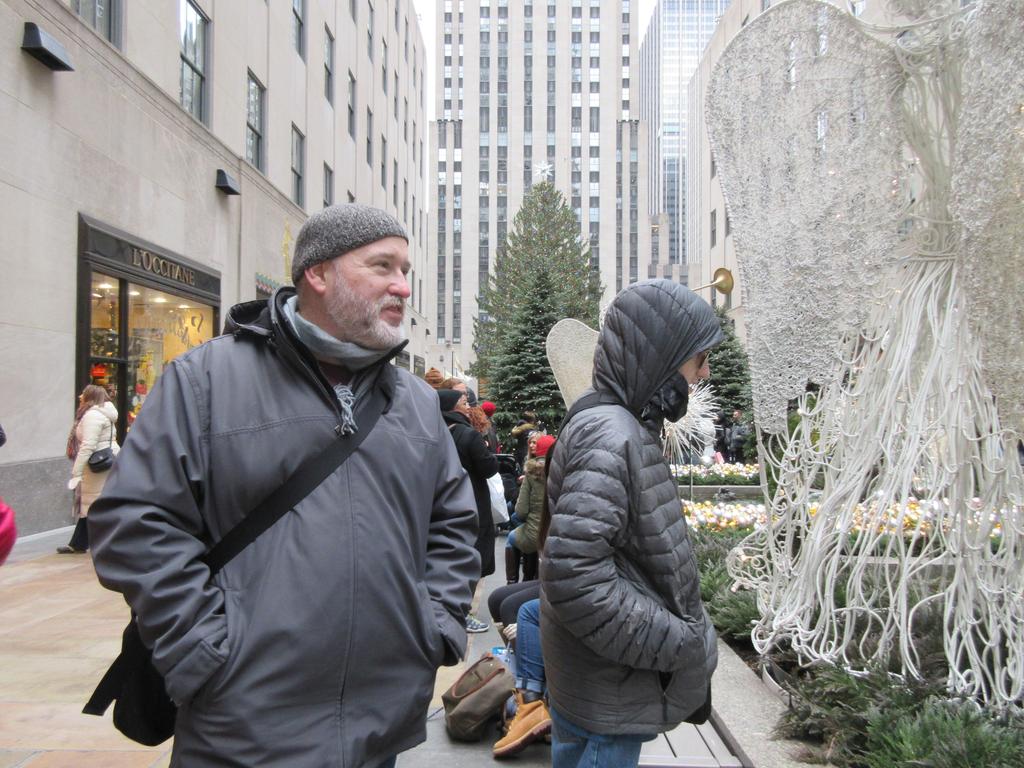 There are all kinds of pictures of the Rockefeller Plaza decorations available on the net, so I mostly focused on pictures of Nate (and Carl). We saw a lot of selfie sticks, which everybody mocks but honestly, there are enough generic pictures out there. I'd rather take terrible snapshots with personal value and spend my time looking at stuff and not trying to set up quality photos.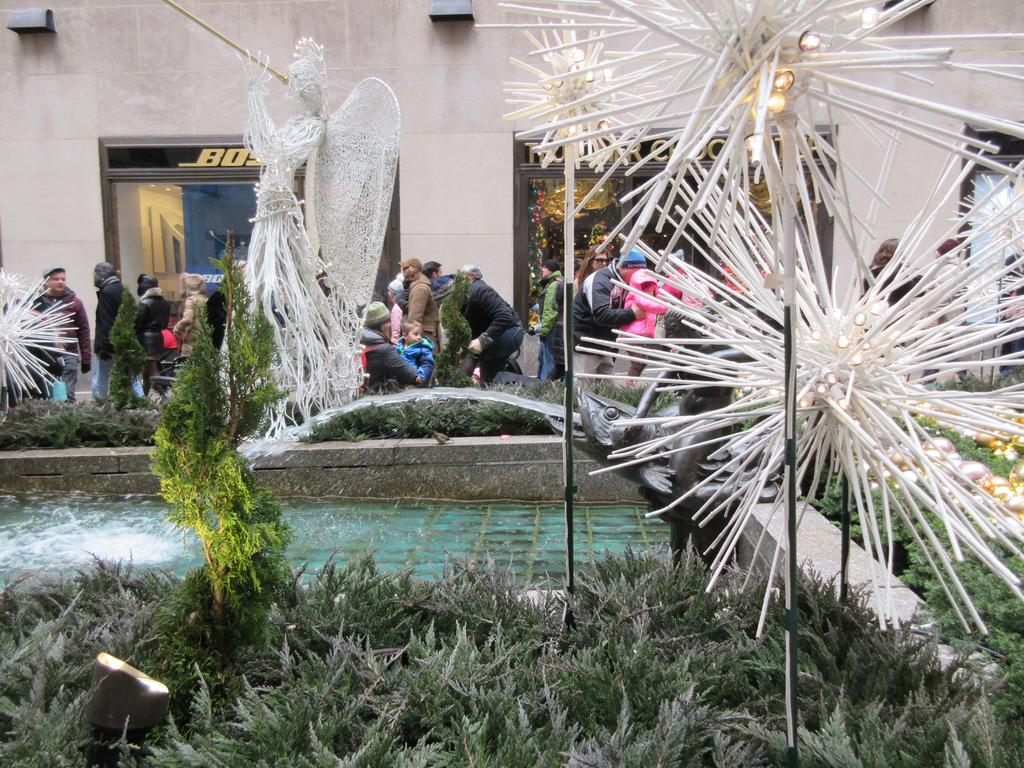 All of this stuff is even cooler at night, but there was literally no physical way to get in to the plaza after dark.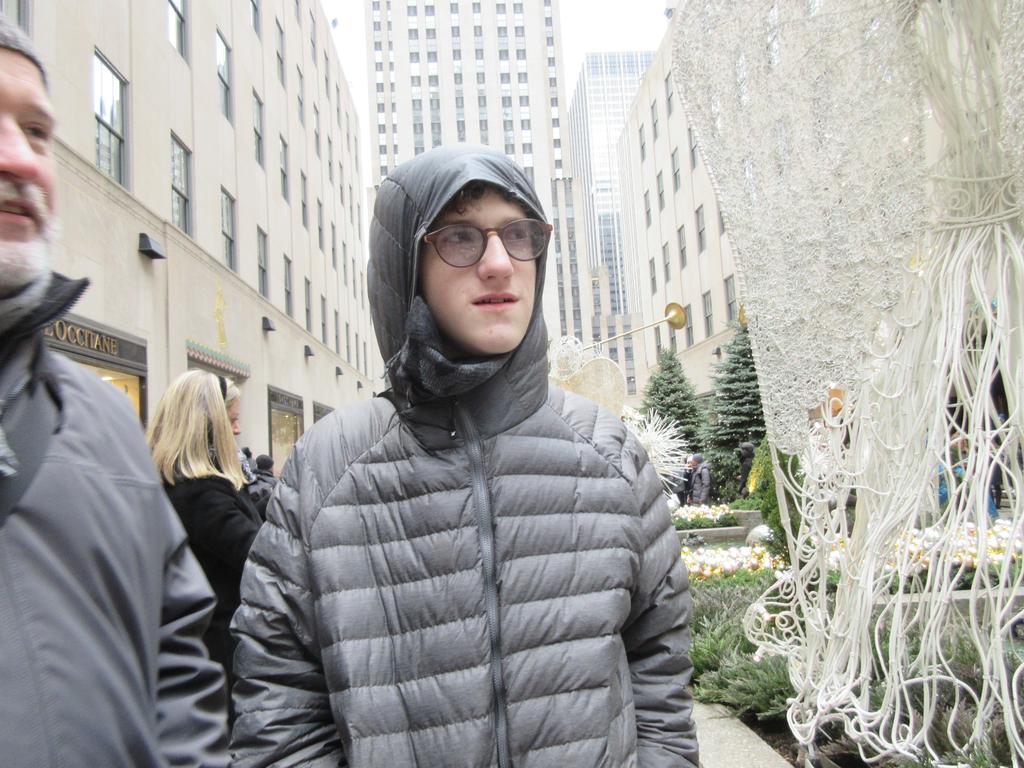 Nate in front of 30 Rock.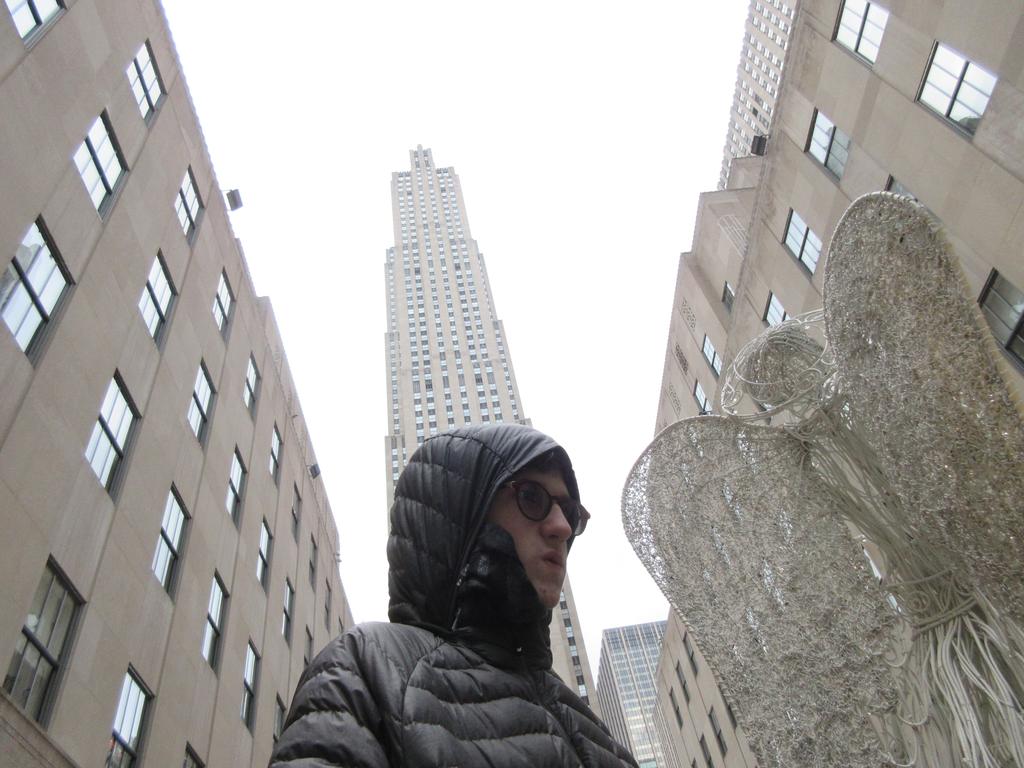 "Turn around, Nate. Up there? That's where we're going."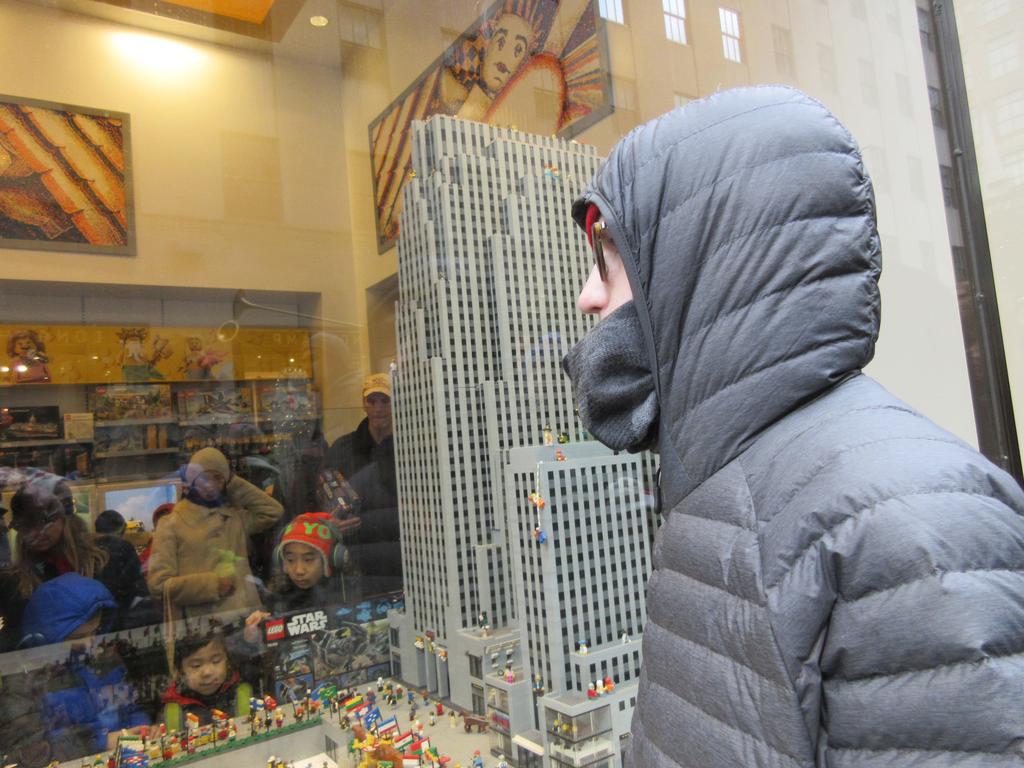 The Lego Store had a line to get in, which didn't bother us too much - the neat displays are all visible from the windows, and we have a Lego Store at Cherry Hill Mall.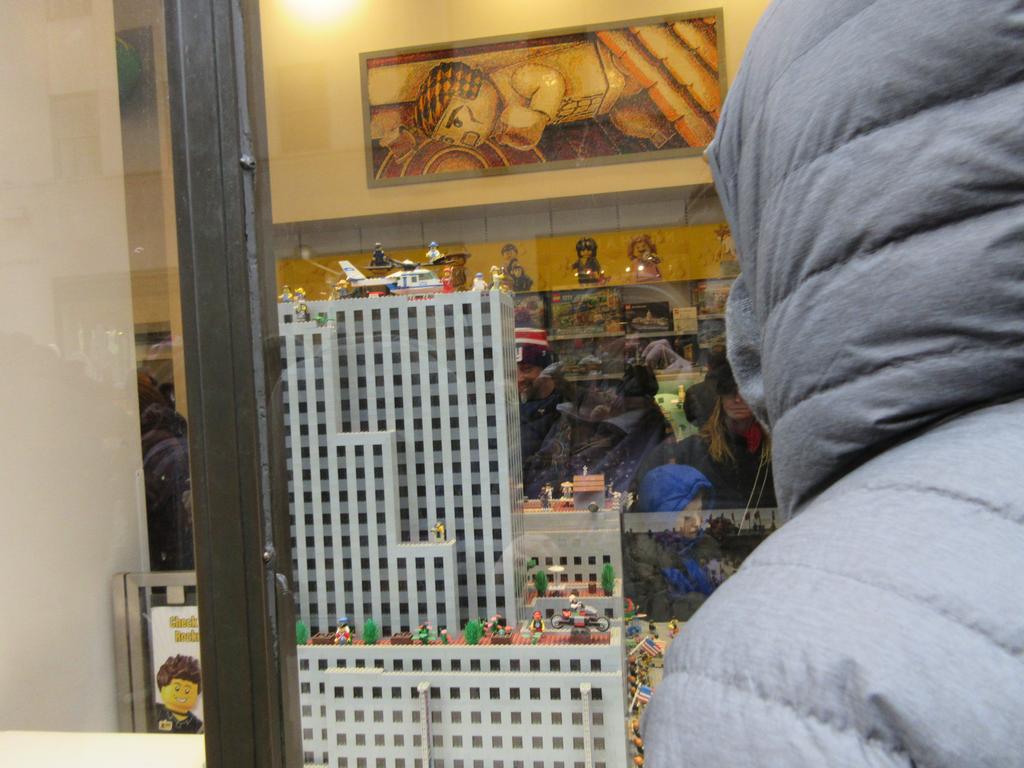 The store has replicas of the Rockefeller Square murals, made from Lego and, of course, depicting minifigs.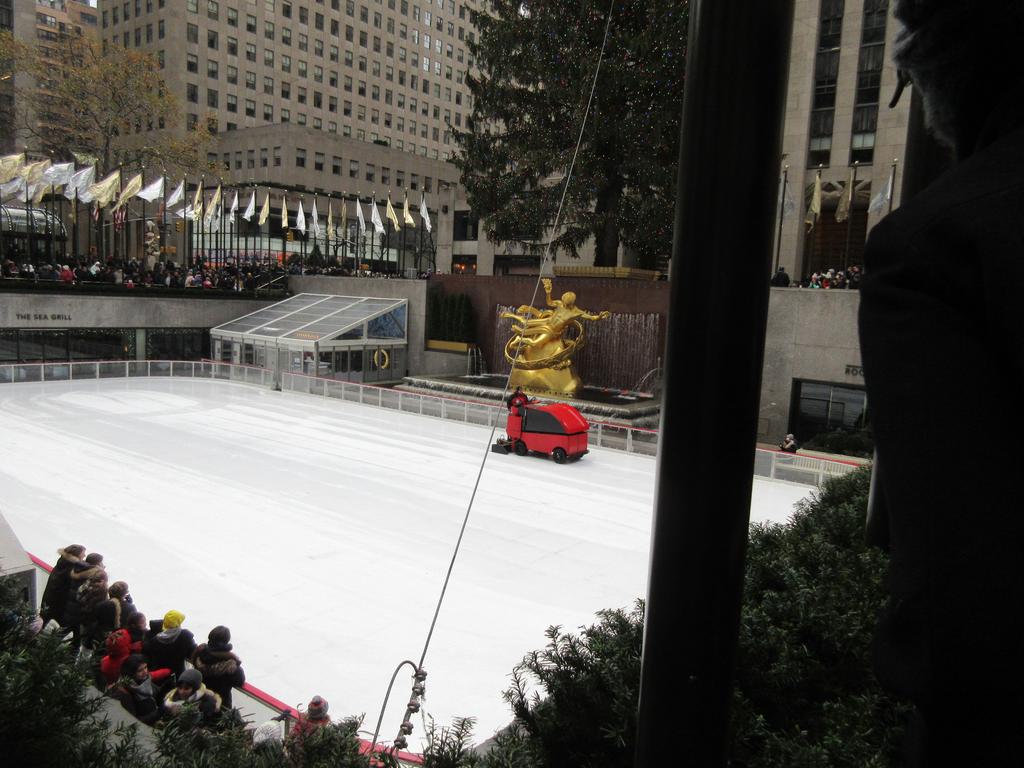 It was a break in skating sessions, so instead of skaters we got to see the Rockefeller Plaza Zamboni.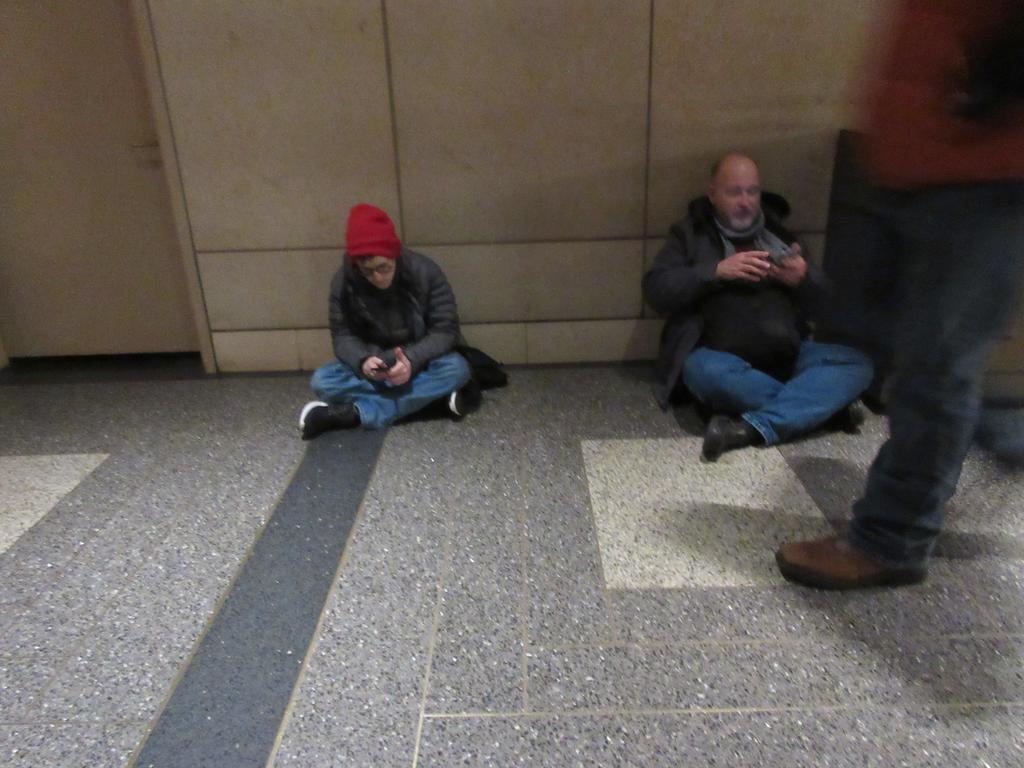 Carl's back requires sitting down now and then. He opted not to lug his folding camp stool, but the Rockefeller Center concourse has super-limited seating. Eventually a janitor came around and told them to get up and move along. Luckily, it was close to the time on our tickets to the observation deck.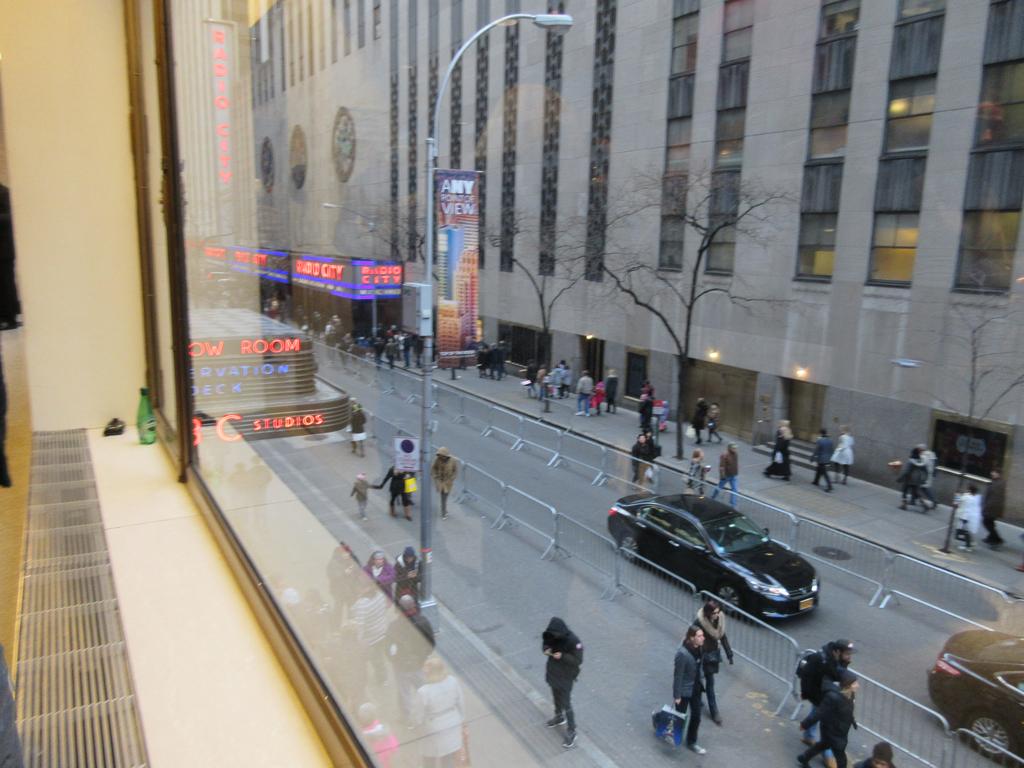 There's a fair amoung of waiting involved even after your ticketed time - airport-style security line and such. So they try to keep you entertained with informational displays and presentations and whatnot on the history of the place. Carl had not quite registered that it was not just an office building, but the place where Saturday Night Live and the Today Show and all that NBC stuff was shot. "So… we could stay here, and later on they'd be broadcasting SNL from right here?" It still surprises us how different it feels than living far, far away from both coasts.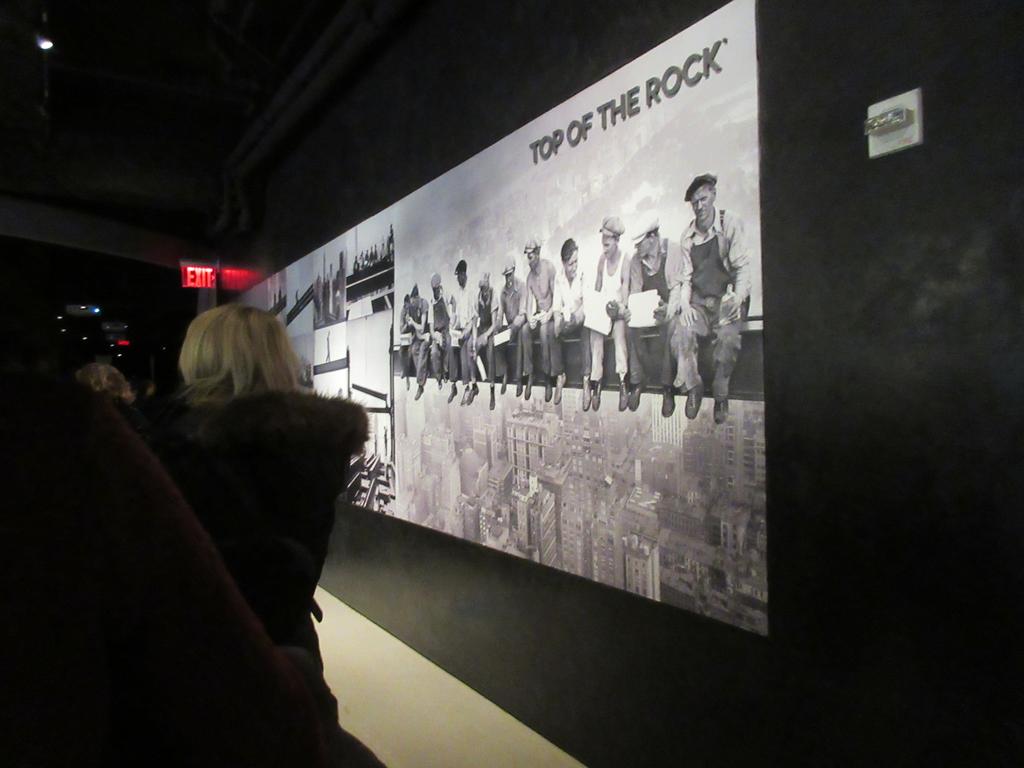 Turns out this iconic picture was taken during construction of 30 Rock. I always assumed it was ESB, or maybe the Chrysler Building. The line to the elevators led across a transparent floor with a mock girder to walk on, and screens an unsettling distance down displaying a street scene from above. You could also pay extra to get your picture taken sitting on a beam with a mural behind you.
After that, it's a 60-floor express elevator ride. There are plenty of terrible videos of it already so I didn't try to take any, but it's a neat little ride.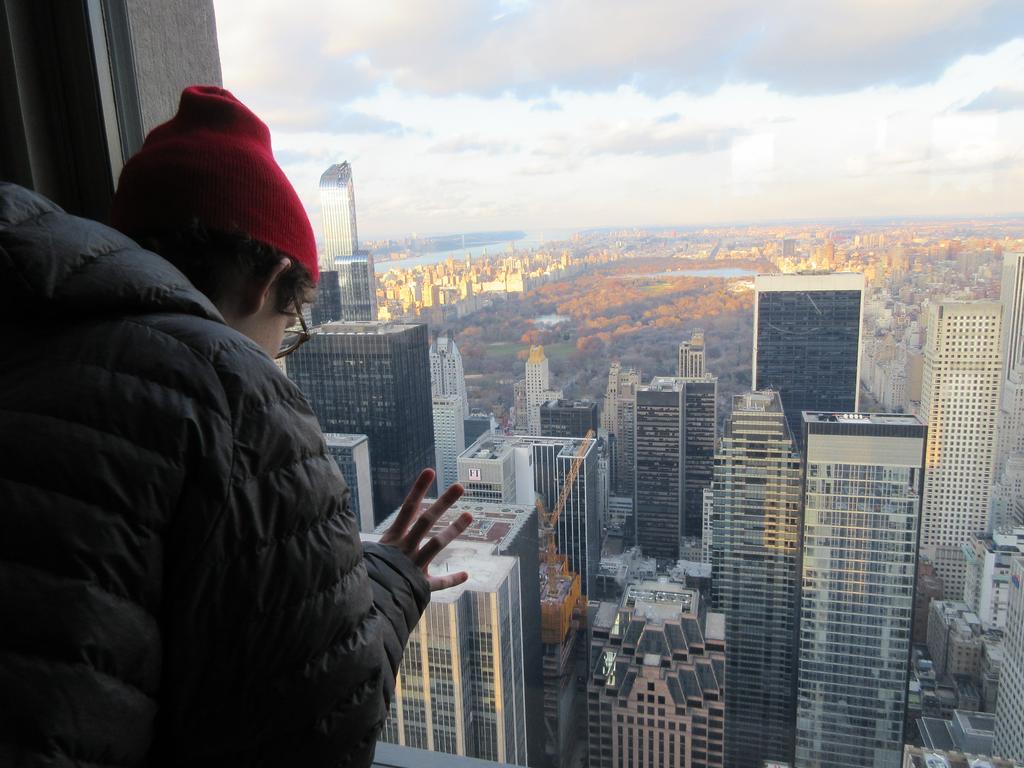 The views are impressive. This was as close as we got to Central Park, which begins at around 59th Street (we only got to about 52nd). Nate was more interested in looking down to street level.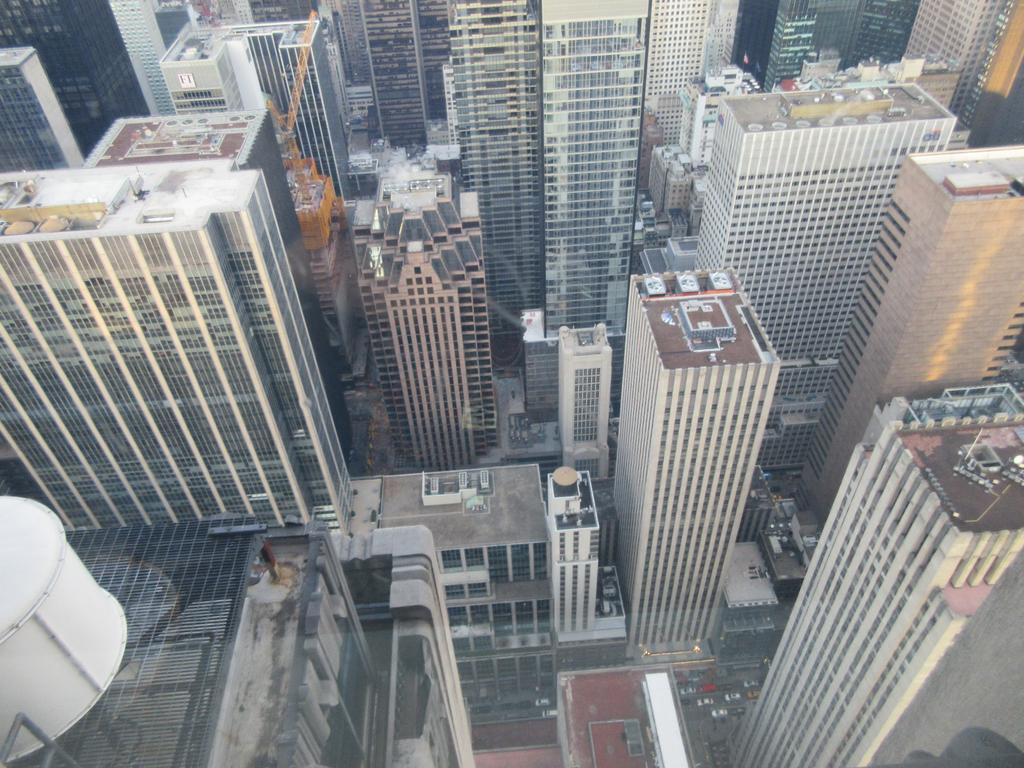 It's a long way down.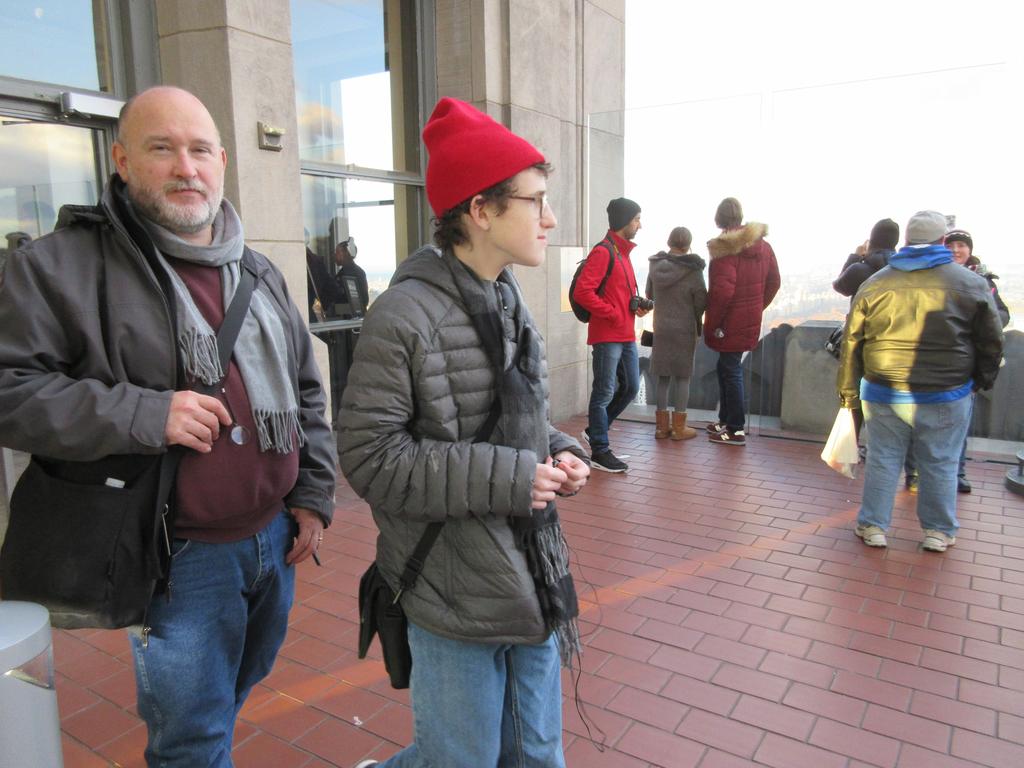 There's also an outside deck, which wasn't quite as cold as we expected - the tall glass panels block most of the wind. There's an upper deck where you can take pictures without the glass, but there was (of course) a line to get up there and we weren't there for great photo ops.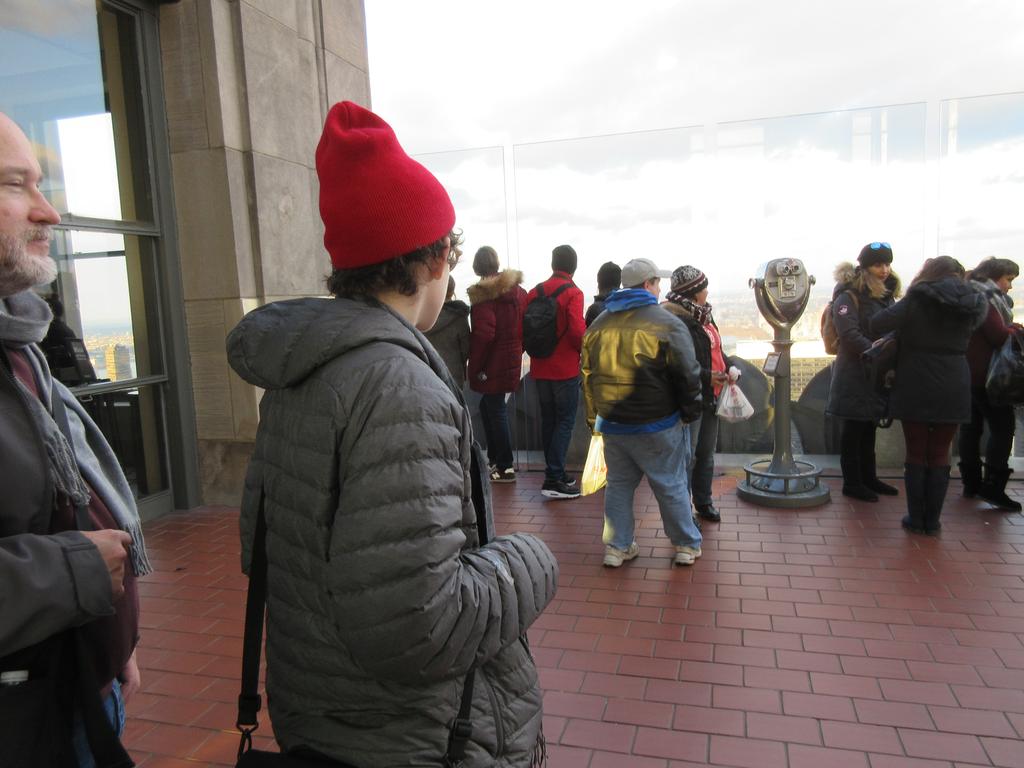 Carl and Nate fed the machine and looked around. Nate was particularly taken with the ability to "just look right into people's offices!"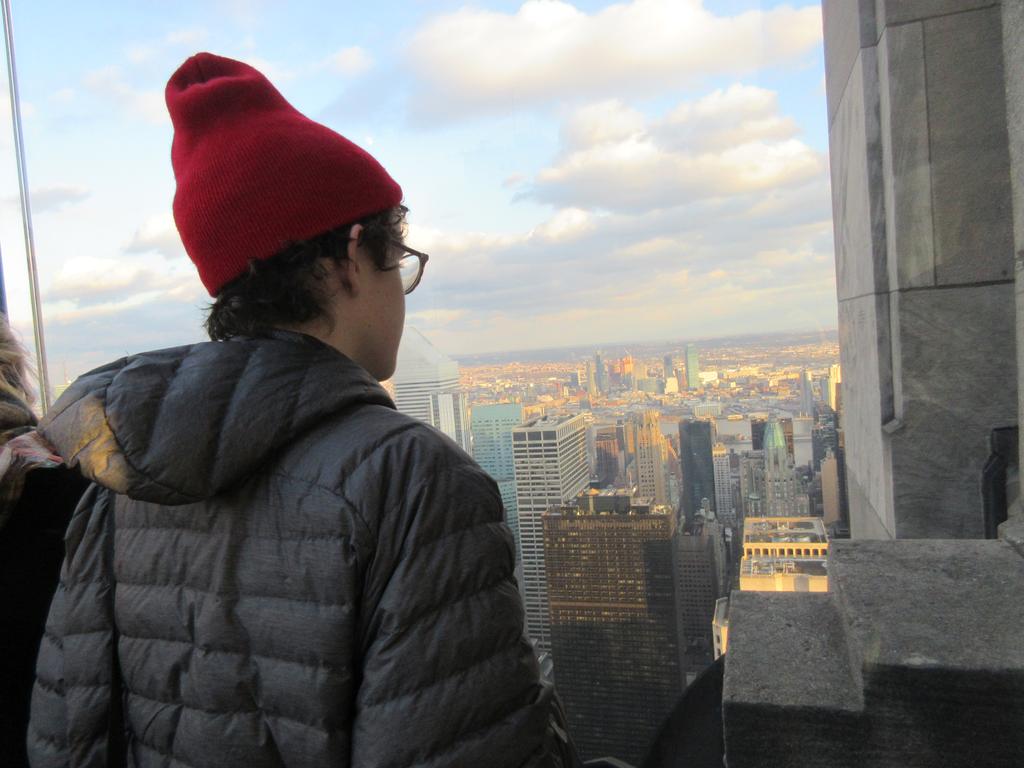 It was approaching sunset when we got up there; it was the latest tickets we could book that weren't sold out, because of course night-time views are even better. There's no time limit, though - whenever you get tired of the view, you go stand in line for the elevator ride down.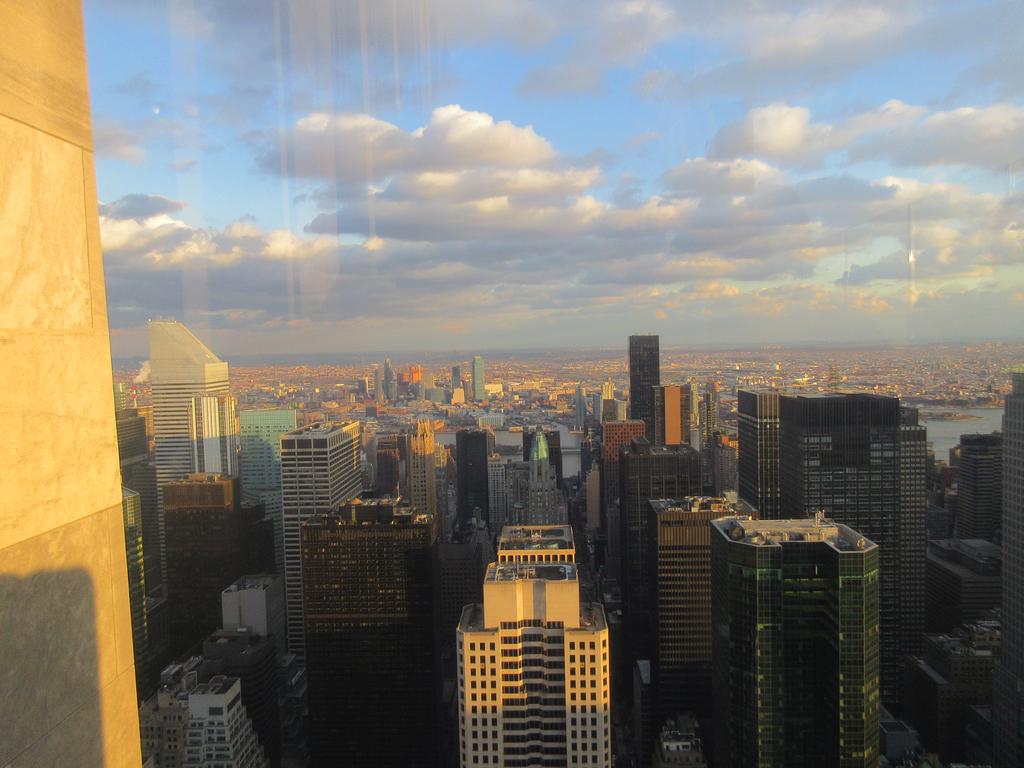 Looking over the East River into Brooklyn and Queens, site of our previous NYC trip.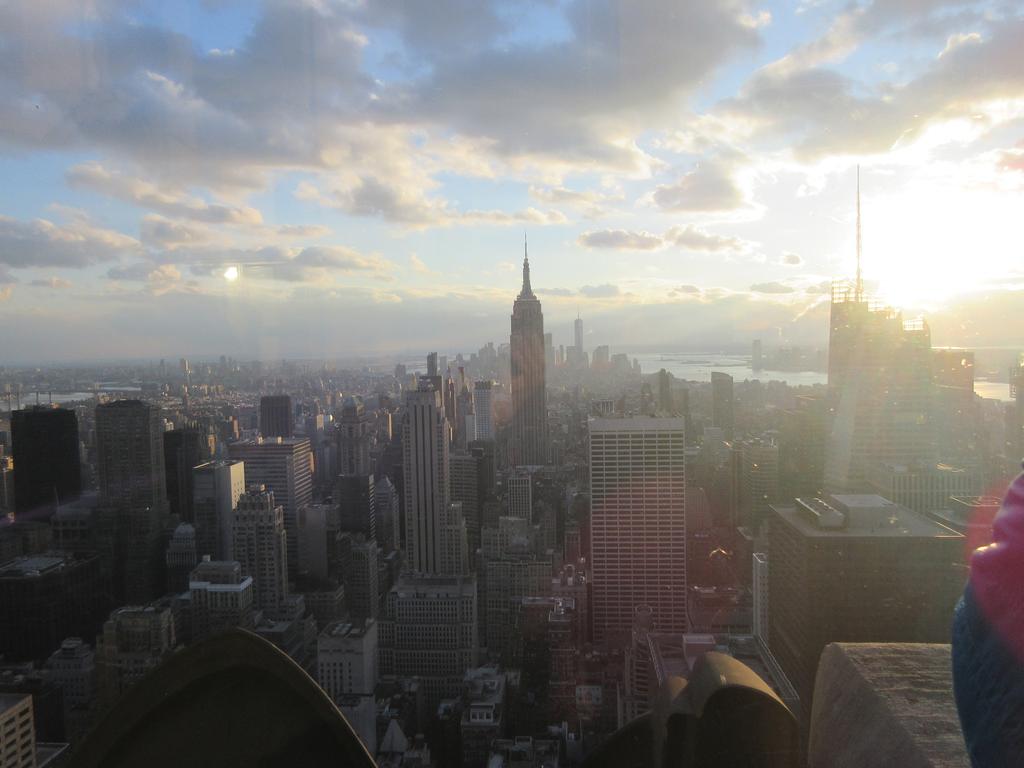 Looking south, the Empire State Building, One World Trade past it (we'll go there next trip), and waaaaay off in the Upper Bay, Lady Liberty.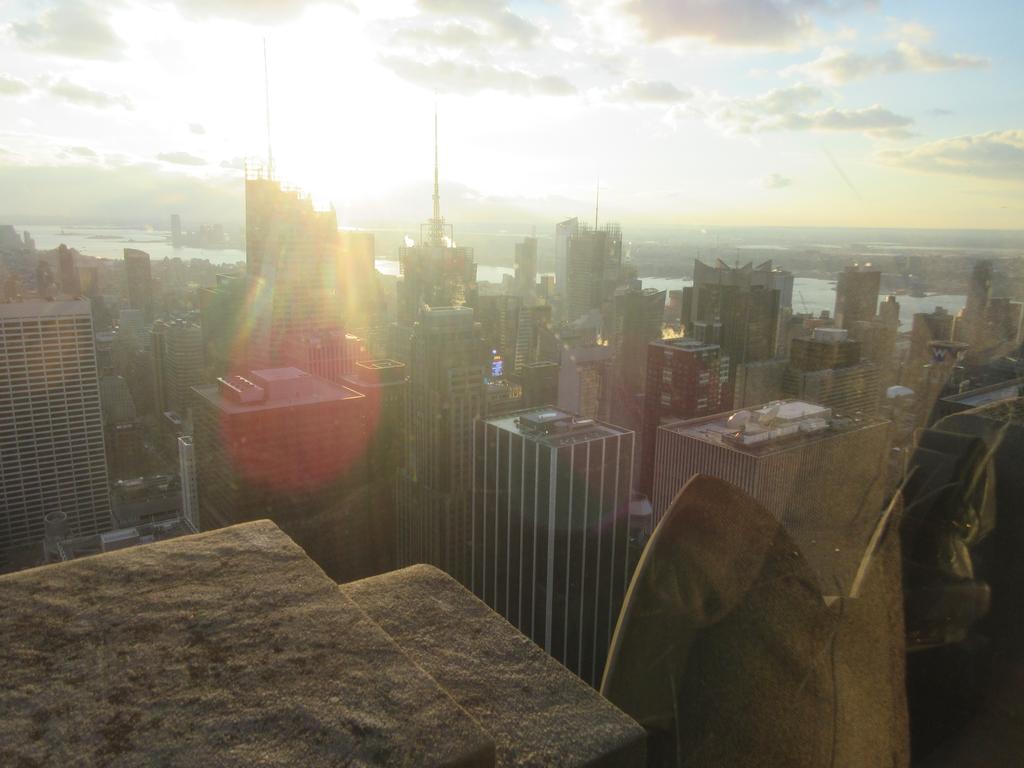 Technically, we saw Times Square.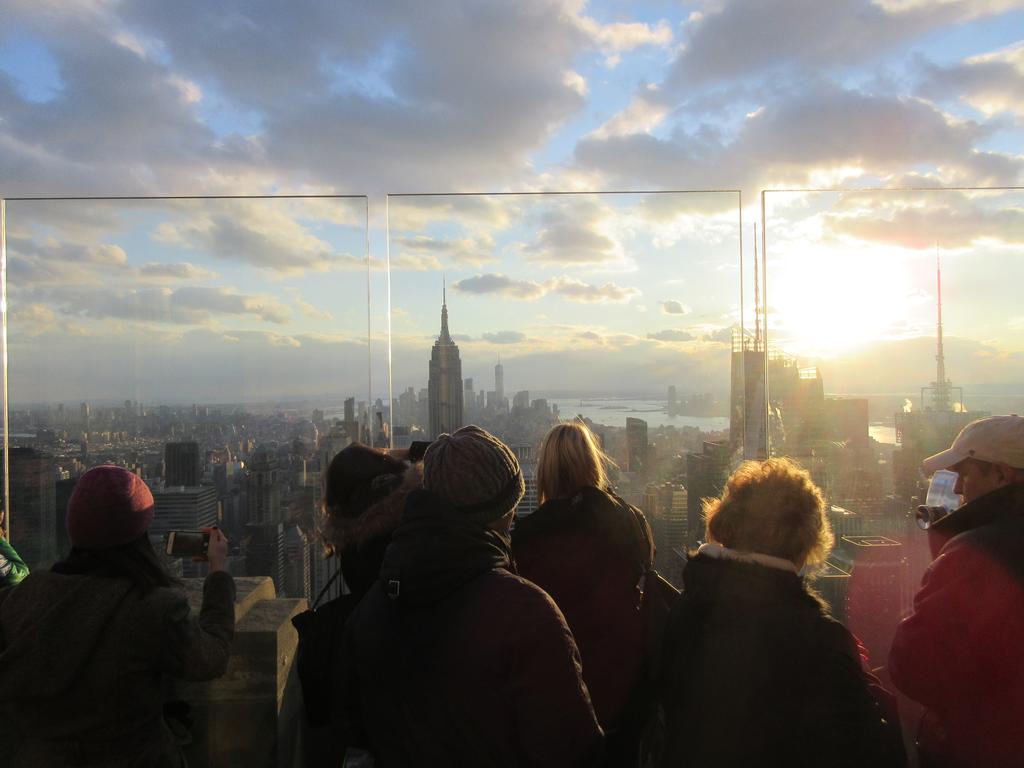 As the sun set, everyone gravitated to the south side of the deck.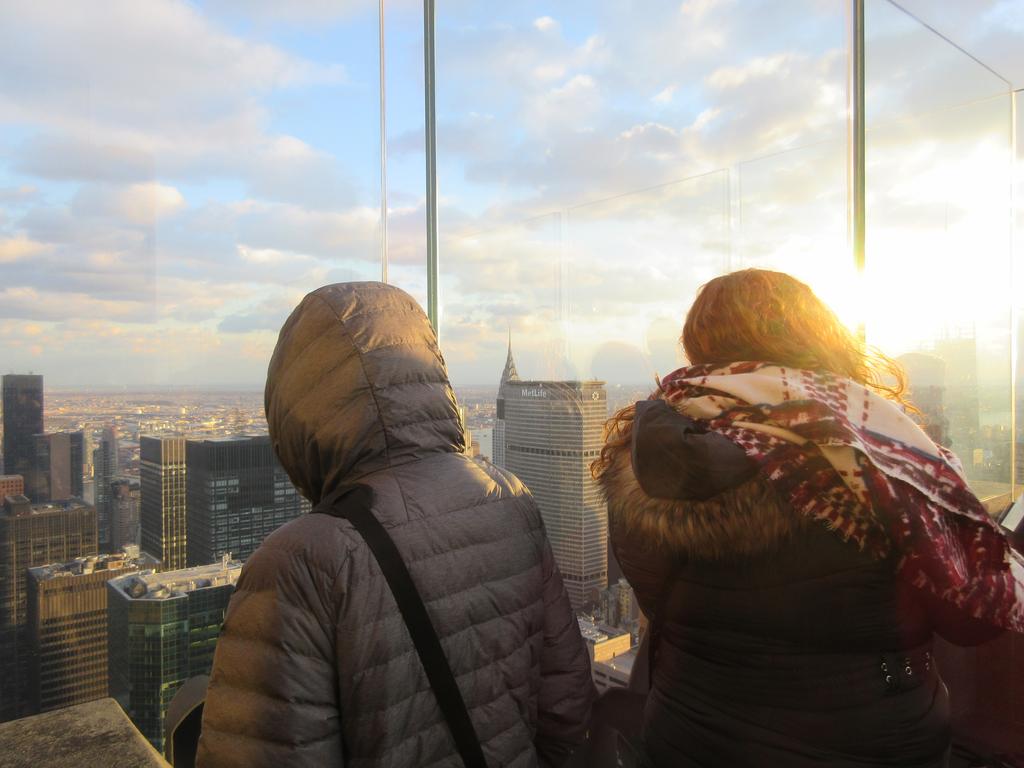 Having seen them both in person, we now understand why New Yorkers think the rest of us are stupid for getting the Chrysler Building and ESB mixed up. They're so very different in size (ESB is half again as tall as Chrysler) that ESB is much more impressive, even though Chrysler is much, much cooler (fight me, New Yorkers). But in individual pictures, you'd get the impression they're the same size.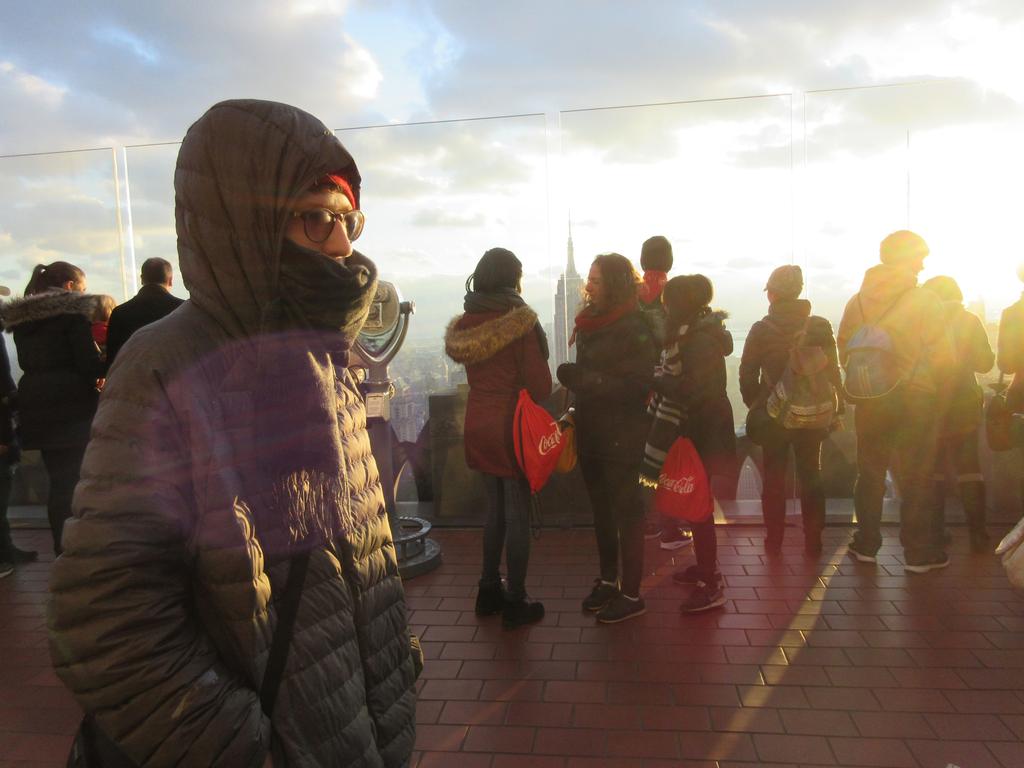 After awhile, it started getting chilly and we had early reservations at the restaurant, so we decided to head out before the sun was fully set.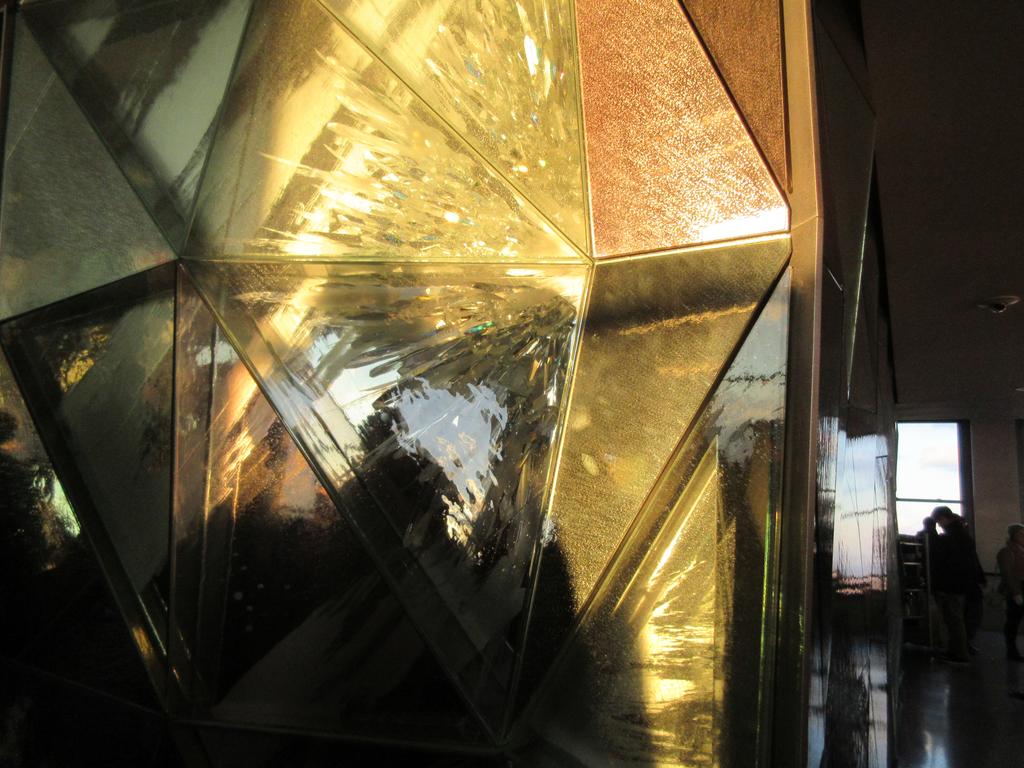 The exit area was decorated with diamond-y things, because apparently oil doesn't make for a very attractive theme.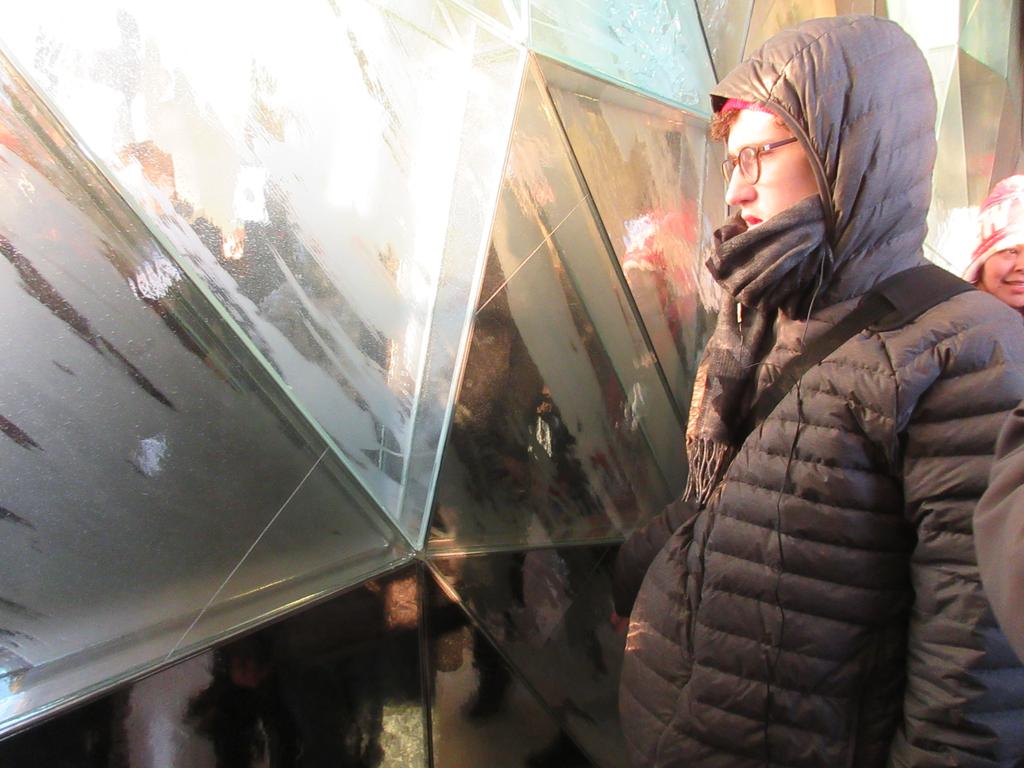 Luckily, the wait wasn't too long. It's the same elevator going down. Disappointingly, it's still the ceiling that turns clear.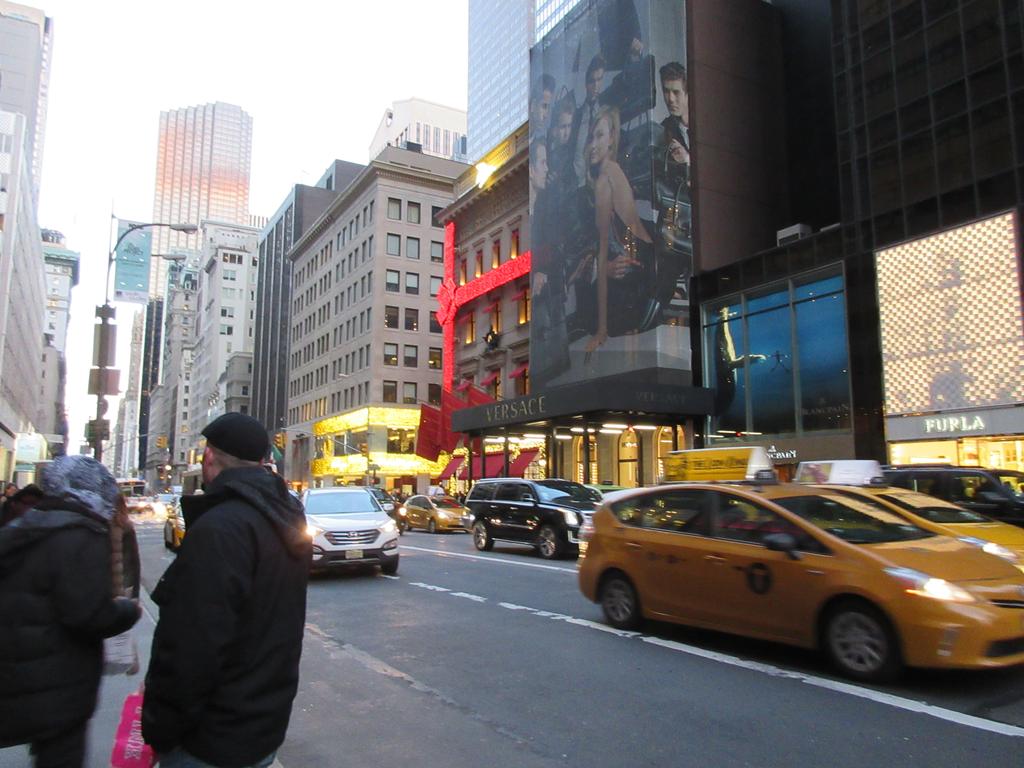 The lights on Fifth Avenue were starting to come on, and the sidewalks started to get very crowded.
We should have hooked over to Madison Avenue earlier; the crowd in front of Saks was unbelievable, even with barricades allowing pedestrians on an extra lane of the street. The other side, where you could see the light show on the Saks facade, was even worse. We popped in to St. Patrick's Cathedral to sit down for a moment and gawk at the incredible architecture, then headed on to our destination. We had reservations right at opening time, so sat in the park next door while we waited.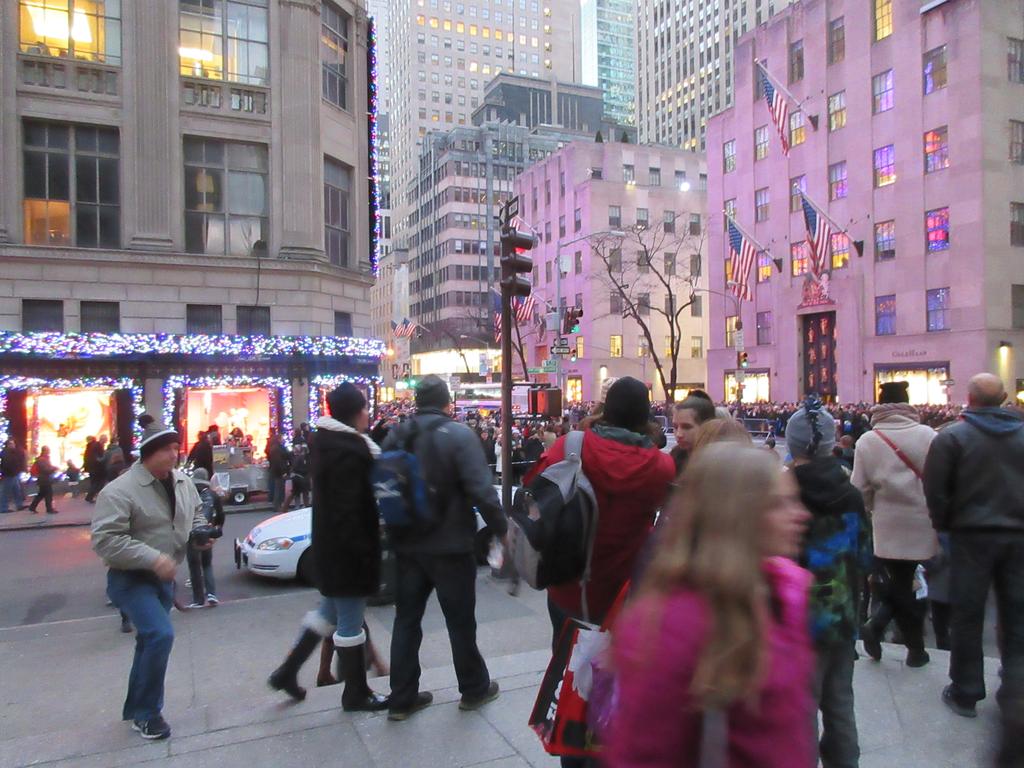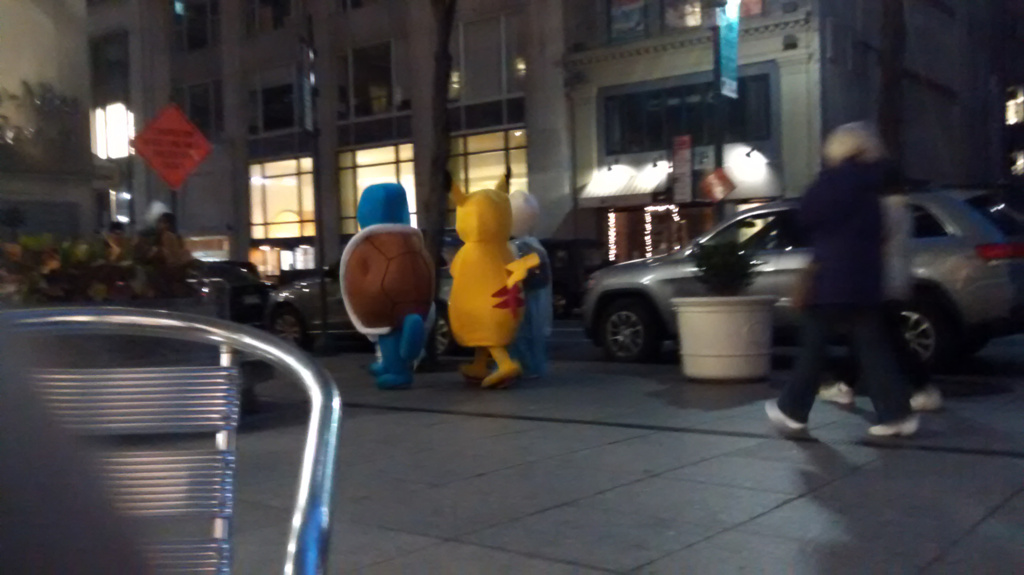 One thing we hadn't realized, until the night before, was that it was SantaCon day. So through the course of the day, increasing numbers of increasingly drunk people in costume turned up. Luckily, their route was pretty much limited to 42nd Street. We did see quite a few passing on 48th during the ten minutes or so we sat there, so evidently at least one of the bars was that far north. Not all of the costumes were Santa; this was a group of four Pokemon. We did not attempt to catch any of them.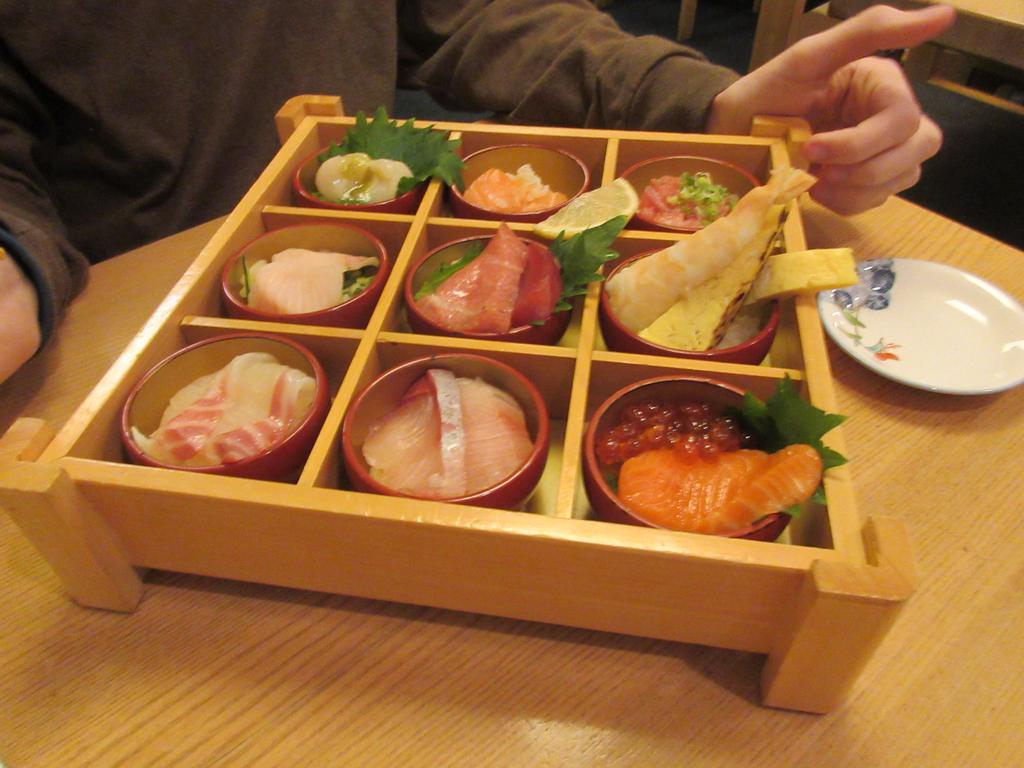 By way of experiencing both extremes of Manhattan cuisine, for dinner we ate at a highly-rated sushi place. Nate had the Box of Dreams, slightly edited because he wasn't adventurous enough to try things like sea urchin.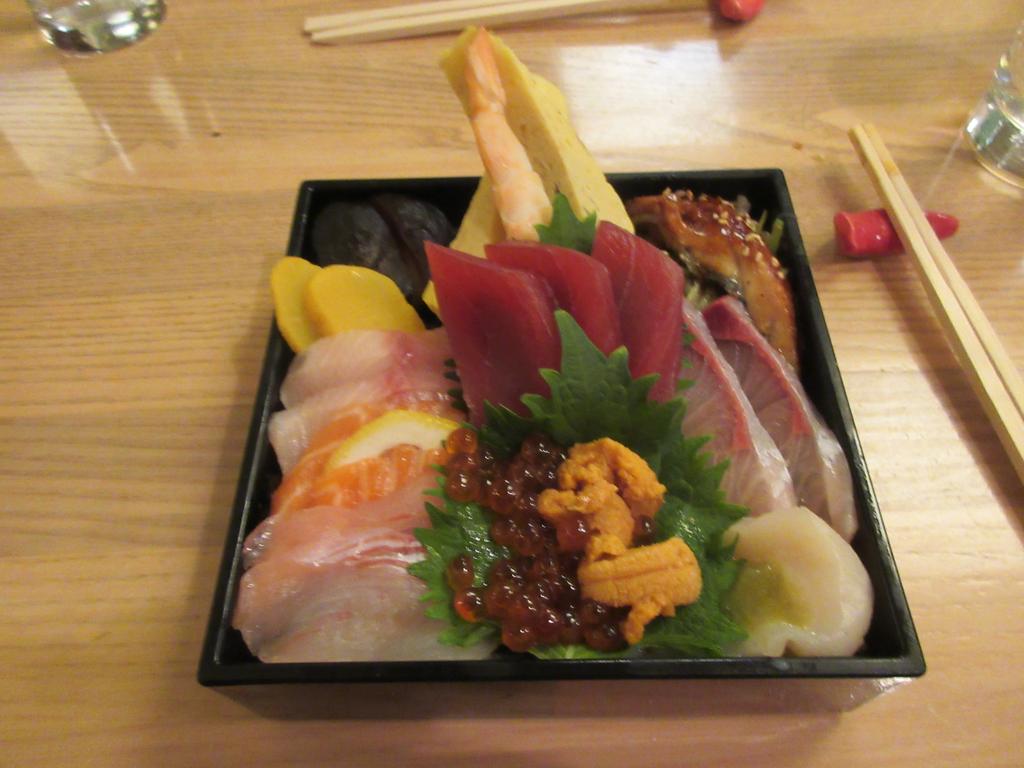 I, of course, was, so my chirashi was straightforward. That's the sea urchin, in with the salmon roe.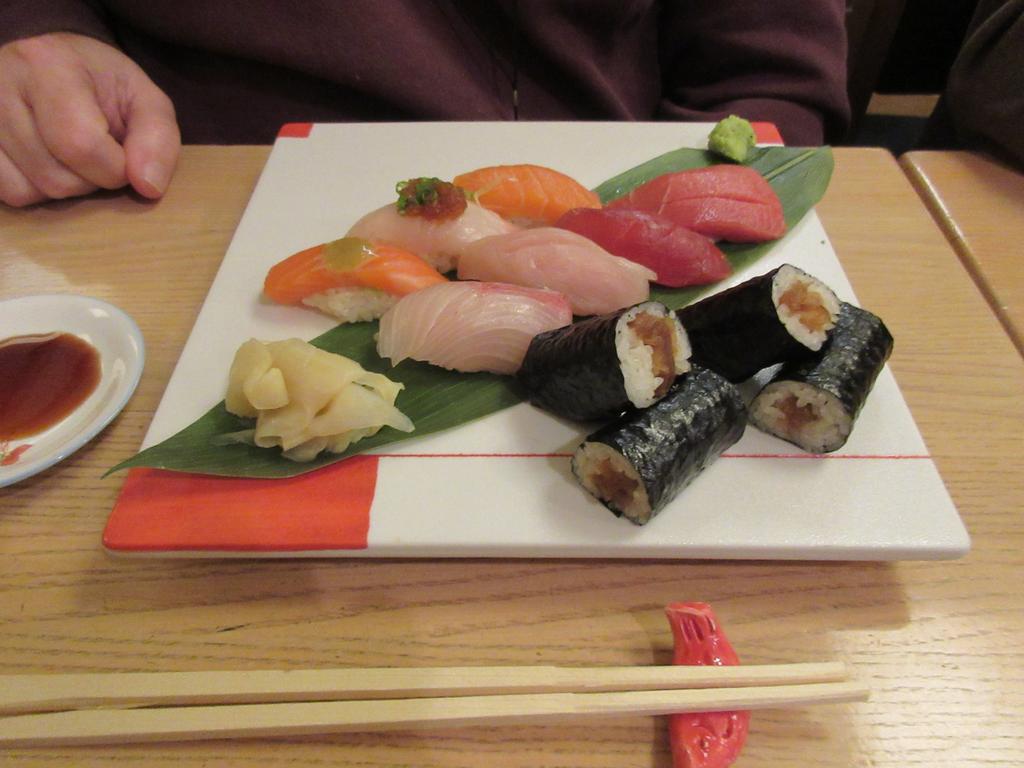 Carl went with a more standard sushi plate. It was all incredible-quality fish, definitely worth the price.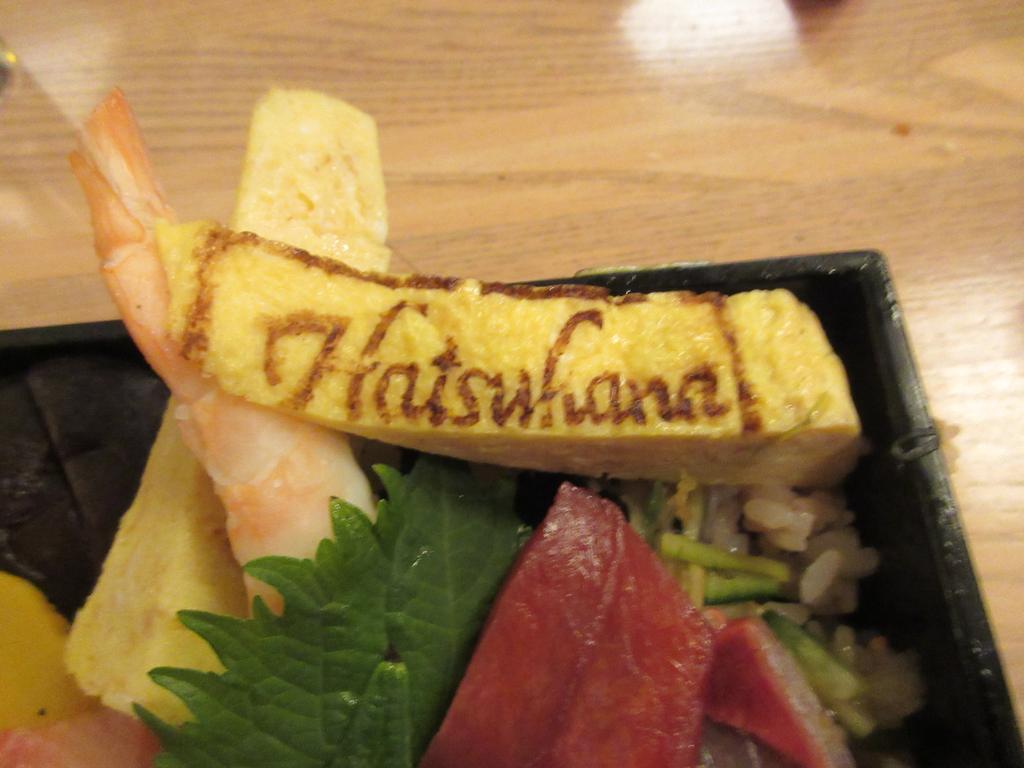 In case you forgot where you were, the name was helpfully branded on the tamagoyaki (sweet egg omelet).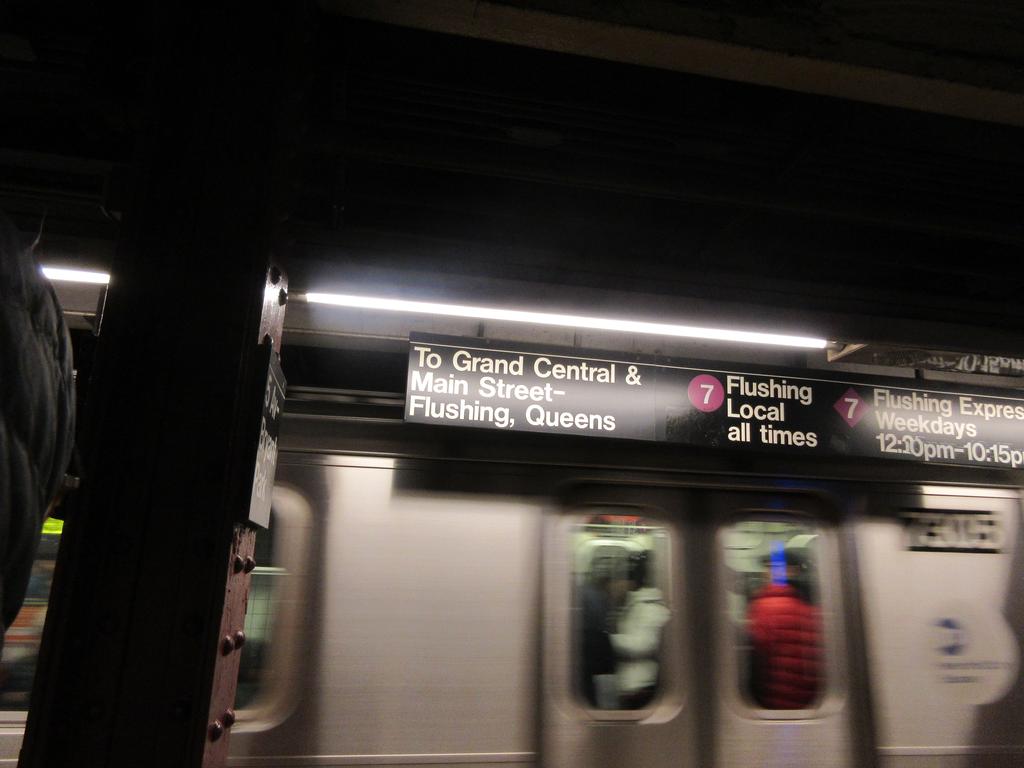 After fighting our way through the mobs, we got back on the subway at NYPL. Next time we'll have to go on to Grand Central and pick up one of the other subway lines.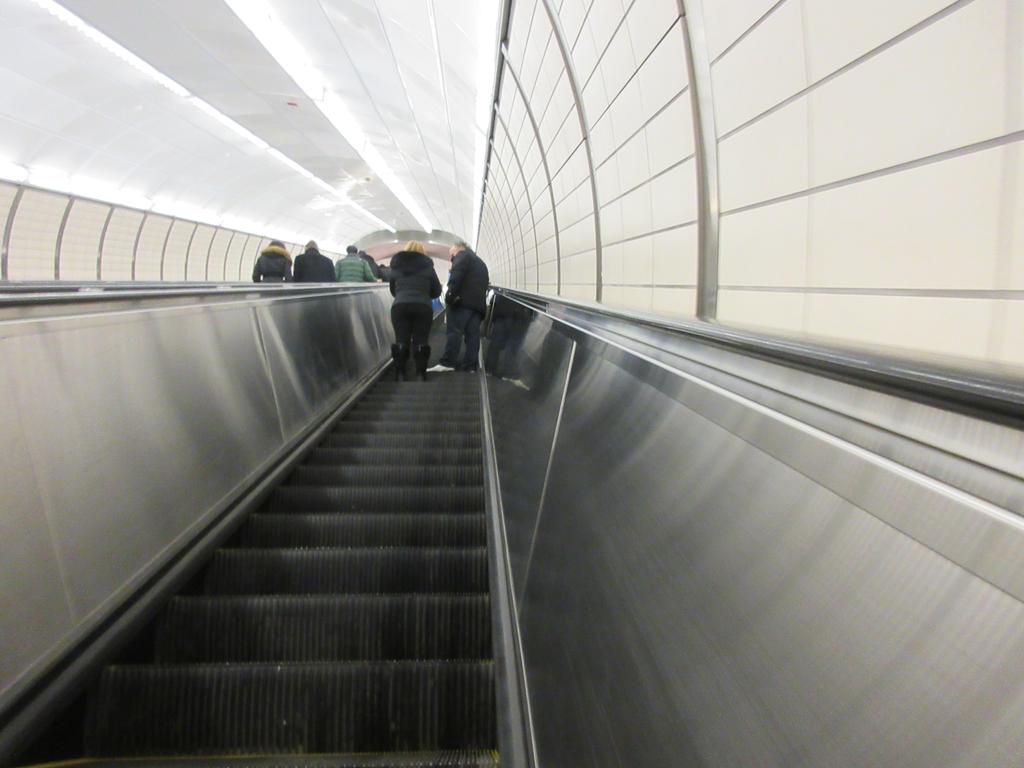 Here's the escalator from the other direction, looking a little more escalator-y. It's still very disorienting; Carl turned around to check on Nathan and almost fell down. I want to have words with whoever decided to make the subway tile align with the escalator instead of staying horizontal.
We cut things a little closer than I would have liked - we were the last ones in line for our (very on-time) bus. The Lincoln Tunnel traffic was nonexistent, so we arrived in Cherry Hill quite promptly an hour and forty minutes later, this time on a Bolt-liveried bus (also very clean and new-looking). We hopped back in our car and were home by about 10.
Overall, a really nice trip. We got a good overview of what it's like without being too overcommitted, and are thinking of going back between Christmas and New Year's Day - most of the holiday things, like the Saks Winter Palace display, run into early January.