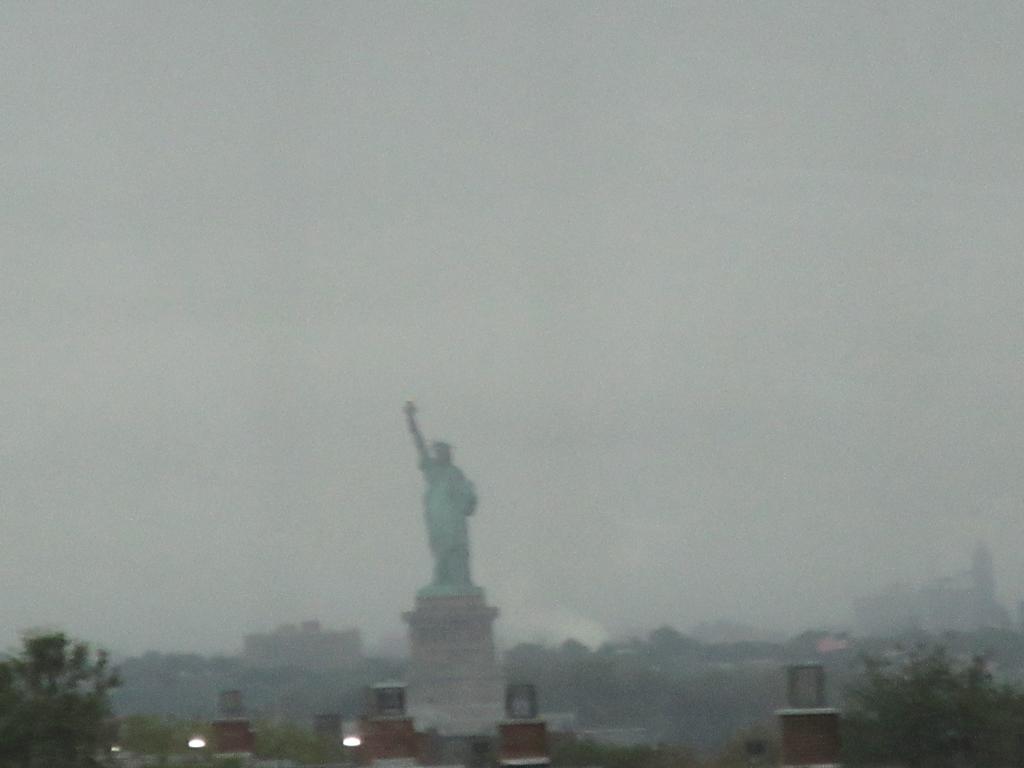 Yesterday morning, we boarded a bus to the New York Maker Faire, held in a place I could not previously prove existed outside of a Hollywood back lot: New York City.
Although I took my camera, I didn't get very good pictures. It was overcast, the bus had (as far as I could tell) no suspension whatsoever, and I think I'm going to have to swap the camera under warranty because it really struggles with focus. I've had two previous generations of this type, so I'm pretty sure it's supposed to work better.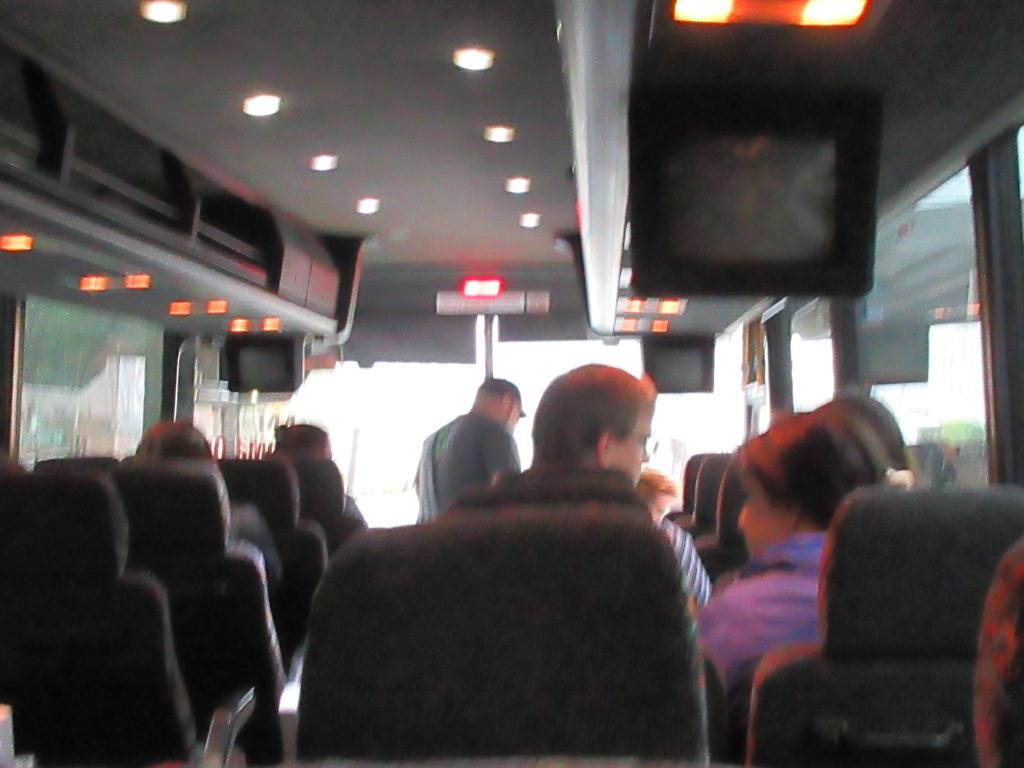 Nate was impressed with the bus: "Are those tube CRT's?" Yes, yes they were, and I was glad I was not sitting under one on some of those bumps.
We left out of Hammonton, a neat little town half a mile up the road, where a group is attempting to put together a makerspace.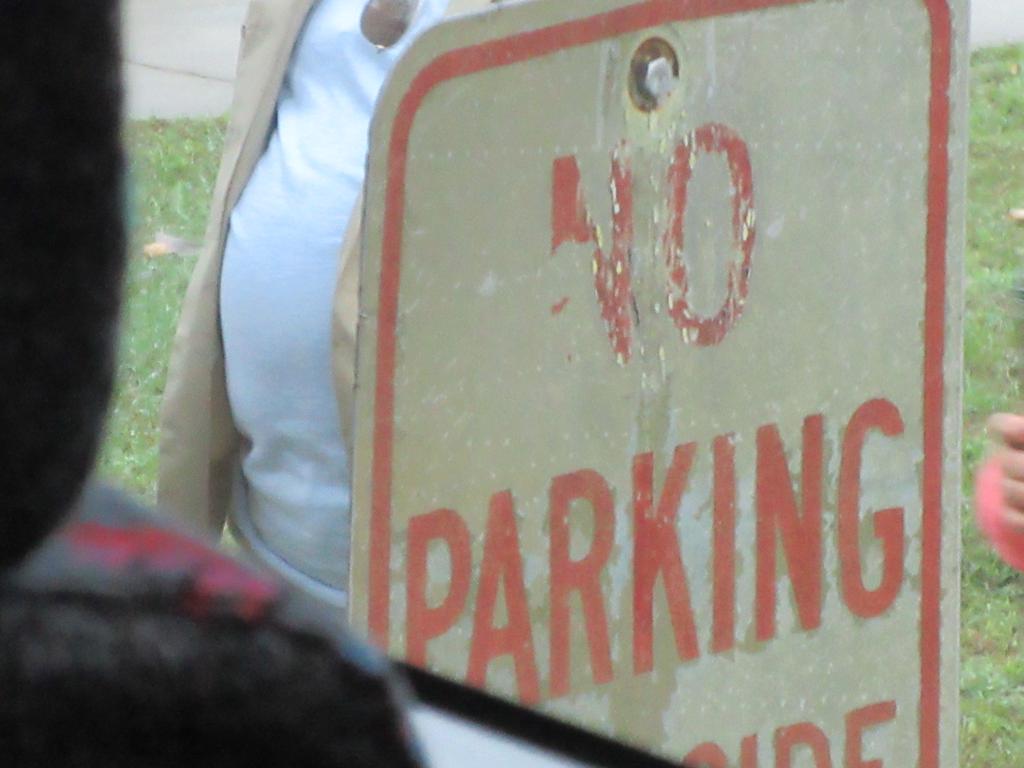 Buses are kind of like honey badgers. Our driver was really pretty conservative, though, especially compared to the NYC drivers we saw later.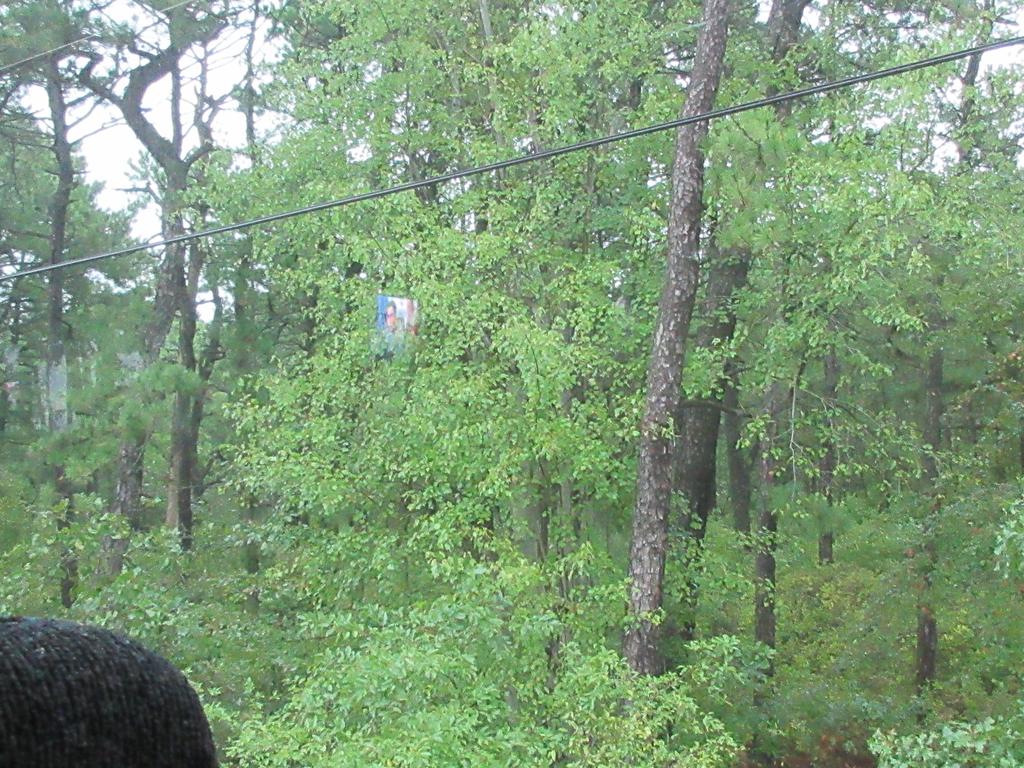 Galloway is right on the Garden State Parkway, so we'd take that into NYC leaving from our place. But Hammonton is far enough west-northwest that the more direct route is state highway through the Wharton State Forest to pick up the New Jersey Turnpike. (Reflection is of the in-flight movie: Galaxy Quest.)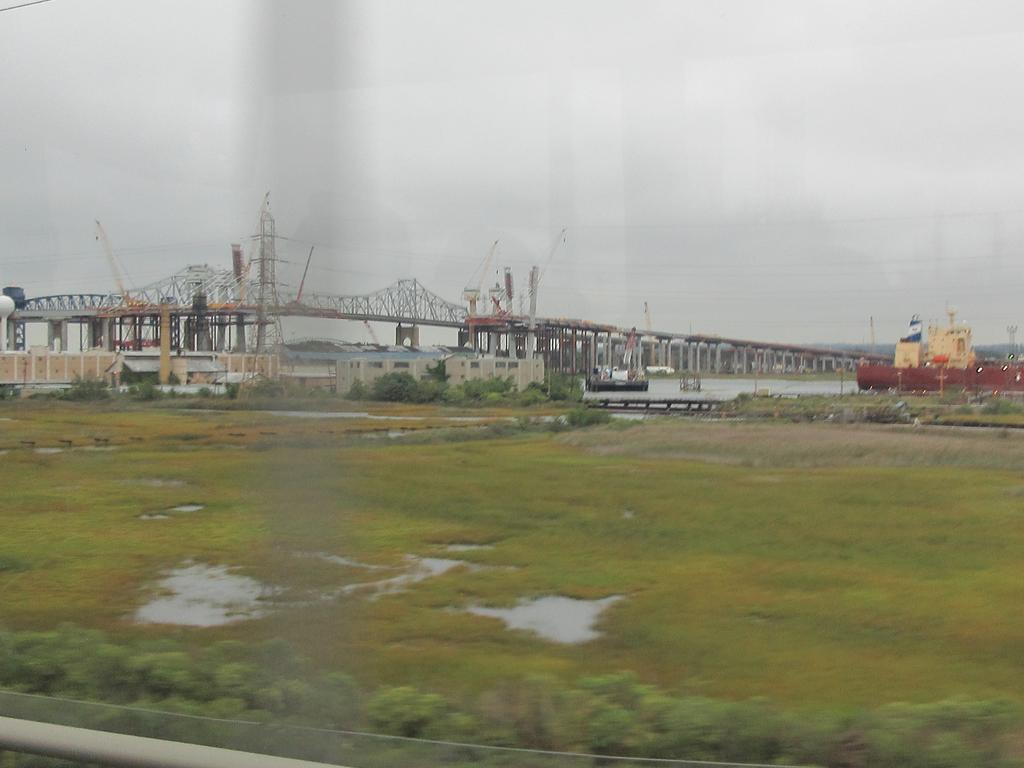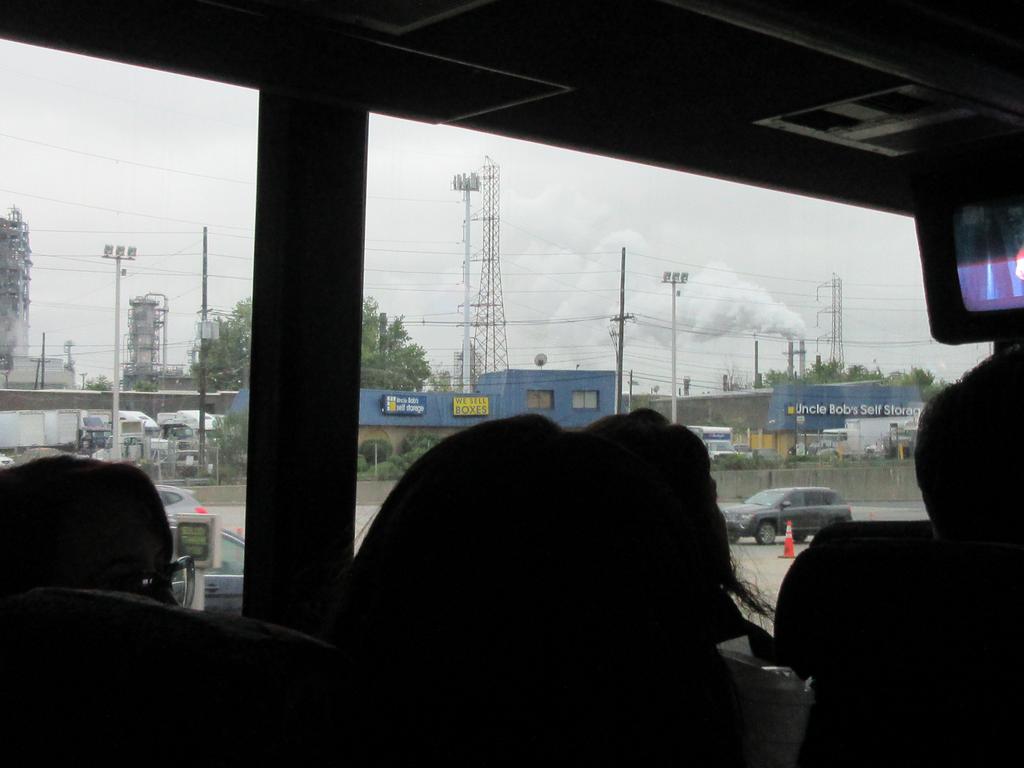 This was our first time north of 195, the (arguable) dividing line between North Jersey and South Jersey. North Jersey isn't as pretty.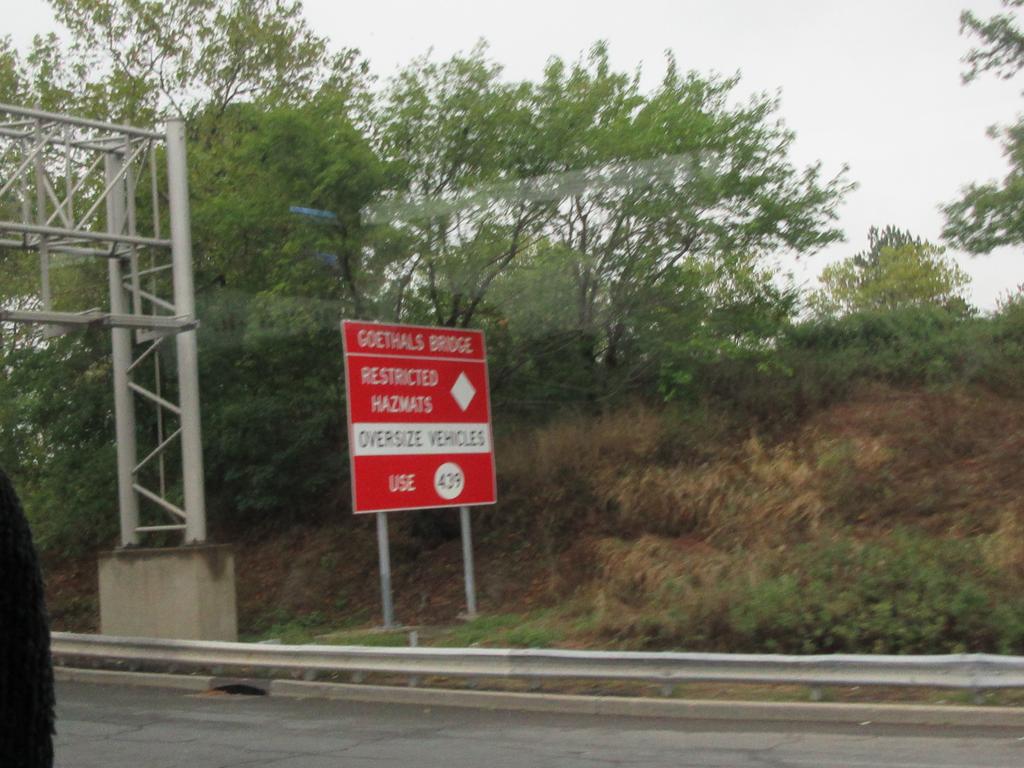 Crossing over from Elizabeth, NJ to Staten Island, NY. Goethals is kind of a boring steel truss bridge, but it's due for replacement with a funky-looking modern one in a couple of years.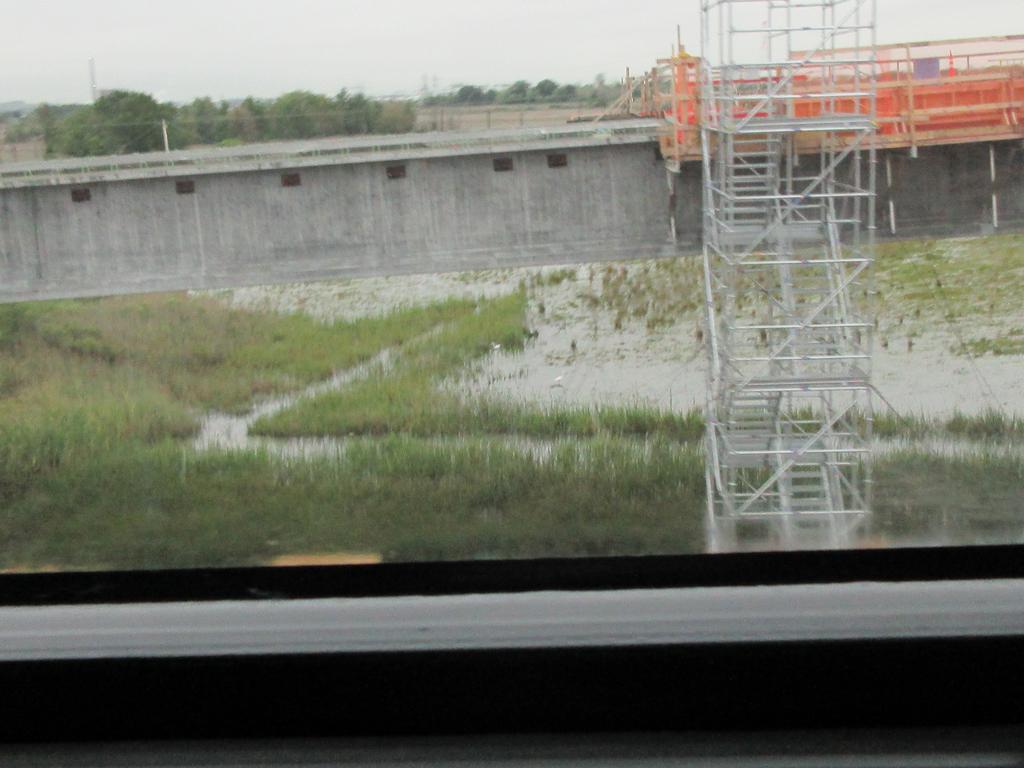 It's all industrial sites and shipping (and bridge construction), but there are still marshes full of migrating water- and wading birds.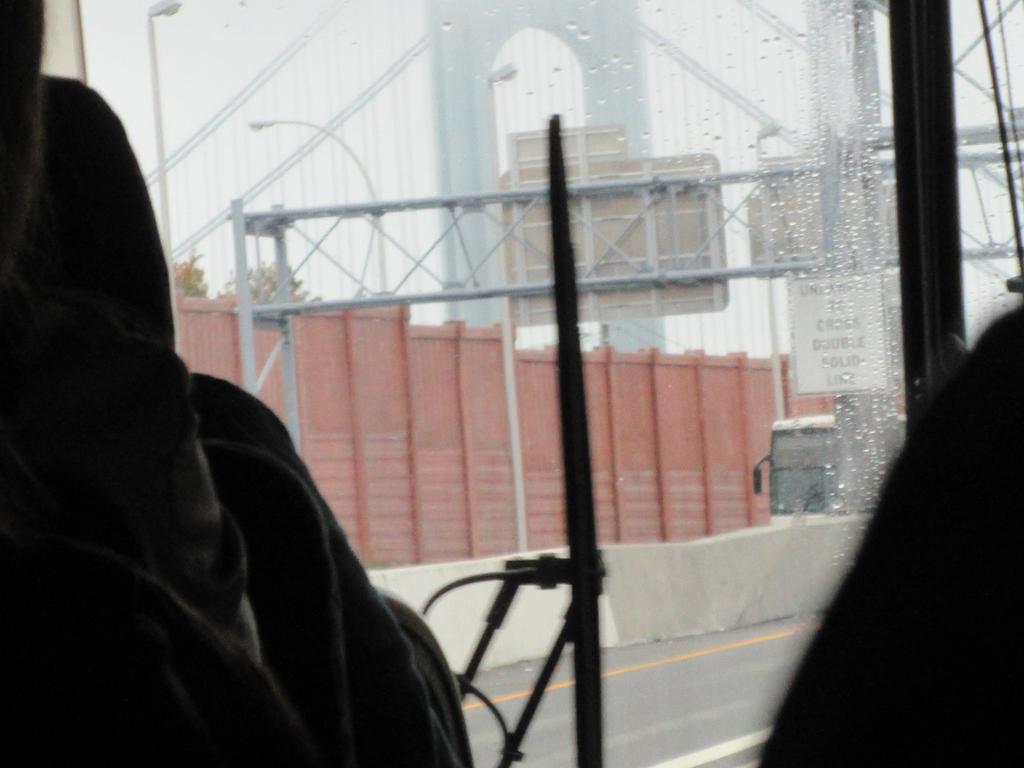 Verrazano-Narrows bridge took us from Staten Island to Brooklyn.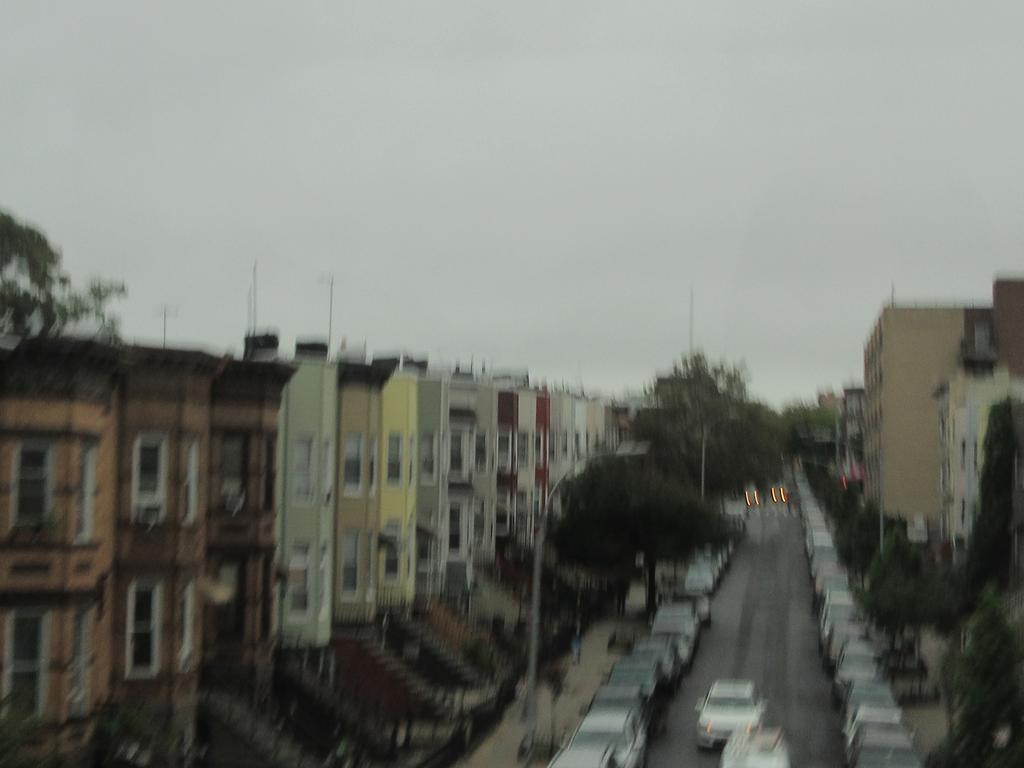 The Belt Parkway cuts through Sunset Park perpendicularly to the surface streets, so it's all alternating views of rowhouse streets…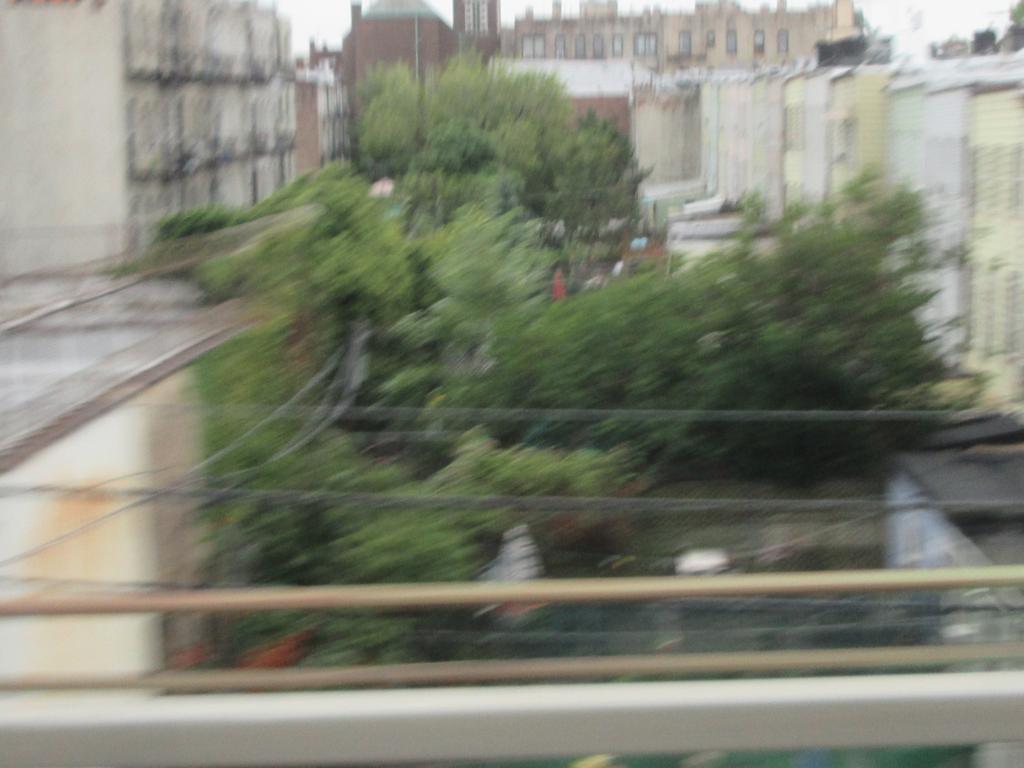 … and backyards, which are packed with trees and tiny gardens and such.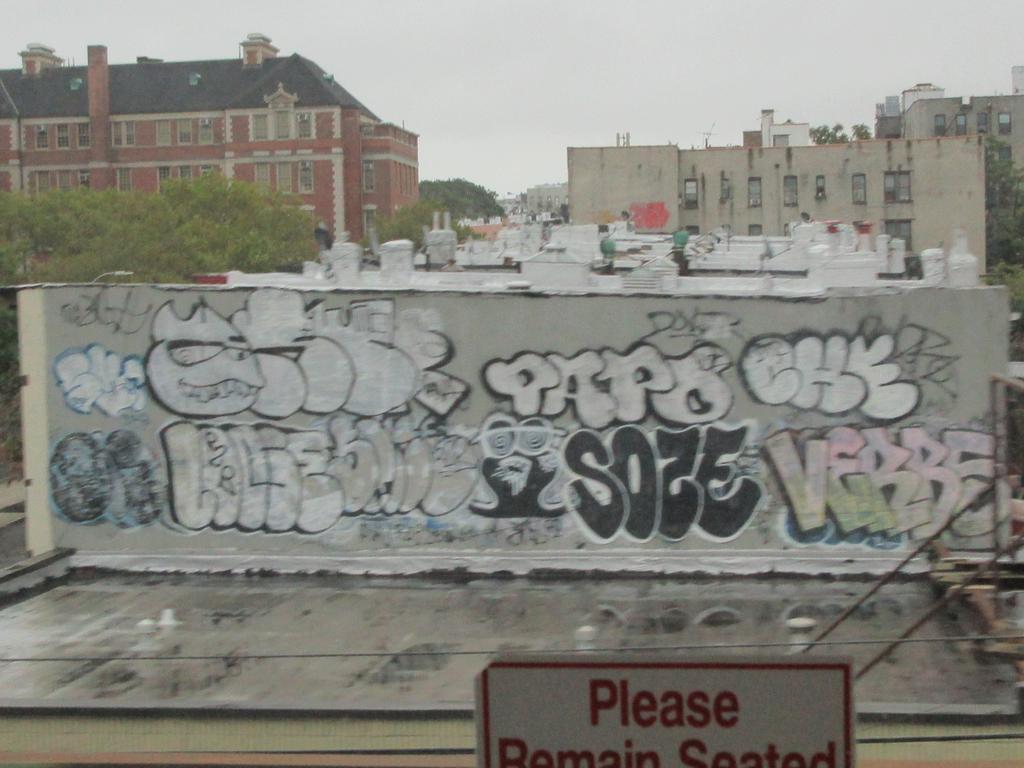 In some areas, every flat surface that faces the Beltway is covered in graffiti. Prime advertising space, I guess.
Then we came around toward Red Hook, and could look across toward Jersey City and see the Statue of Liberty. Gonna hafta visit sometime soon, hopefully when the weather is clearer.
Can't visit New York without seeing Hamilton.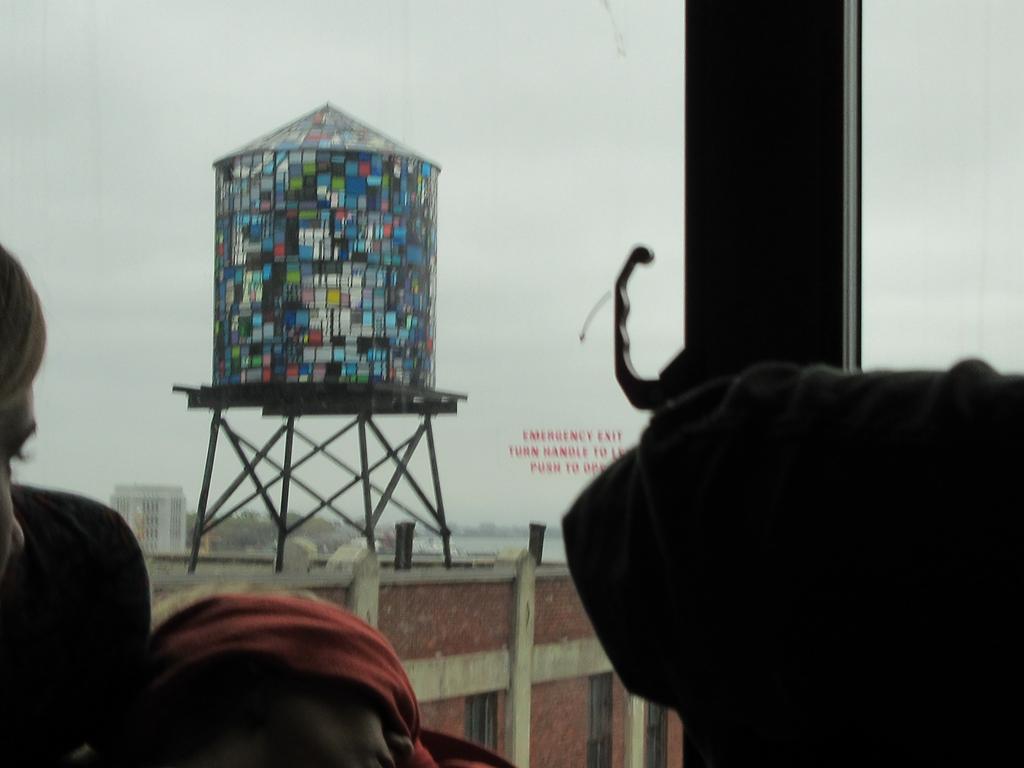 There were a lot of rooftop water towers, but this one was the prettiest (and least effective). It was lit up when we passed it on the way home, but I wasn't even trying to get pictures by that time.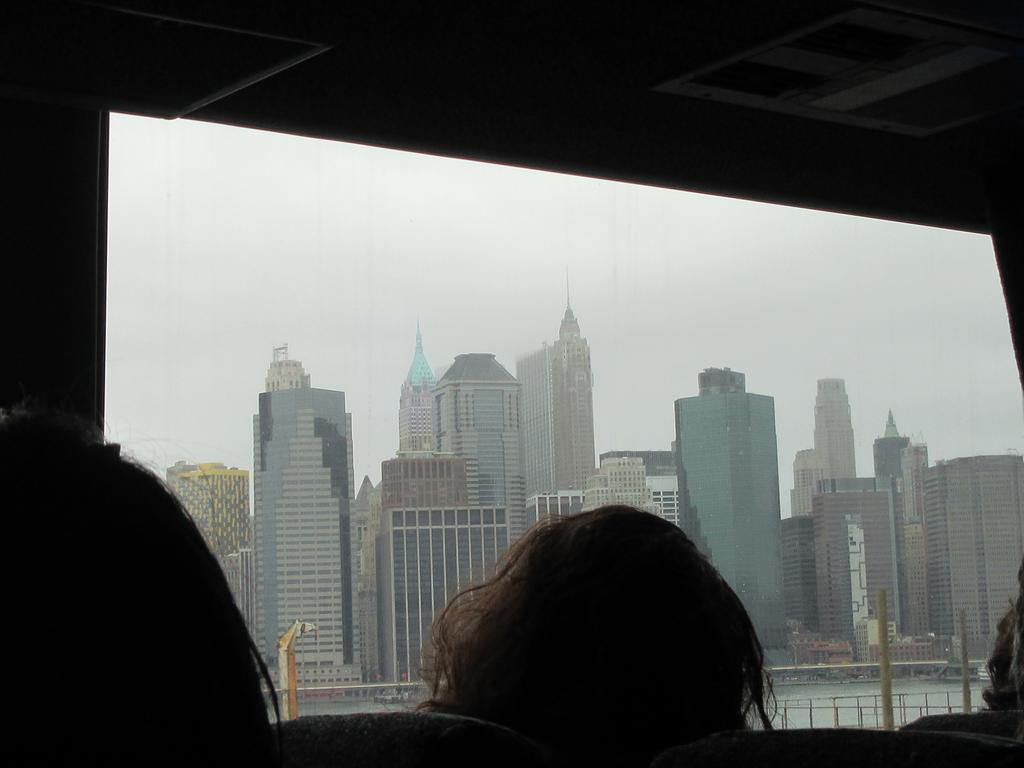 Our first view of the Lower Manhattan skyline was somewhat fog/cloud impaired, but we could make out 40 Wall's green roof pretty well, and the Empire State Building. I thought I got a good picture of the Chrysler Building as well, but it looks like someone moved their head at just the wrong time.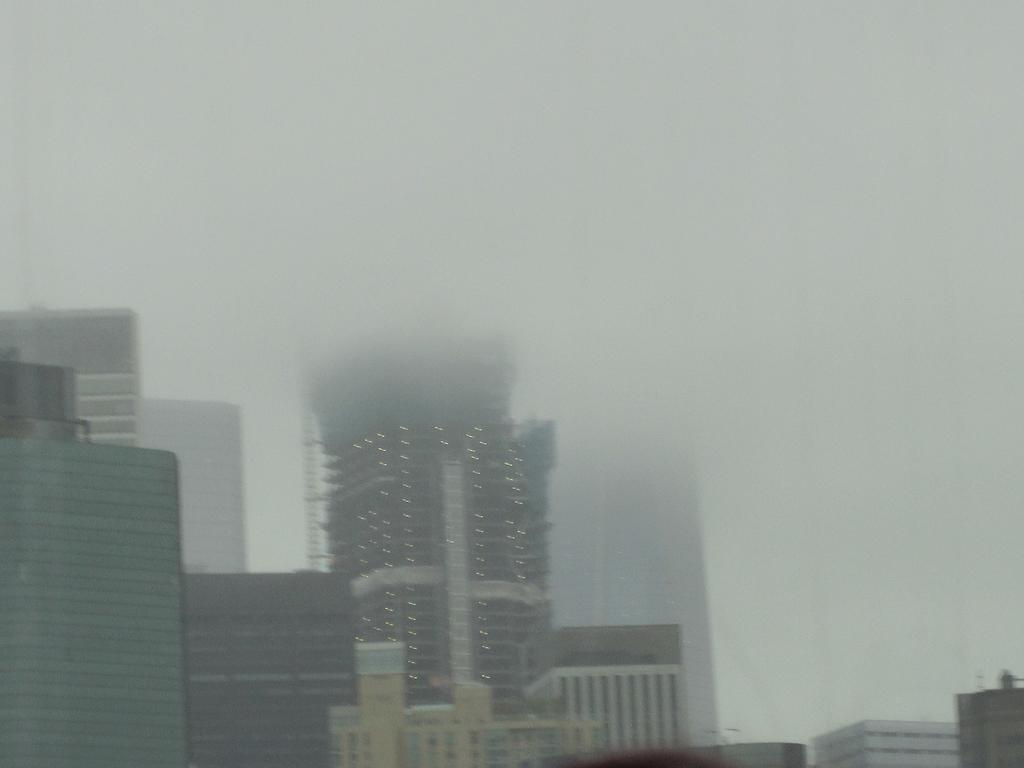 One World Trade was… not all that impressive. Good thing we weren't there to visit its observation deck.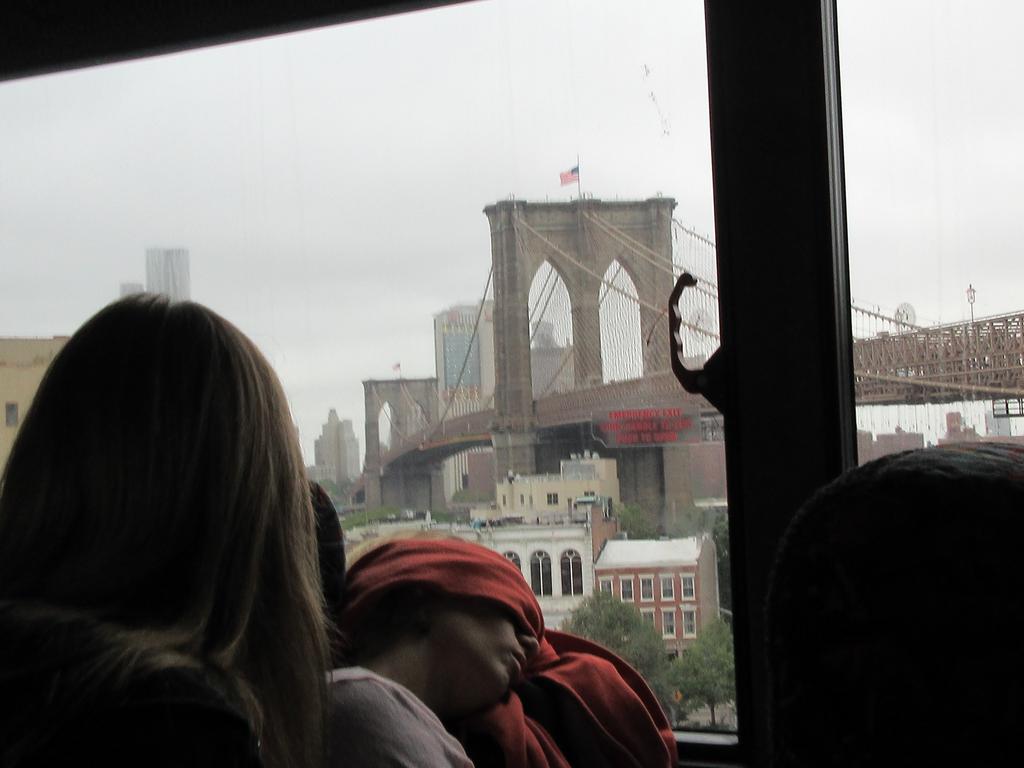 We passed but didn't go over the Brooklyn Bridge, since we were headed for Queens.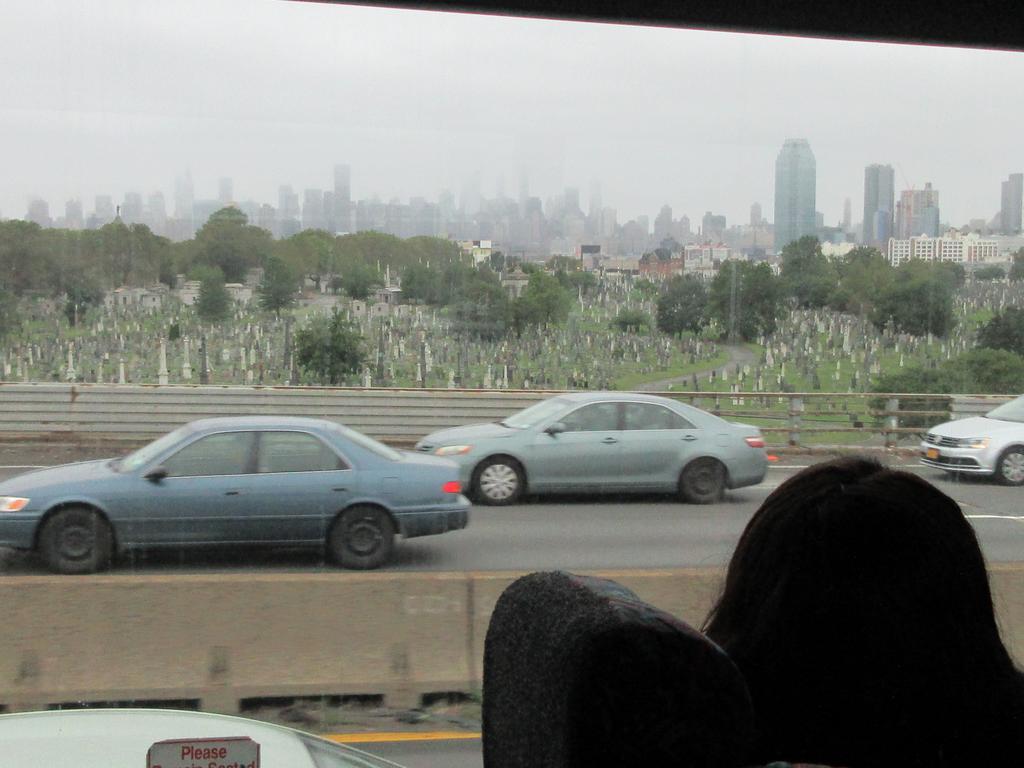 The Calvary Cemeteries are impressive and just go on and on.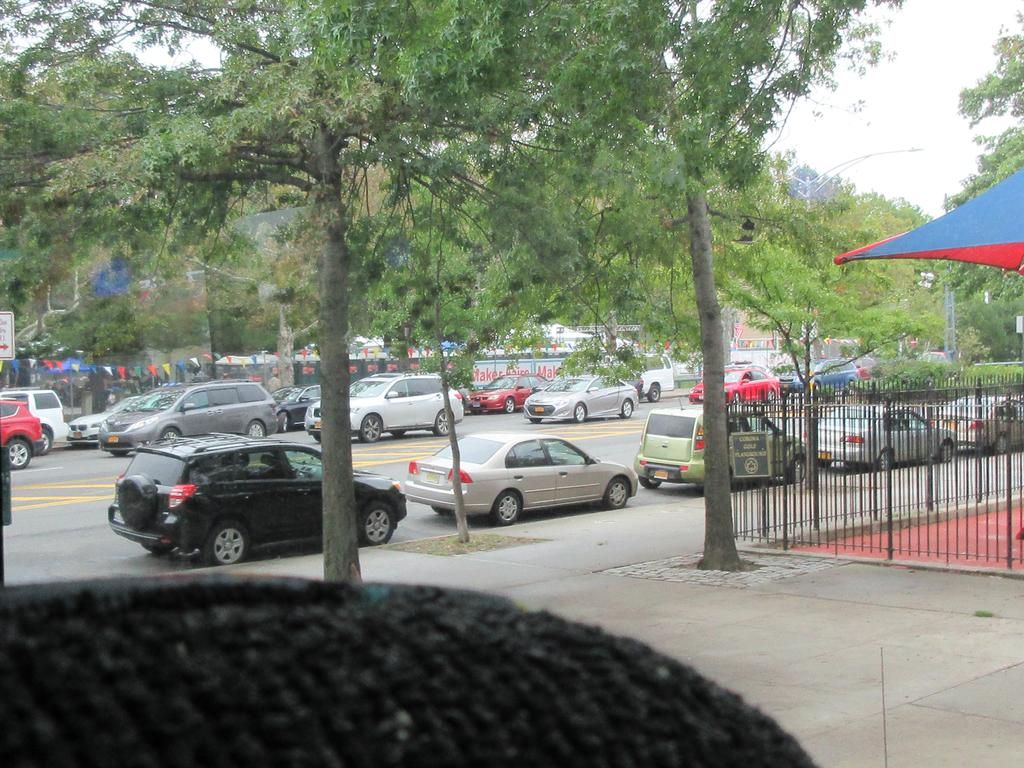 Finally, an hour later than expected, we arrived at the Maker Faire gate.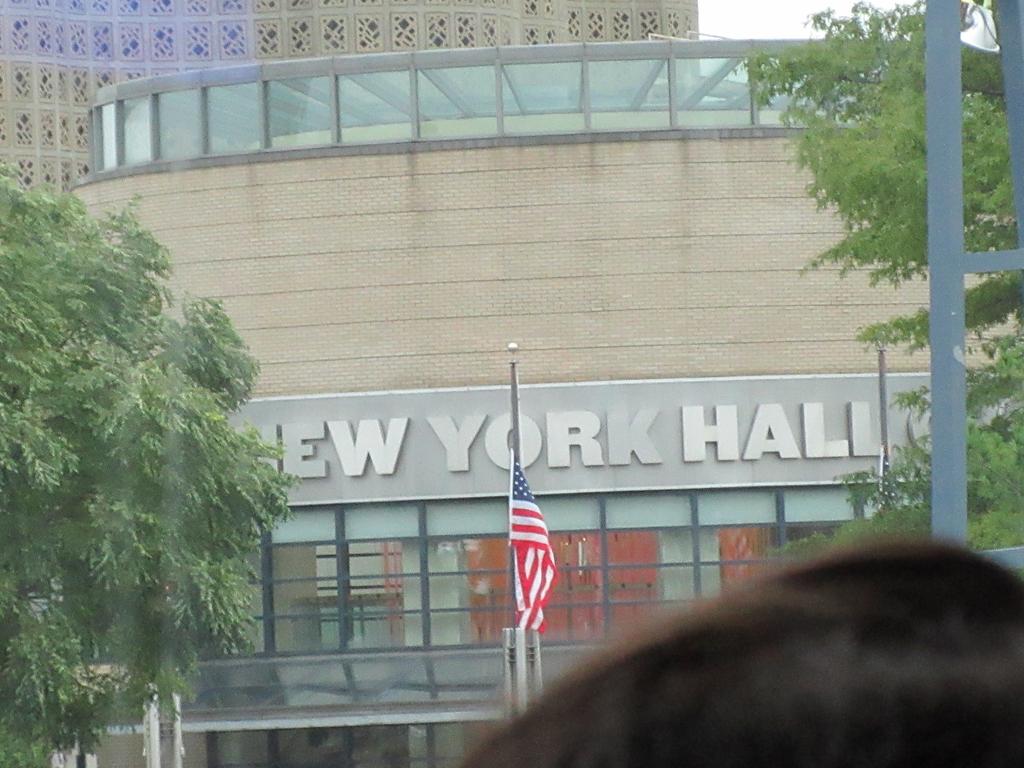 It's held in Flushing-Corona Meadows Park, at the Hall of Science. The HoS is one of the remaining buildings from the 1964 New York World's Fair.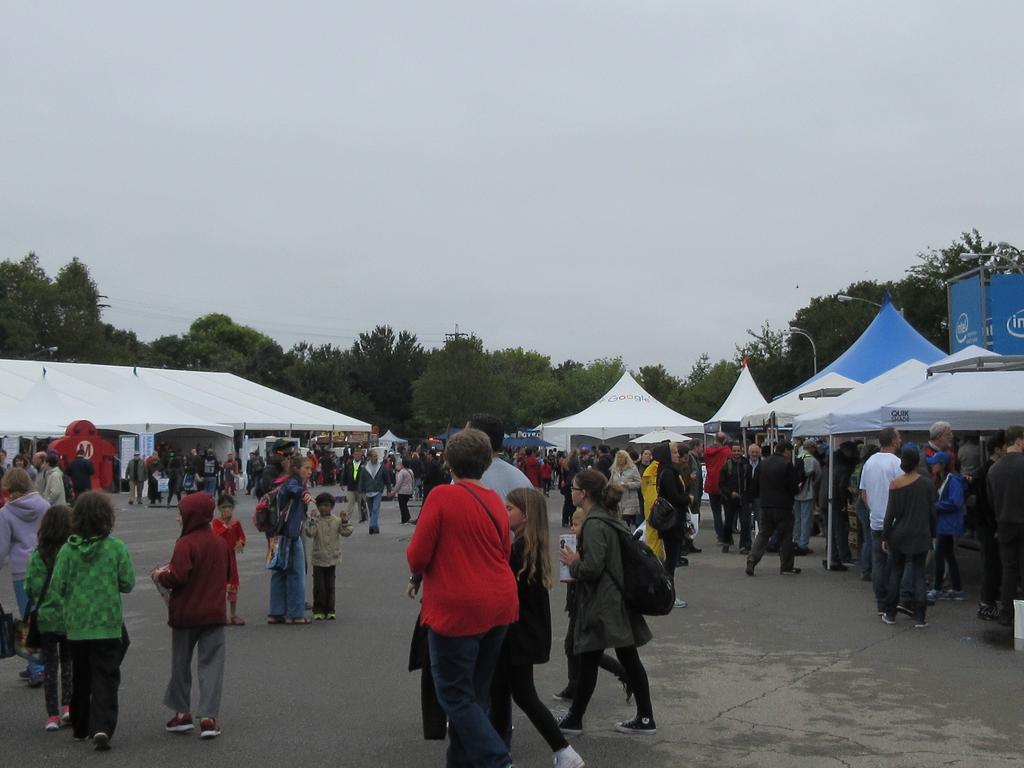 Maker Faire bills itself as "The Greatest Show And Tell On Earth," and is something like a (mostly) grown-up science fair. There are booths there for schools, inventors, area makerspaces, and (of course) companies trying to sell things to all of the foregoing. Carl and Nathan had been to the KC Maker Faire, but I'd never been to one.
Nate immediately latched onto a booth that had paper and markers and was demonstrating an app that would scan the image and, depending on the color-coding, turn the image into a video game. We pointed out that if we spent a half hour at every booth, we wouldn't get very far into the Faire, but he was determined. Luckily, Carl had brought a tripod camp chair to sit and wait, since his back's been acting up.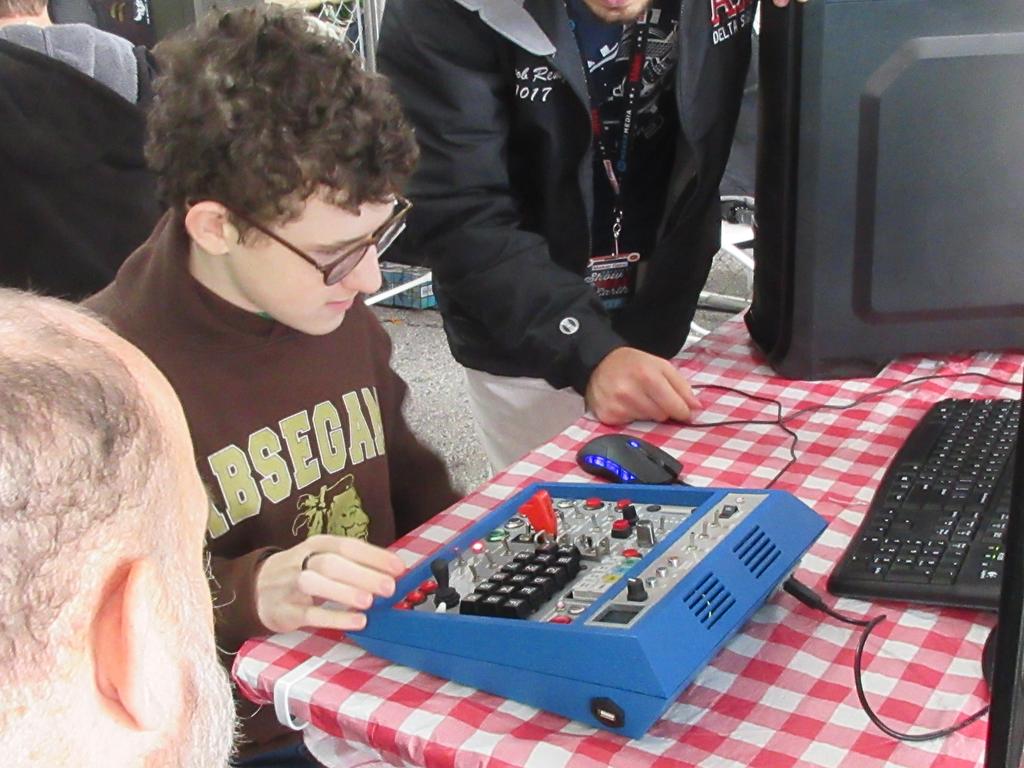 He also sat and played Kerbal Space Program for awhile on a homebuilt "Mission Controller" - that replaces the keyboard controls with a more space-program-y array of switches. This one's in a Heathkit case that is probably twice the age of person who built it.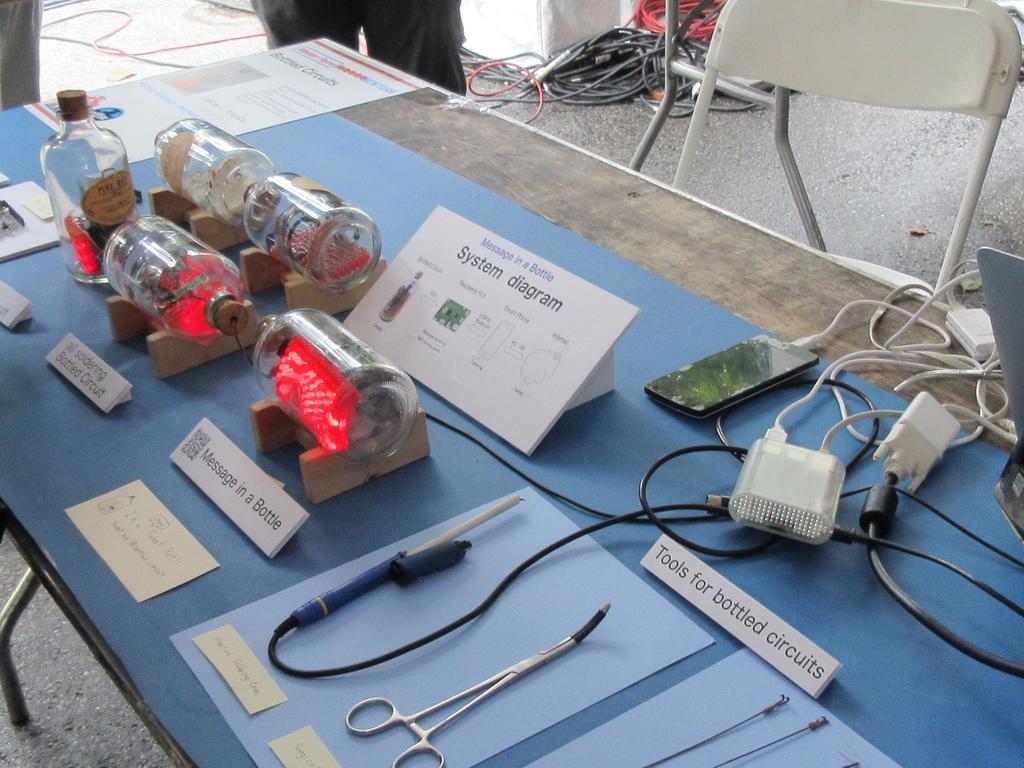 This gentleman made messages in a bottle: LED arrays assembled ship-in-a-bottle style. I think he also sold kits, but I'm not sure - the experienced farmers-marketer in me was continually critiquing the booth designs, because a lot of people (and companies) either didn't have signage at all or didn't make it clear (a) what the company name was, (b) what, if anything, they were selling, and © in a manner that was visible past a crowd. Table-mounted signage and business cards do no good if you attract even a single row of people in front of your booth.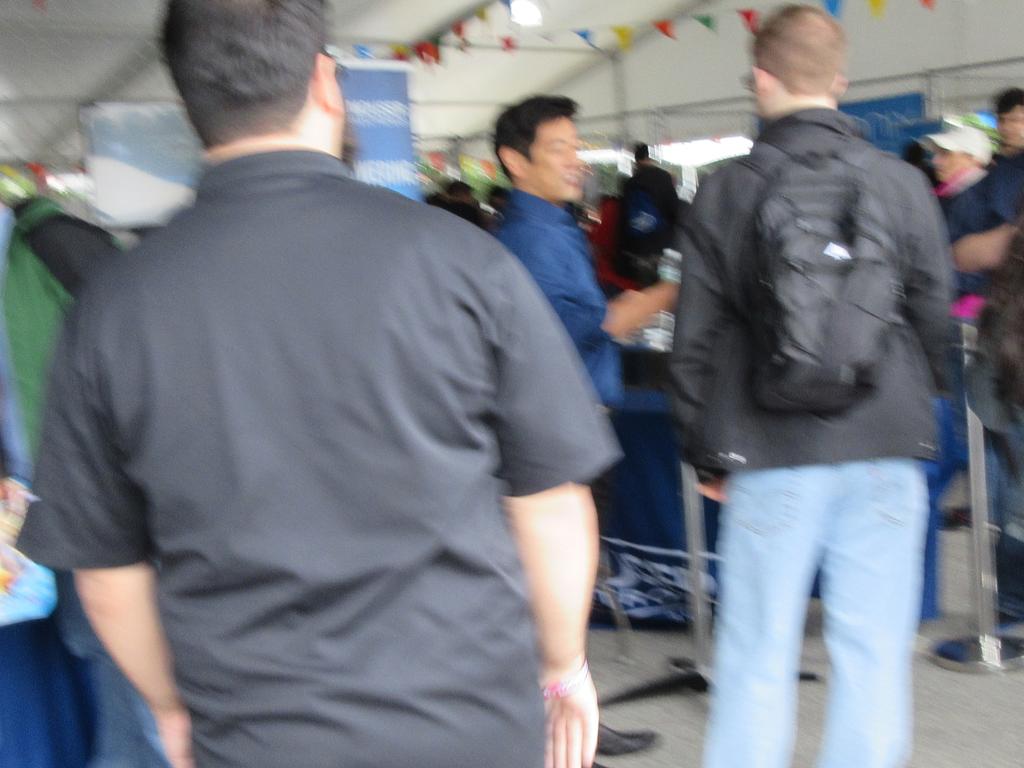 Our one celebrity sighting: Grant Imahara from Mythbusters (and similar shows). There was a line to get your picture taken with him; we didn't stand in it.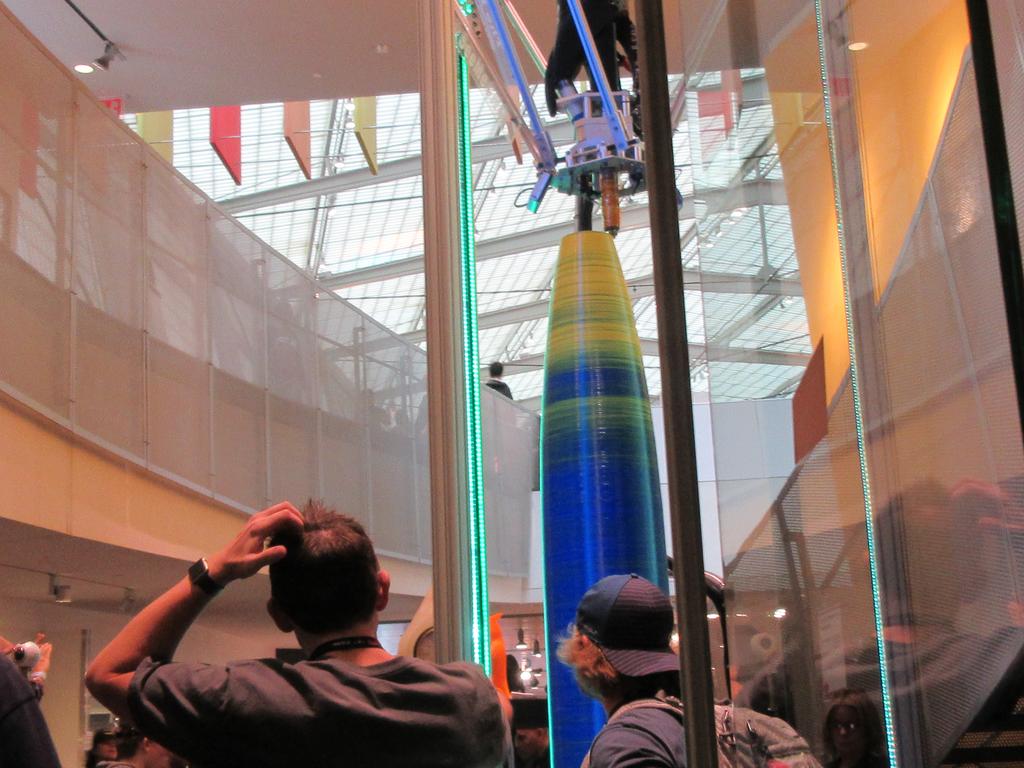 Inside the Hall of Science, this was a (very!) large-scale 3d delta printer. The base of that vase(?) is on the floor.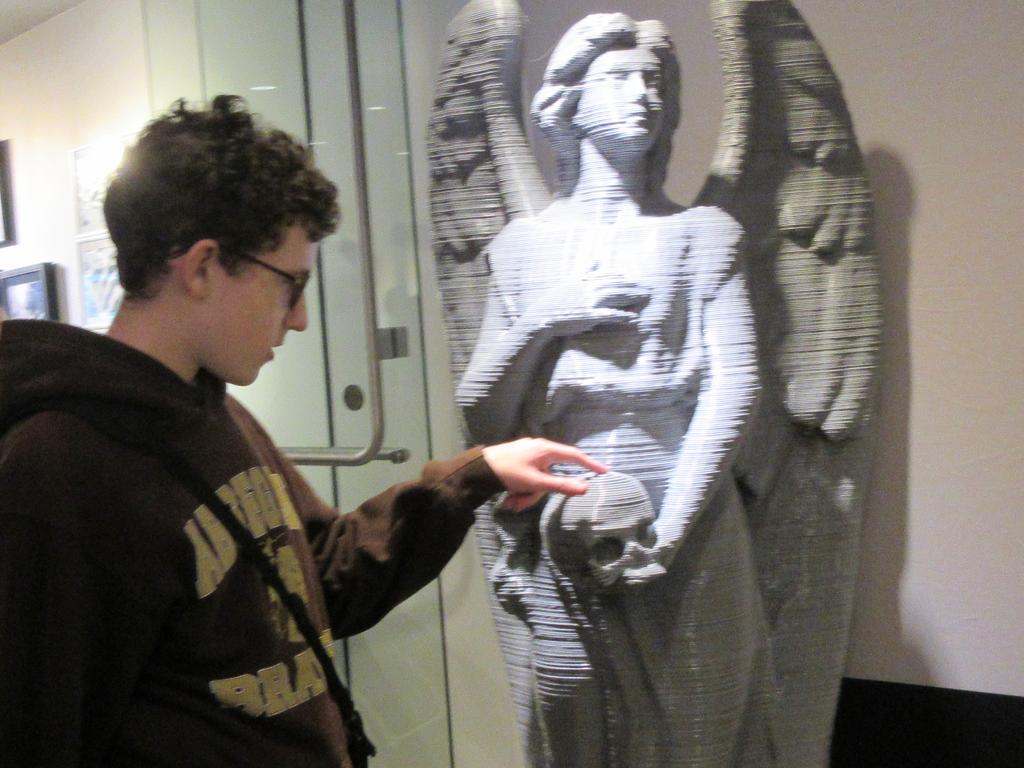 Obviously, it sacrifices some precision for size, but it was still pretty impressive. Don't blink!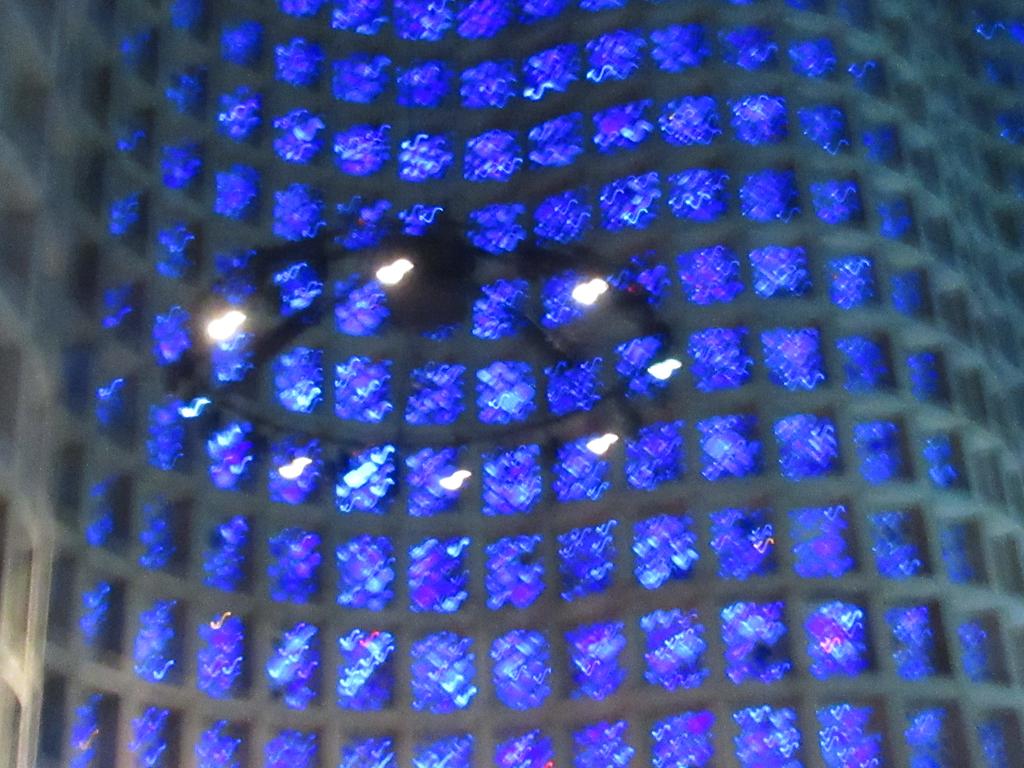 The walls of the Hall of Science are stained glass embedded in concrete, and even on an overcast day were pretty impressive. The area was an extra charge with timed tickets, so we could only see a little of it from the waiting area - and again, the camera just couldn't focus.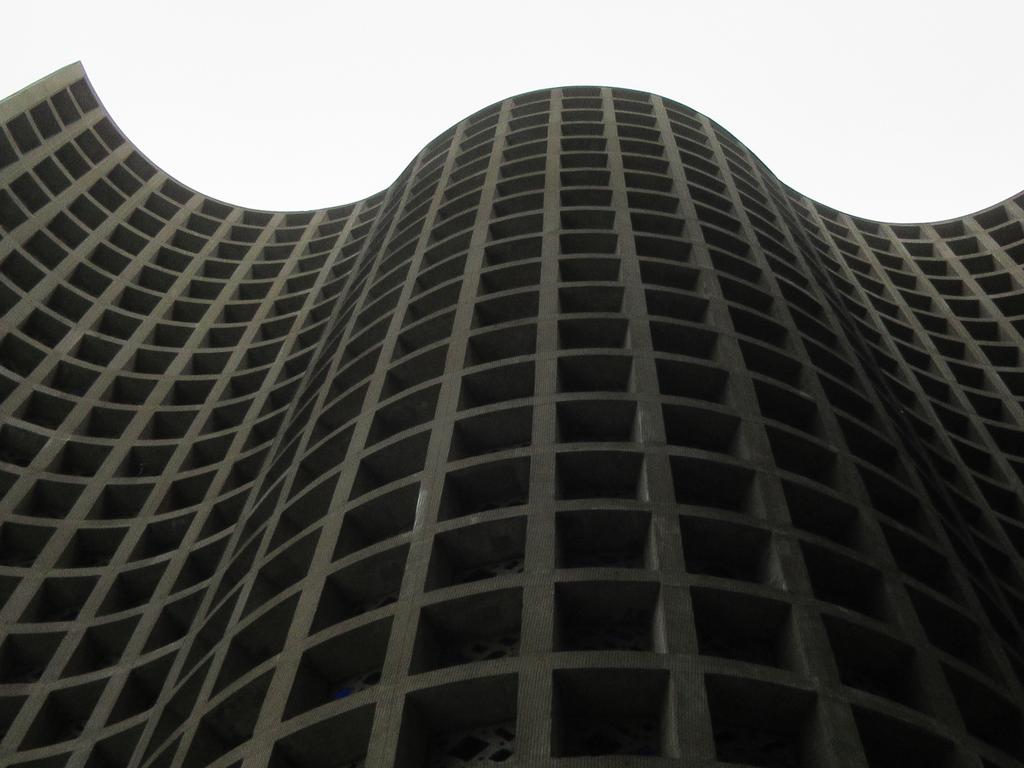 They're pretty cool from the outside, too.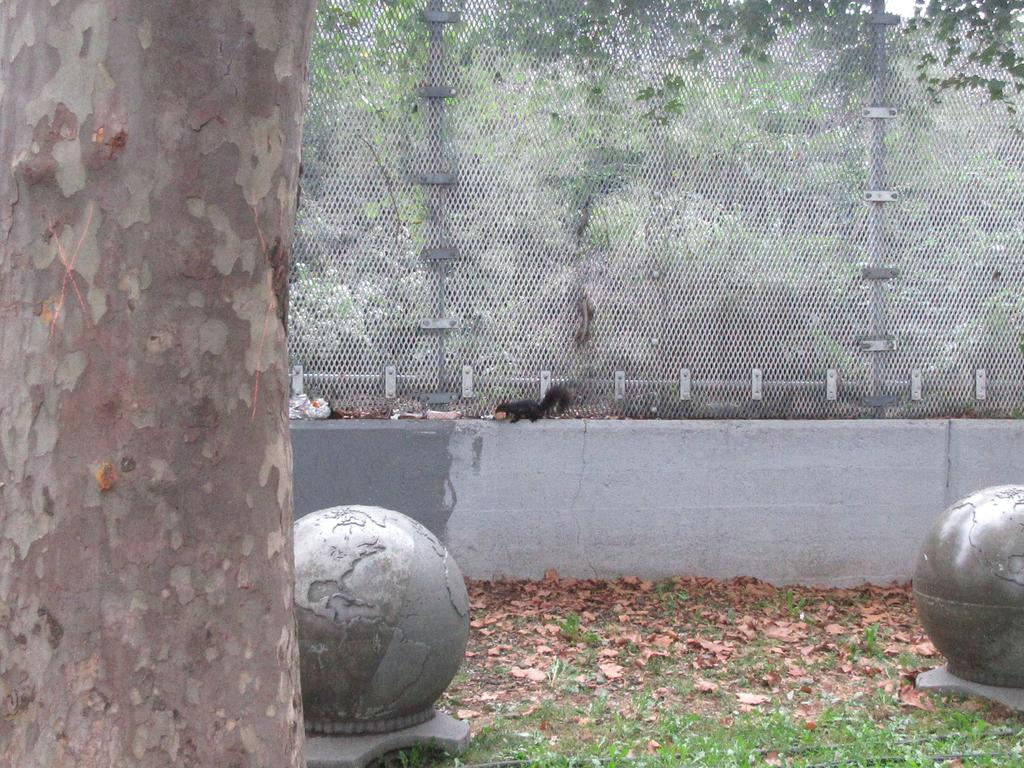 The Faire was in a relatively tiny part of the park complex, and we didn't cross over to see the Unisphere which in any case isn't as impressive as its CGI counterpart in Iron Man 2, but its theme shows up in various bollards that were displaced by the show.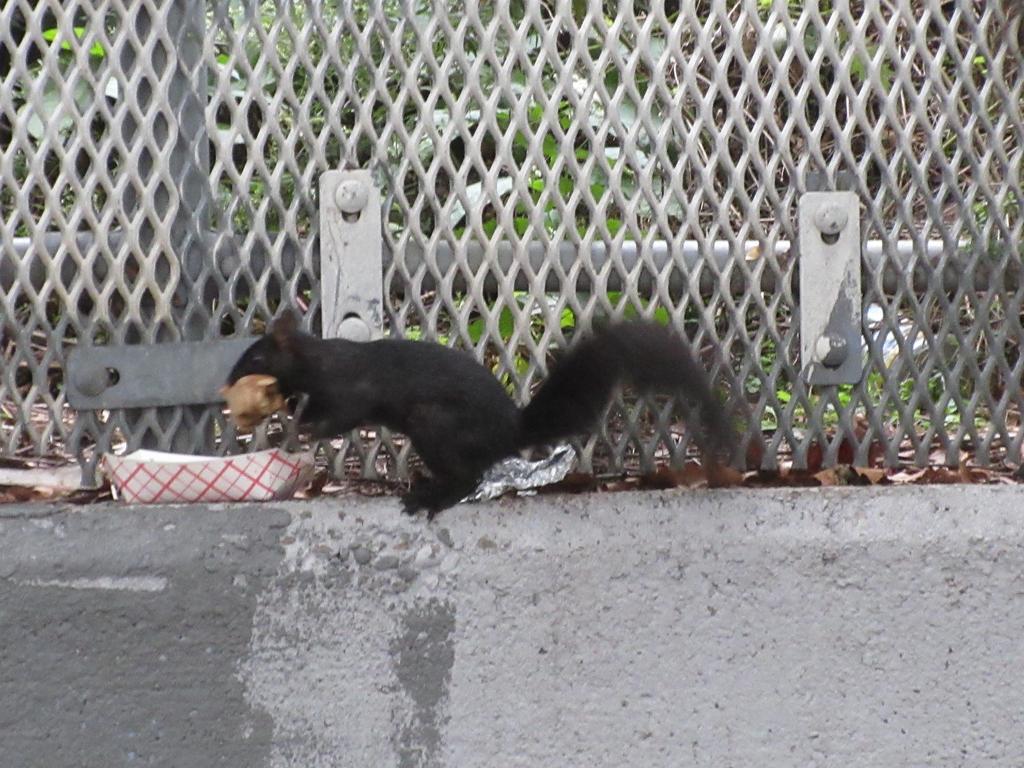 Evidently the park is home to a black squirrel population. The local squirrels are (mostly) Eastern Gray, and some of them are melanistic.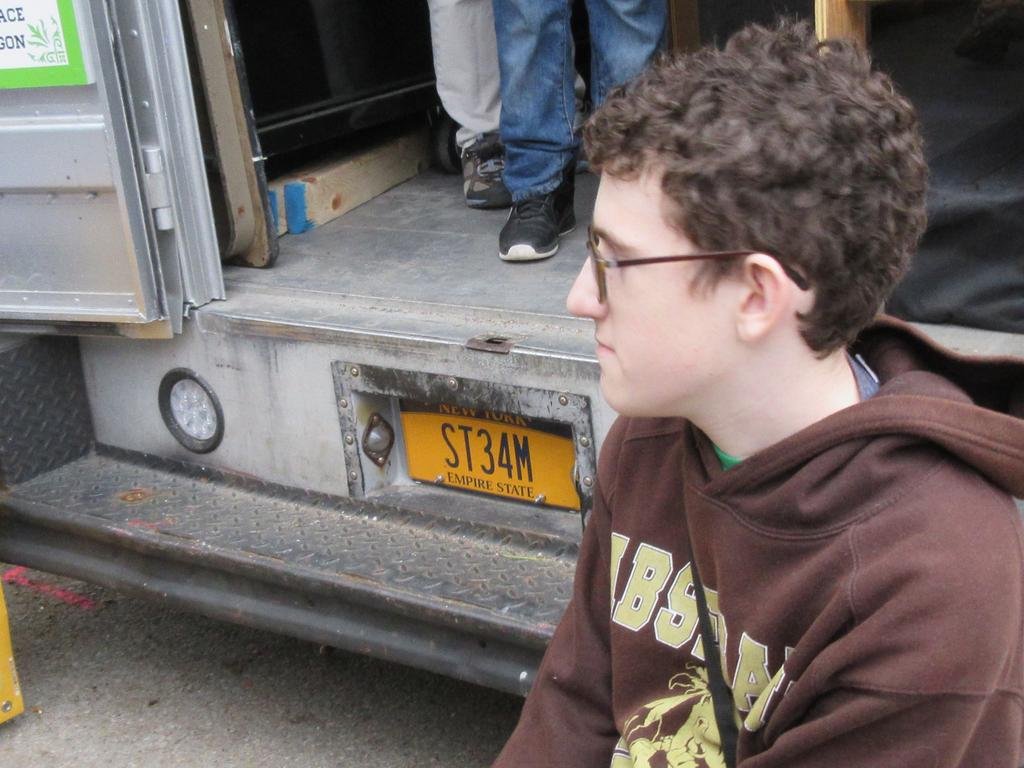 The Hammonton group has acquired a bus to convert to a mobile makerspace. This New York group did a similar thing with a box truck named the Steam Wagon. Nate co-opted Carl's chair while Carl chatted with one of the group members.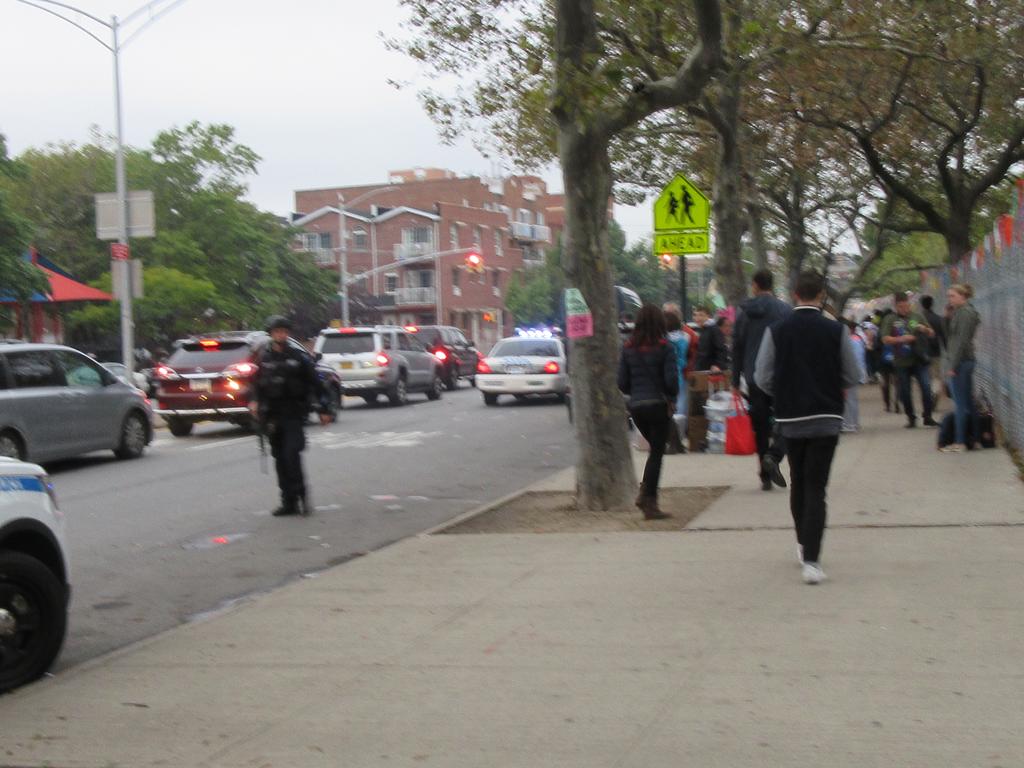 I wasn't too surprised by the presence on NYPD throughout the Faire; we had to have WPD on duty at every intersection during the Delano parade, which was similarly not exactly a rowdy crowd. But the helmeted, rifle-toting officers patrolling when we came out were a little more than I had expected.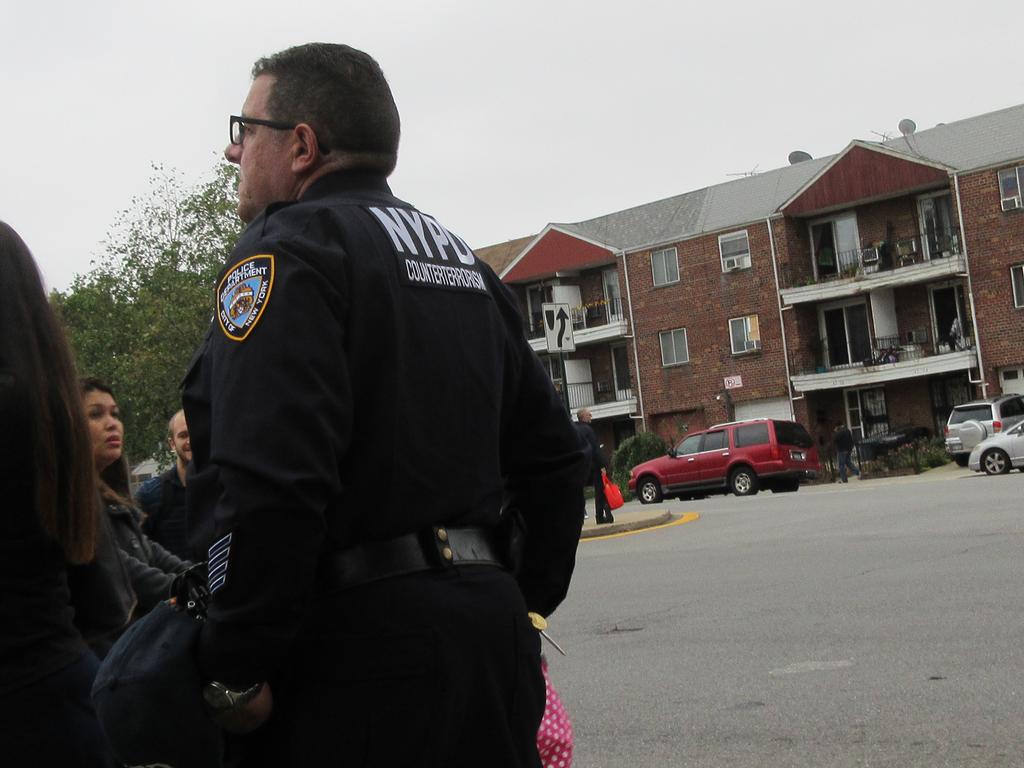 I don't know if there had been a specific concern (admittedly Maker Faire involves a lot of booms that might worry neighbors) or what, and we didn't ask and neither did anyone else. We stood in the middle of the crowd of cops waiting for our bus - they seemed bored.
The bus showed up, we all piled on, and drove through light rain (which luckily held off during the Faire) back to Hammonton and our car, and then home. It was a pretty good trip, and watching NYC traffic from the vantage of a bus seat told us we really don't want to drive there. Various NYC tours leave from Atlantic City; we'll have to give one a try sometime.