There are amusement parks, indoor and outdoor water parks, aquariums, arcades, and who knows what else within an hour of our house. When we asked Nate what he wanted to do for his birthday, his answer was quick: go to the ocean. Nate, it's summer, we can do that every day. Go to a boardwalk by the ocean. Well, that we need to time a little better but still, we can do that almost any time. He insisted.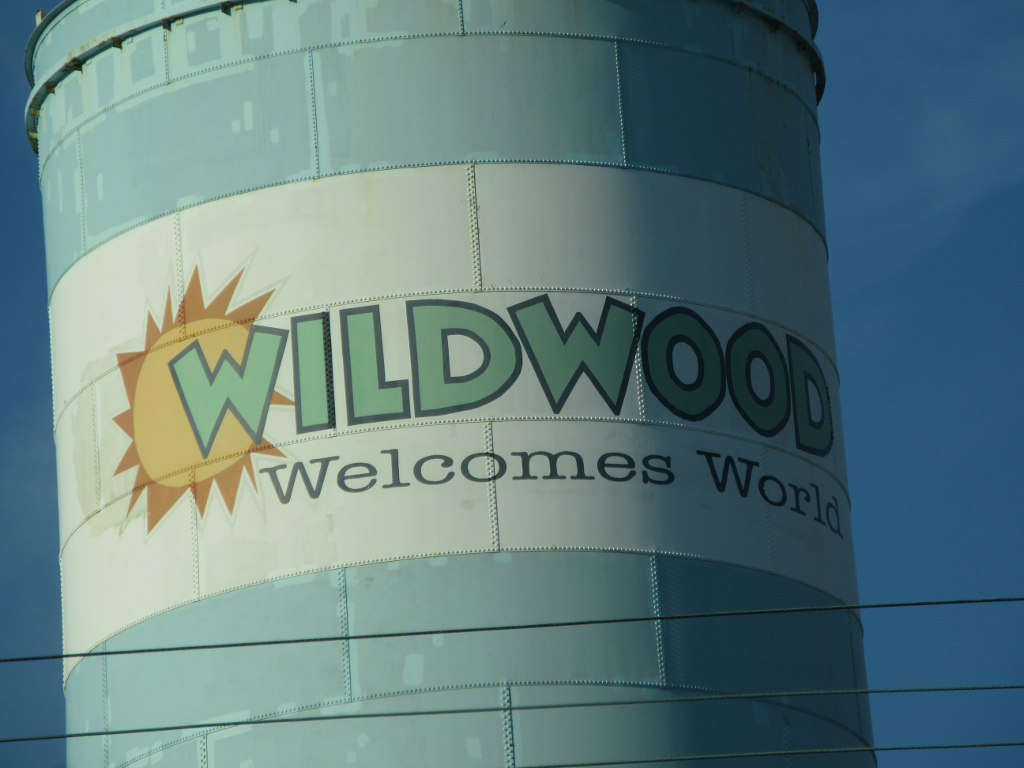 And so we went. (I find their lack of articles disturbing.)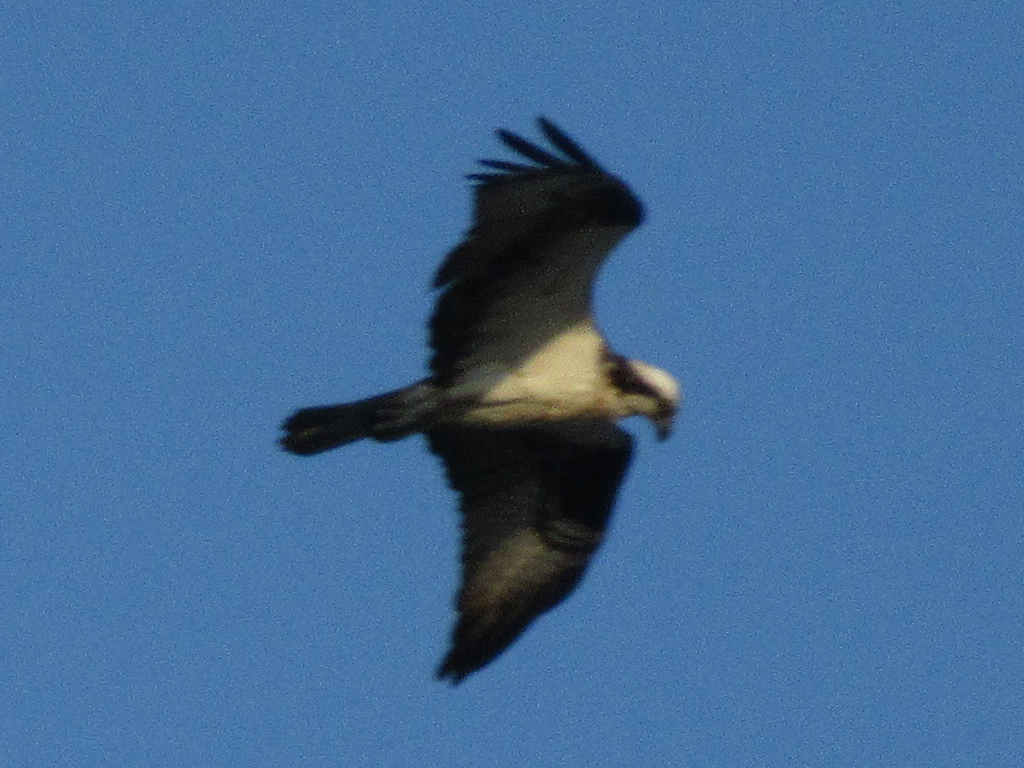 We went after Carl got off work, and arrived a little after 5. Wasn't very crowded at all. We planned to spend some time on the beach, then when it got dark, hang out on the boardwalk. Nate was the only one that brought his swimsuit; us grownups didn't want to deal with changing clothes, or with being wet and sandy while walking the boards. So we set up a couple of beach chairs, and I watched birds.
The college next door to our house is the Ospreys, because they're common around here. This is the first I've seen, though.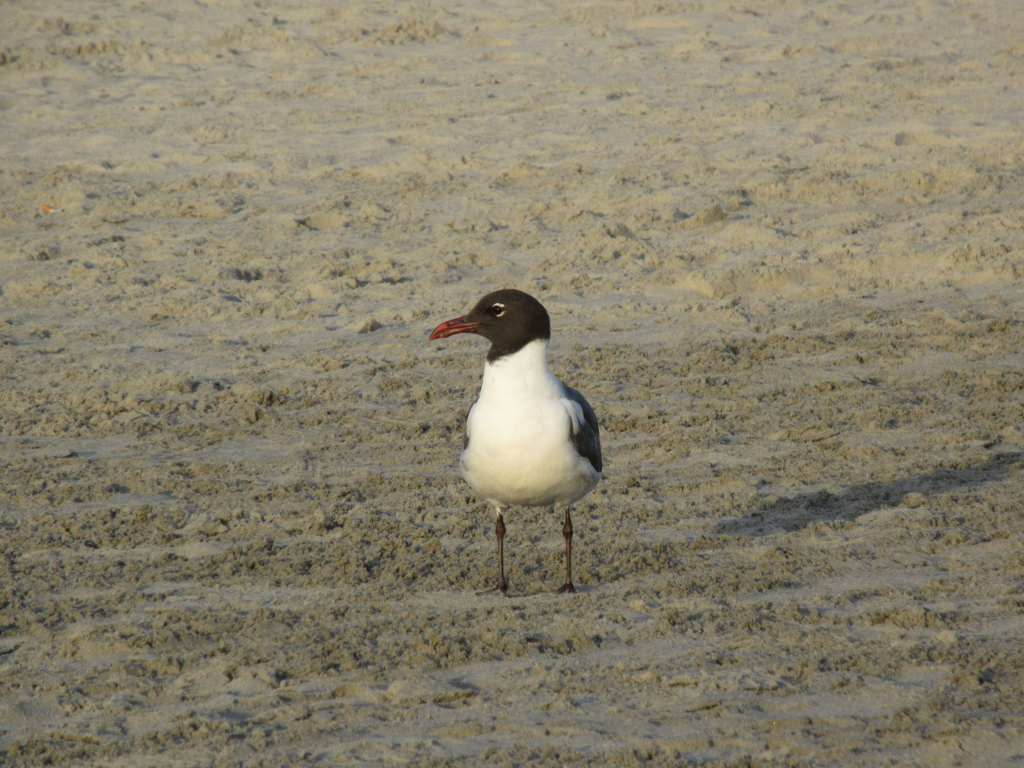 This laughing gull (they really do laugh, like a really loud woman) came right up and carefully inspected me. I also got buzzed every time I reached for the beach bag or bucket, just in case I was pulling out some food that could be stolen.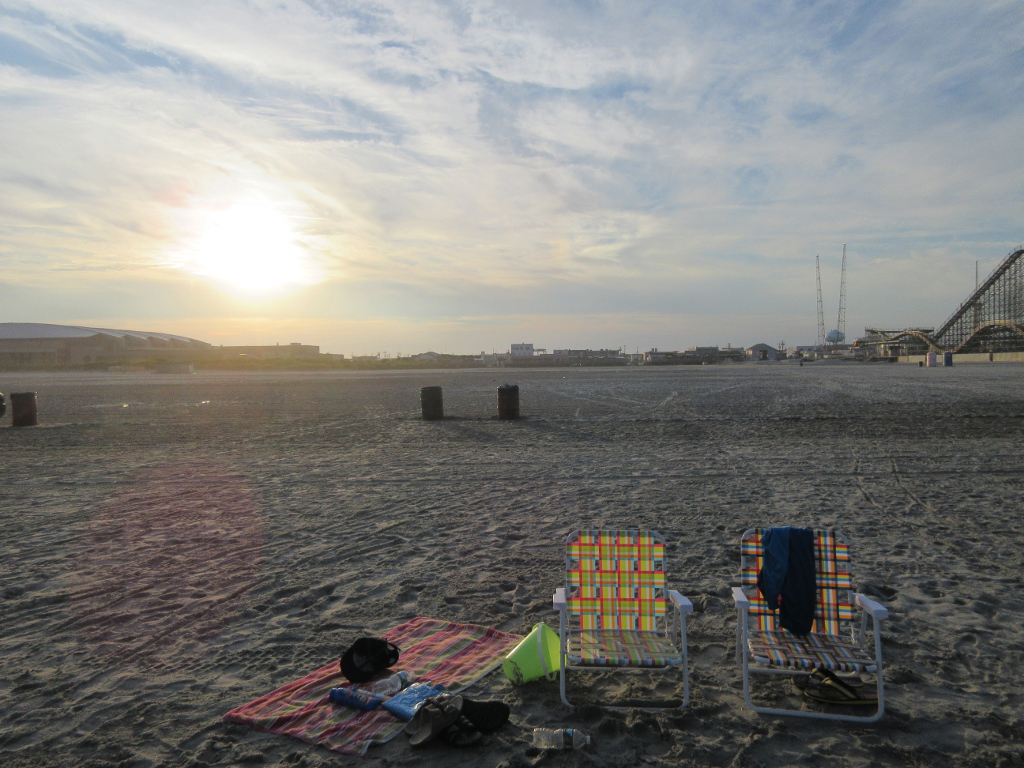 I'm gonna say it: I don't actually like Wildwood's beach that much. It is literally (I measured with Google Maps' aerials) a third of a mile from the boardwalk to the water, all of it perfectly flat, very soft sand. Which sounds nice, but walking any distance in it is pretty exhausting. There was a guy in a beach wheelchair slogging his way through when I was headed out (the guys had gone ahead while I paid for the van parking) and I opened my mouth and Kansas came out: "Y'all okay there?" Not that I was sure I'd be able to help much. "No, I'll be fine. It's quite a workout!" Beach patrol also checked on him (in a 4WD), so I felt a little better then.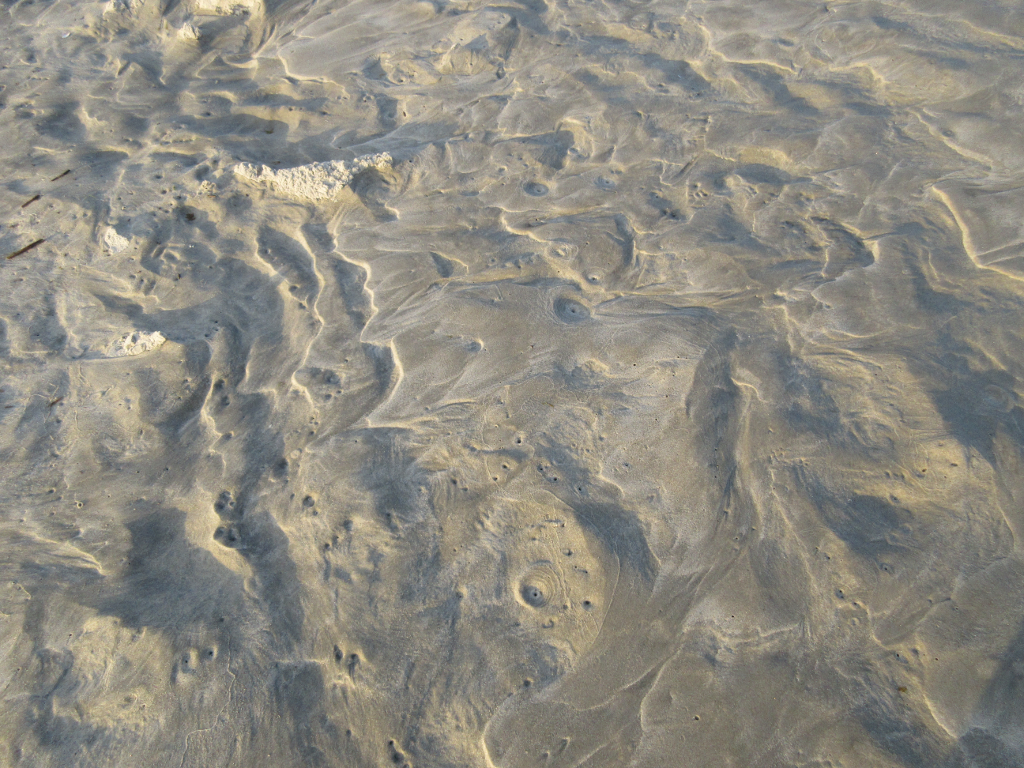 Incoming tide plus low-angle sunlight equaled some neat sand patterns.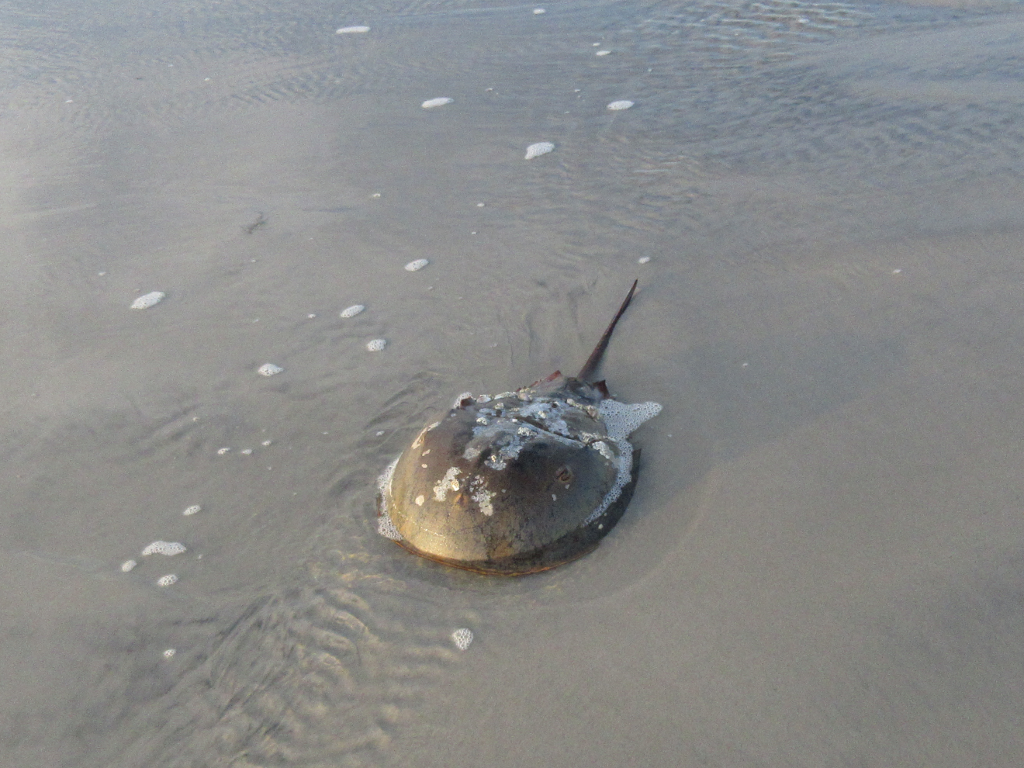 And an unlucky horseshoe.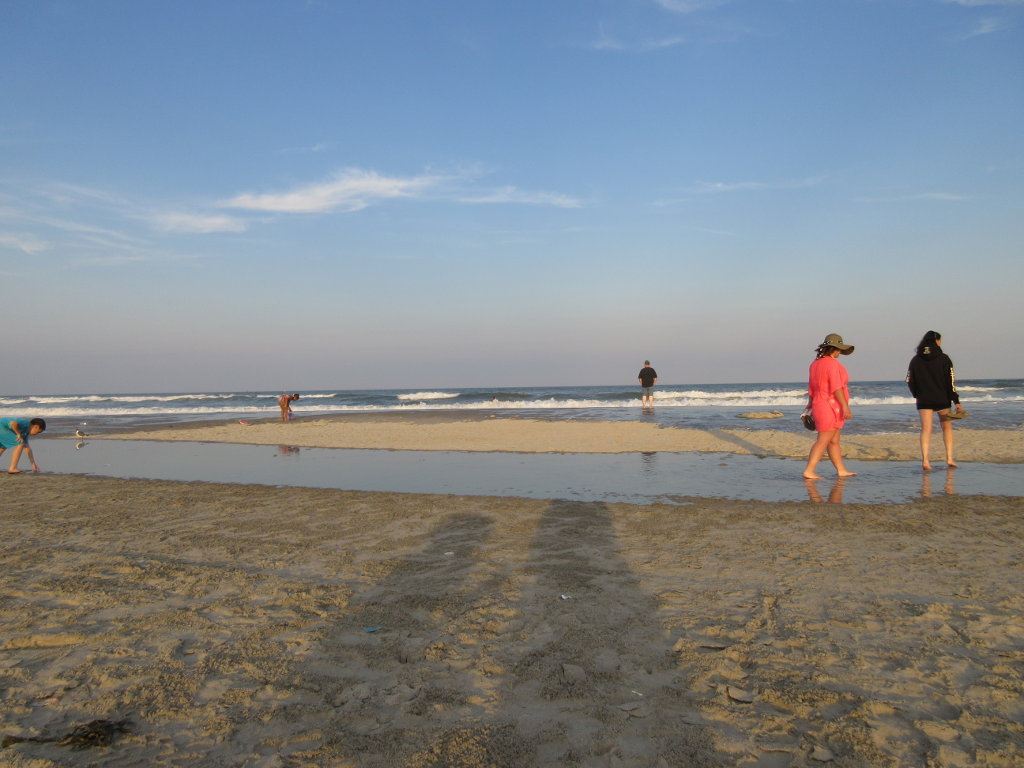 Meanwhile, the birthday boy was finally all the way in the ocean, for the first time since we moved here. Not sure how we took so long. He's out there, barely visible in the middle of the frame, with Carl standing lifeguard. There are beach guards, but not many during non-peak times like this with people spread out over a huge area. It's a really big beach.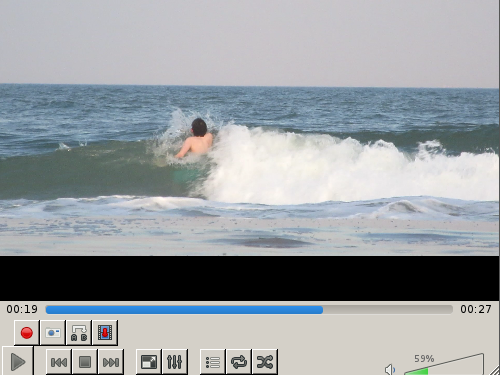 (I don't have a fancy player, so click here for the MP4 movie.)
For the most part, he was just standing in the surf, though he did find the dropoff where suddenly he wasn't.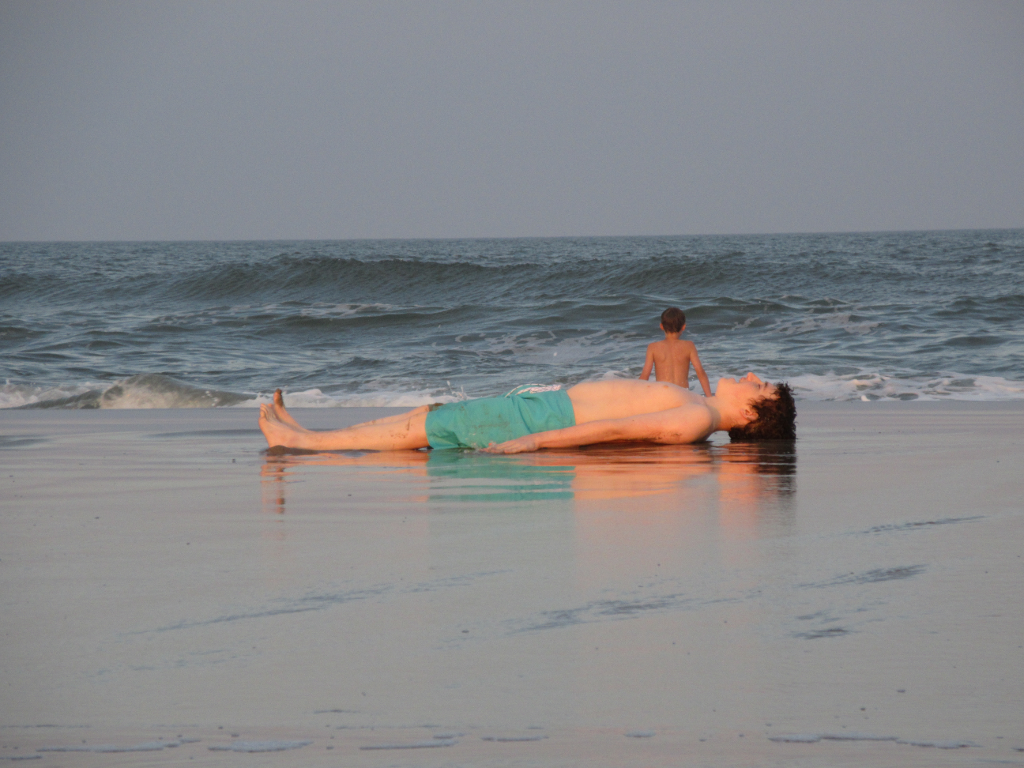 Sunsetbathing, I guess? After this he tried to make a sand angel on the wet sand. I suggested he stop while he still had skin on the backs of his arms and legs.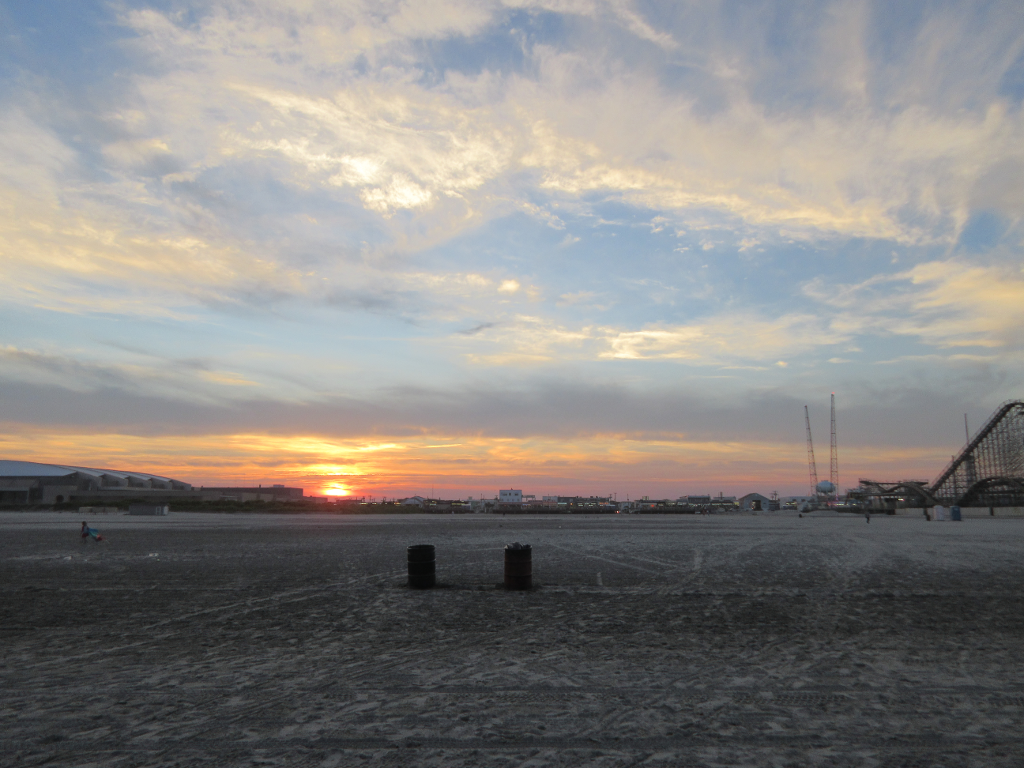 The lights were starting to come on on the boardwalk, and the sea breeze was starting to get a little chilly, so we packed up.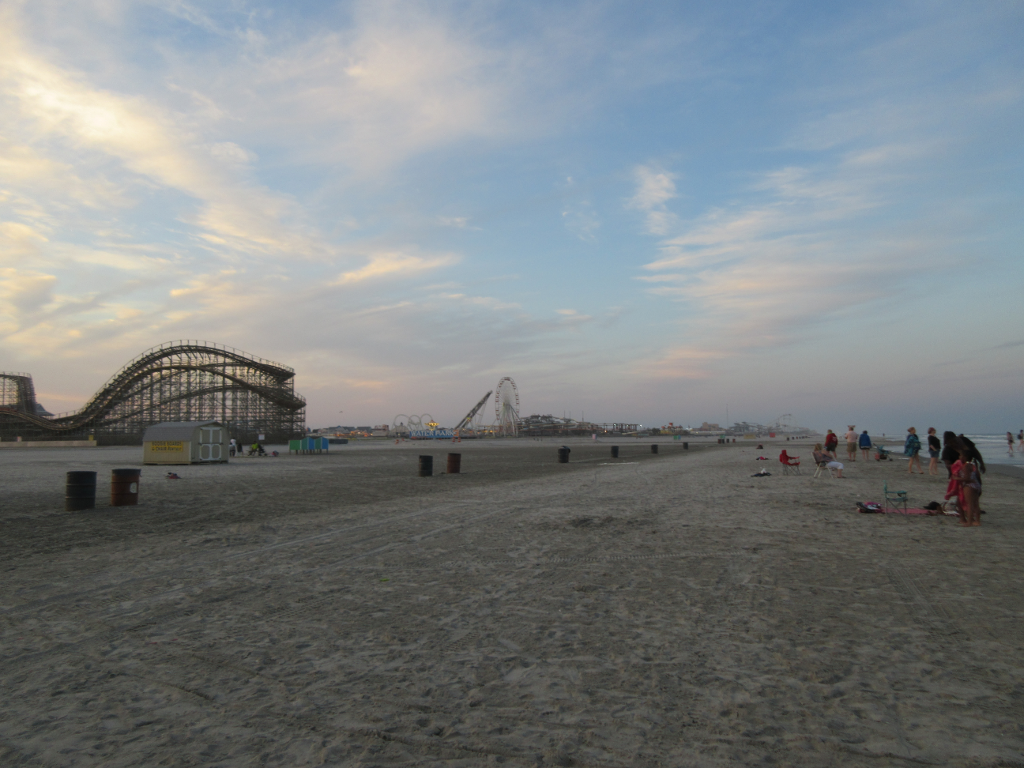 The piers were calling. At least, they call them piers. It's not like they're really extending over the water or anything. Just over the THIRD OF A MILE of beach sand.
We hiked back to the van, which was in a parking lot just on the other side of the boardwalk, and Nathan changed into relatively dry, relatively sand-free clothes. More beach sand in the van carpet.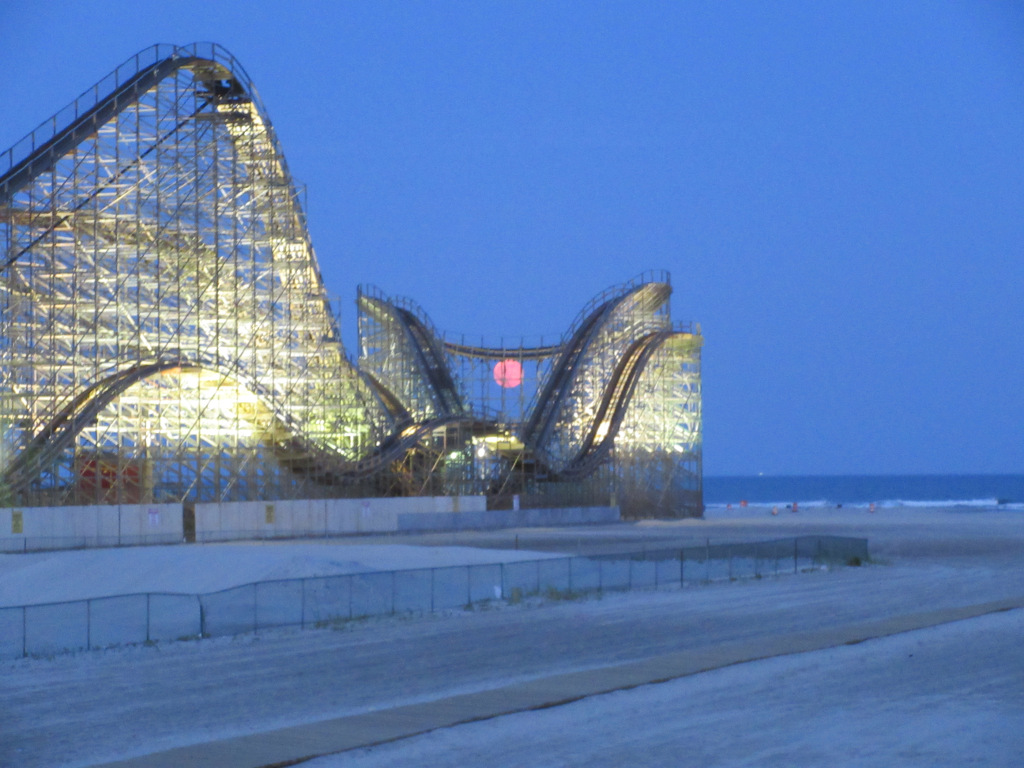 There was a red full moon rising through the Great White coaster when we got back. Nate rode it - steel framed coaster with wood tracks.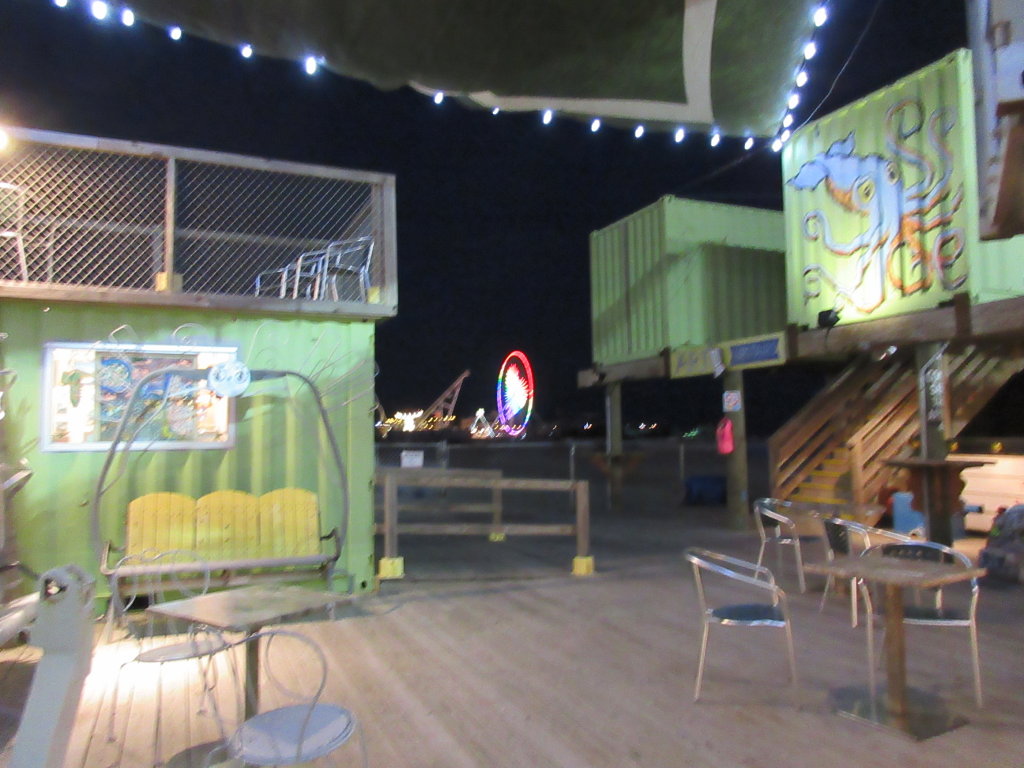 There are three Morey's piers - you can get unlimited passes that are good at all of them, though we missed the pre-season discount sale. The one we were on had an art gallery installation, in shipping containers. There were also welded bench/sculptures made from old gondola-ride cars and such.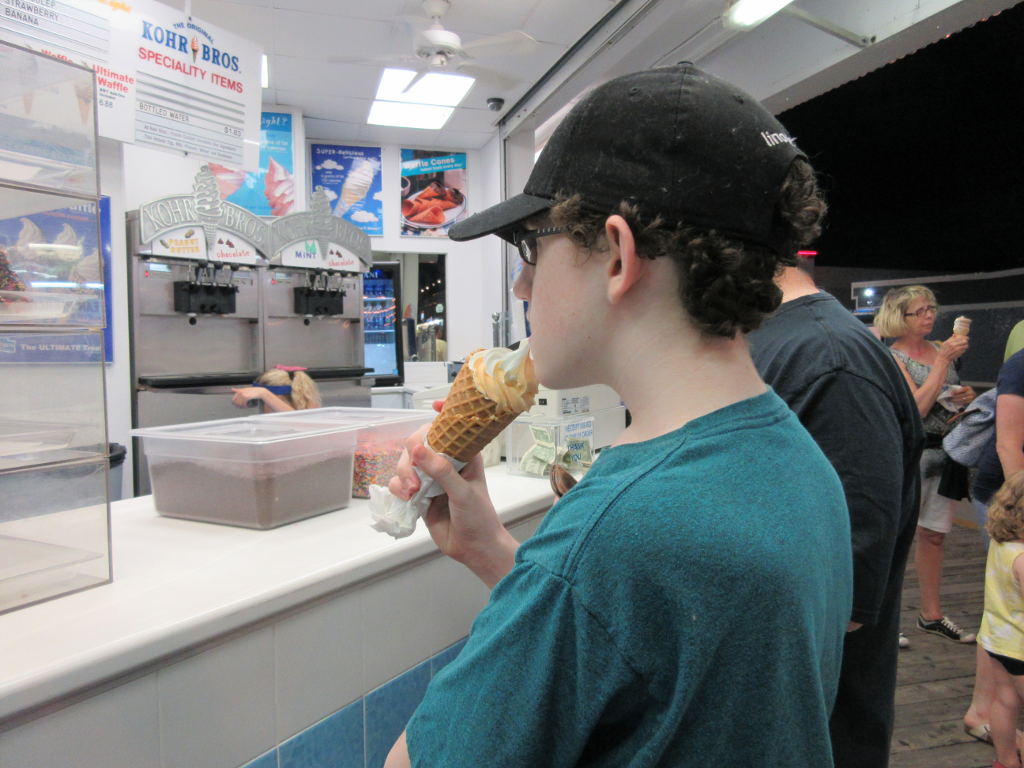 We had to try the Kohr Bros. custard everyone raves about. Wasn't as good as Freddy's, or as Rita's.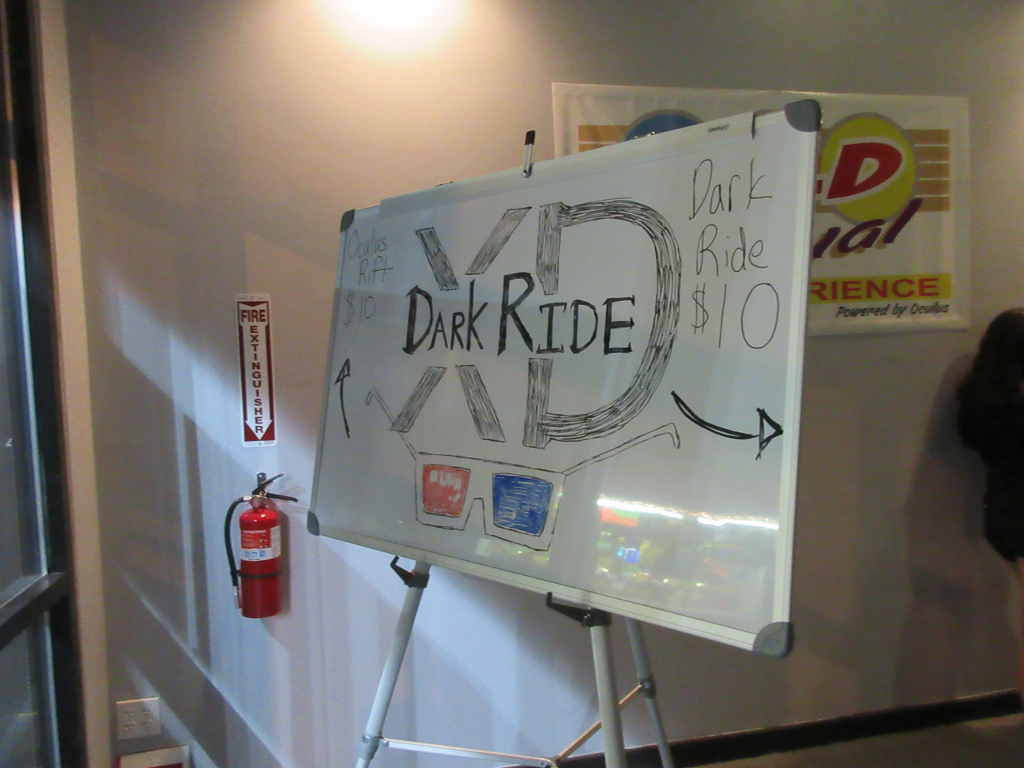 We ended up not having time for mini-golf this trip, but we did spot this booth. Nate has been obsessed with VR headsets lately, and ended up chatting with the booth owner about the merits of the Oculus (in this case, the Gear VR and not the Rift the whiteboard advertised) versus the HTC Vive.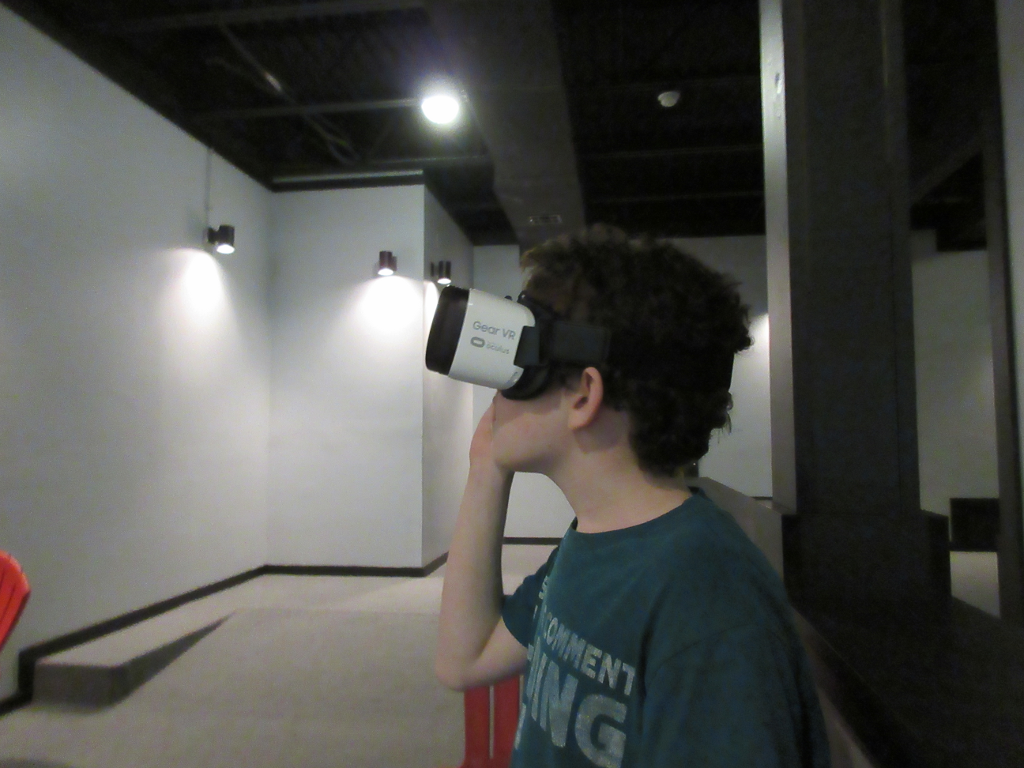 And then it was time for his ten-minute VR adventure. Unlike the full Oculus Rift, the Gear is really a glorified Google Cardboard - a (high-powered) smartphone in a goggle mount. On the plus side, that means not being tethered to a PC. Nate almost solved the room-escape puzzle, and proclaimed it well worth the (our) ten bucks.
Overall, he decided it was a pretty good birthday, though I think he was disappointed his present wasn't the $300 driving class we've been telling him he needs to save up for.